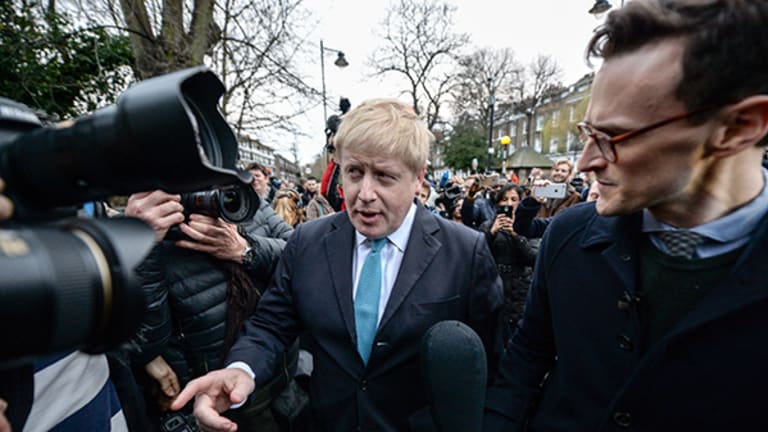 6 Consequences of the Brexit
The long-term economic impact of the referendum vote remains unclear, but the short-term fluctuations have clearly reflected that the outcome was unexpected.
"If we vote 'leave' and take back control, we believe that this Thursday could be our country's independence day," Boris Johnson, the former London mayor, member of parliament and prominent advocate of voting to leave the European Union, said Tuesday in a televised debate.
On Friday, the world woke up to news of a Brexit, after Britons voted Thursday to end its more than four-decade association with the EU. The referendum outcome, with 52% voting to leave, came as a surprise to many, especially after market research firm YouGov had posted its poll hours before the results showing that those supporting remaining had a 4-percentage-point lead.
The United Kingdom, which is the first country to leave the 28-member union, is the EU's second-largest economy after Germany, has a powerful military and exerts a great deal of influence in global affairs.
Here are six consequences of the Brexit:
1.Contagion effect: The Brexit may have set an example for Euroskeptical nations that could be encouraged to hold a similar referendum.
The reasons for increasing Euroskepticism are different for each country. From unemployment and unfair economic policies to terrorism and the more recent issue of increased immigration, the issues faced by member countries differ widely.
"Everyone in the EU has been losing faith in the project: both creditors and debtors, eurozone countries, would-be members and 'opt-outs,'" according to a paper published by the European Council on Foreign Relations.
Since 2014, optimism in 11 countries decreased, with the steepest declines in Poland and Latvia, according to Eurobarometer 83, which wasreleased last year by the European Commission.
Cyprus and Greece remain pessimistic about the future of the EU, with majorities of 54% and 57% feeling that way, respectively.
2. Credit rating downgrade: Post-Brexit, the United Kingdom's sovereign-rating outlook could get negatively affected and in turn, lower its ability to borrow on an international basis.
Moody's raised investor concerns on Feb. 22, warning that a vote to leave the EU might affect the United Kingdom's credit rating. Standard & Poor's had already warned that in the case of a Brexit, the United Kingdom could face a downgrade from its AAA credit rating. 
3. Financial markets: Whether the risk of the Brexit is limited only to the EU and the United Kingdom is difficult to gauge at such an early stage, but it is clear that a Brexit was unexpected.
The fear was captured by intense market volatility, which increased as more news pointed toward a clear Brexit.
The British Pound was at its lowest level since 1985, sliding to $1.35, an extraordinary fall in such a short span of time. The Japanese yen and gold surged as investors fled to safe havens due to Brexit fears and uncertainty.
Shares of British banks in Hong Kong saw a significant decline, with HSBC falling more than 5%.
The value of shares in Tokyo had their biggest one-day fall since March 2011, according toThe Guardian. 
4. Monetary policy: An earlier statement by the Bank of England had warned that a Brexit could change the "outlook for output and inflation."
The Bank of England will decide a more fitting monetary policy for the upcoming economic slowdown.
If sterling continues to fall, imports will likely be affected, resulting in inflation. Hence, the Bank of England will have a crucial role to play.
5. Political uncertainty: Prime Minister David Cameron had promised a EU referendum if he won the 2015 general election. However, he had been pushing Britons to vote to stay in the EU.
In a speech before Parliament on Feb. 22 he said that if the United Kingdom remains a part of the bloc it could "have the best of both worlds."
A letter signed by more than 80 Tory Euroskeptic members of Parliament and cabinet ministers urged Cameron to continue as the U.K. prime minister, despite a Brexit.
However, after the vote, he said in a concession speech that he will resign and would like to see a new prime minister by October.
6. Scotland's vote: The United Kingdom itself faces a threat from Scotland, which voted to stay in the EU, with 62% in favor.
In 2014, Scotland voted to stay in the United Kingdom through a referendum, but now it may again ask for an individual referendum.
This article is commentary by an independent contributor. At the time of publication, the author held no positions in the stocks mentioned.