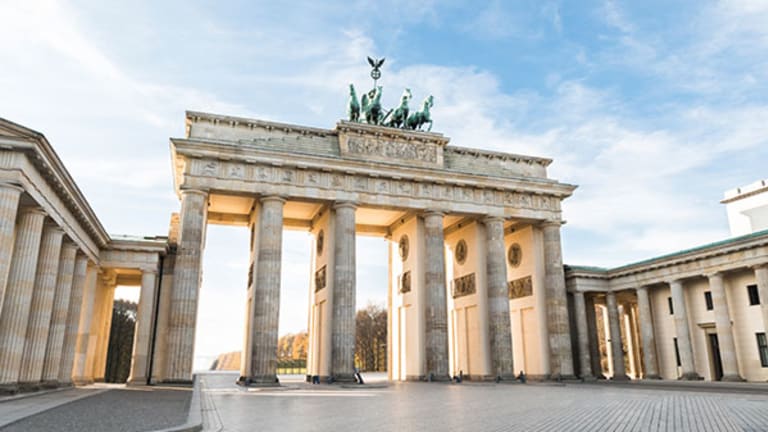 Editors' pick: Originally published March 21.
Don't tell us you are priced out of Europe. That was true. Not this summer, though. Pack your bags, because you have great travels in front of you.
There are four facts to know that can help explain why, starting with the strength of the dollar, meaning your money goes farther. A euro today is around its 12 year low against the dollar -- at $1.13.
Fact two: international airfares at last are reflecting falling jet fuel prices. A major hurdle for European travel has been air because summer roundtrips to peak destinations often clustered upwards of $1,500 - even $2,000 - per person. But CheapOair told TheStreet that its data shows airfare is down 9% year over year. Some cities suffered massive declines. Belfast, for instance, is down 22%. Helsinki is down 25%. Lisbon is down 11%. Berlin is down 26%.
Fact three: the sharing economy - read Airbnb - offers tantalizingly cheap accommodation options where you also just may get to enjoy a local living experience. A week in a hotel is, well, a week in a hotel. A week in a carefully chosen apartment may be entirely more special and authentic.
Fact four: a range of second tier cities - that is, not London or Paris or Rome, the expensive tourism rock stars - are offering spectacular deals. 
Where? Here are best bets.
Berlin
Germany's capital has it all. History (ugly but real). Arts (great museums). Beautiful main streets. Terrific mass transit. And now it has attractive prices. Over the July 4th weekend, CheapOair found a roundtrip from Newark Airport to Berlin for $955. What about hotels? Expect similar bargains. But in Berlin look first at Airbnb, where $100 per night buys your choice of two-room flats (with a kitchen!) in trendy Prenzlauer Berg, very near an S-Bahn (mass transit) stop. Plentiful, cheap food is to be had in Berlin, where the main delicacies are currywurst (a street hot dog topped with a ketchup plus curry powder sauce) and doner kebabs (remarkable Turkish wraps, typically made with veal, but chicken may be available). For breakfast, grab a roll and coffee. Gourmet pleasures don't abound in this town, but you won't go hungry or broke.

Lisbon
A tiny European capital - around 500,000 people - Lisbon is a standout bargain. Compared to other European capitals, "you'll pay about 20% less for everything," said Jayme H. Simões, who does PR for Portugal. CheapOair found a July roundtrip for $995. A whole apartment in the historic downtown is yours for $100 per night via Airbnb. What to do? Visit museums, walk the historic city, eat a distinctive cuisine and drink Port wine. When you've drunk enough Port, stop in a local bar that features Fado, a Portuguese style of song that's found in many Lisbon clubs.

Belfast
The guerrilla war is long ago over, and Belfast now is emerging as a top getaway city for Europeans who love the classic Victorian architecture and the compact scale (under 350,000 population). Go walk the historic political murals - just a mile at most from the city center - but go knowing the only trouble you will find is whatever you make.
CheapOair found a July roundtrip at $1,019. Airbnb found a city center two-bedroom apartment - in a luxury building, on the 15th floor of what claimed to be Ireland's tallest residential building - at $149 per night. That leaves you with money to celebrate at the Crown Liquor Saloon, a gorgeous 1820 pub in city center with a large menu of craft gins as well as the usual stouts and ales. Food is served too. Don't miss the Irish stew ($13).

Granada
Let's not talk about Barcelona - the trendy and pricey Spanish city - or even Madrid, the capital, now no longer really a bargain. But Spain is a must go, and Siamac Rezaiezadeh, owner of a travel startup, pointed to the town where he lives, Granada. "It's warm, almost daily clear skies with sunshine, you have the snow of the Sierra Nevada just on the outskirts and a great tapas culture where food comes free with every drink you buy," he said. He added that a one-bedroom in a central part of town is yours for a night via Airbnb for maybe $50.
As for airfare, it skews high, because you fly into Madrid, then grab a flight to Granada. Figure $1,500 roundtrip, according to CheapOair, but daily expenses will be small compared to any of the bigger cities. And you will get a real Spanish experience.

Helsinki
Everybody wants to go to Copenhagen and also Stockholm, and many even want to go to Oslo - which makes the only affordable major Scandinavian destination Helsinki, the capital (600,000 population) of Finland.
CheapOair pegged the airfare at $896.72. City center apartments priced under $150 per night are plentiful on Airbnb.
What to do? Walk the Old Town, get a sauna, and - in summer - enjoy the seasonal bounty of berries and gorge on crayfish, a local delicacy (summer only). The Finns love their summer, and if you had ever been there in winter, you would understand.

Budapest
The capital of Hungary and once an historic capital in the gloriously elegant Austro-Hungarian Empire, Budapest for centuries was bathed in elegance - and then it was allowed to run down over the half-century of effective rule from Moscow.
It has been on the rebound for 20 years and lately - as hipster Millennials are priced out of Prague - many are drifting down to Budapest.
The accommodations prices on Airbnb make a person drool. Like $52 for a night in a whole flat in the Buda castle neighborhood - minutes from City Center - in a renovated 300 year-old building. Or $57 for a whole flat in a pedestrian zone in city center.
CheapOair showed a July flight at $829.19.
As for to-dos, there are Turkish baths, wine tastings (the local hooch is quite decent), lots of very old architecture. The local food - don't go home without eating goulash, a typical stew - is uniquely Hungarian.
This article is commentary by an independent contributor. At the time of publication, the author held TK positions in the stocks mentioned.