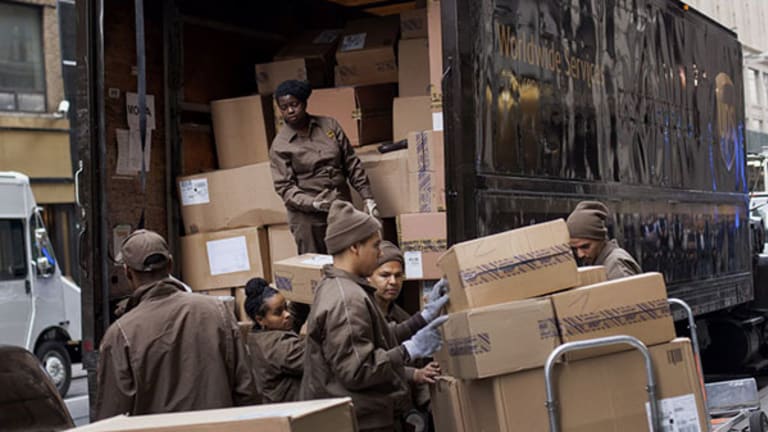 59 Billion Reasons Amazon Is Not a Threat to UPS
Here's why Amazon is not the the threat to UPS and FedEx that everyone thinks it is.
Here's why Amazon is not the the threat to UPS and FedEx that everyone thinks it is.
United Parcel Service (UPS) - Get Report  investors aren't happy about Amazon (AMZN) - Get Report  developing its own delivery service. In fact, they're very worried about it. Sure another delivery company (no matter how small) is never good for business. But investors are blowing the Amazon threat out of proportion. There's a strong bear case for UPS, but the main drivers revolve around macroeconomic headwinds. Amazon's possible transition from customer to competitor is not a real factor.
Why? Because Amazon only represents a very small part of UPS revenue.
data by
Recent tensions between UPS and Amazon have created a semi-hostile relationship. UPS couldn't handle the costs incurred from delivering Amazon's packages. In response, they jacked up their prices and Amazon threw a fit. Amazon relies on relentless cost cutting to stay afloat with their razor thin margins. Bezos' intention is to ruthlessly undercut any and all competitors. In response to UPS' price hikes, Bezos decided to start taking deliveries into his own hands.
Amazon has been experimenting with trucks, planes, drones, and even Uber-style metro services capable of deliveries in a few hours. One could speculate that Amazon is in position to disrupt the delivery space in a classic tech company fashion. This gives rise to the anxieties and fears in UPS investors. If Amazon can deliver its own stuff, then why does it need UPS?
data by
Let's say for argument's sake that Amazon does decide to deliver its own packages.
Amazon is UPS's largest single customer, contributing about $1 billion to the top line. But if Amazon was to drop UPS tomorrow, it would only reduce expected revenues for 2016 by 1.67%. This year's total revenues stand at about $60 billion. Amazon is only a small part of total revenues. UPS is well-diversified, to say the least.
Furthermore, UPS doesn't make much money off the packages it does deliver for Amazon. The margins on Amazon's packages are abysmal. Bezos knows how to negotiate. When Amazon Prime launched in 2005, he arranged delivery discounts of over 70%. Discounts of that magnitude leave little left for UPS's bottom line. The high costs incurred servicing Amazon customers in remote areas sour the deal even further. High-cost deliveries coupled with the Amazon discount don't makes the e-commerce segment attractive for UPS.
The most pessimistic investors speculate that Amazon's prototype transportation network will overtake more than just e-commerce deliveries. While Amazon is certainly able to achieve what many other companies cannot, this is an unlikely scenario. UPS has over 108 years of experience in making deliveries. It knows how to circumvent the toughest problems that arise in transportation networks. It will take Amazon a considerable amount of time to overcome similar delivery problems.
Does UPS still want Amazon's business? Yes. But as mentioned, the Amazon problem is small in terms of the overall picture. UPS makes its big bucks on bulk shipping, not residential-based e-commerce. Remote neighborhood deliveries are a mere pittance. Heavy freights delivered to one location produce large profits. Business-to-business (B2B) deliveries are the key to UPS's business.
Proper analysis requires our team at
to only concentrate on the key drivers moving an equity. Focusing on Amazon's entrance into deliveries is akin to talking about
Apple
's options for tax repatriation.
and the state of the U.S. economy moves UPS.
This article is commentary by an independent contributor. At the time of publication, the author held a short position in UPS.