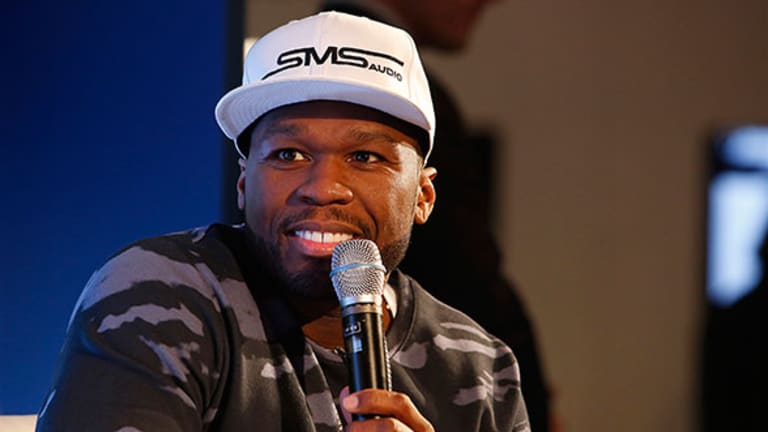 50 Cent Offers His Two Cents on Investing and Lingerie
"See, a lot of the projects I've involved myself in, I took the time to do the due diligence to make sure I'm safe," the rapper said before filing bankruptcy.
NEW YORK ( The Street) -- Get rich or die tryin'.
That's the motto that first catapulted 50 Cent onto the Top 40 charts. As recently as May, the rapper-turned-entrepreneur boasted a net worth of $155 million, according to Forbes estimates. Yesterday, just days after he was ordered to pay a woman $5 million for posting a sex tape online without her consent, the 40 year-old filed for Chapter 11 bankruptcy in a Connecticut court.
50 Cent reported his estimated assets and liabilities each at between $10 million and $50 million.
In apparently happier times, earlier this summer, the recording artist born Curtis James Jackson III could be found strutting the red carpet to promote Power, a Starz (STRZA) series in which he's an actor and executive producer. At the time, 50 Cent was loaded with investment tips.
"See, a lot of the projects I've involved myself in, I took the time to do the due diligence to make sure I'm safe," he said of his entrepreneurial endeavors during an interview held just off the red carpet.
Following his chart-topping hits, Jackson has had highs and lows as a business mogul. Arguably, his best bet was a deal with Vitamin Water, which netted him $100 million when it was sold to Coca-Cola (KO) - Get Report in 2007. But investments in a clothing line, headphones and vodka got tangled in litigation or failed to catch fire in the same way. The bankruptcy filing, his lawyer said in a statement, is meant to safeguard ongoing businesses.
"The filing allows Mr. Jackson to reorganize his financial affairs, as he addresses various professional liabilities and takes steps to position the future of his various business interests," said William A. Brewer III, partner at Brewer, Attorneys & Counselors and counsel to Jackson in the statement. Separately, the rapper placed his boxing promotion company, SMS Promotions, in bankruptcy in May.
Here are some of the many business caps 50 Cent has worn over the years.
1. Upscale men's underwear salesman.
In June, Jackson touted a line of men's underwear, Frigo, which he said was set to debut in Bergdorf Goodman. It's a deal he signed in 2014, reportedly worth $78 million.
"Lingerie has been around for years and years and years for women, but men have been consistently comfortable wearing something that comes three to a pack," he said. "We're creating that new higher tier."
Fiddy has not been shy about promoting the new merchandise, stripping down to his undergarments to show off the gear on his his Instagram account.
2. Live-streaming champion.
Jackson has invested in a live video broadcasting app called Hangw/, which was said to hit 1 million users in February. Besides Jackson, celebrity investors include former NFL player Terrell Owens and rapper-music producer Timbaland
"My advice would be to invest in Hangw/ at the moment, cause it's going to be extremely successful," Jackson said on the red carpet. "This one is growing at a good pace."
3. Beverage baller.
After his success with Vitamin Water, Jackson was thirsty for more ventures in the beverage industry. For the past few months, he's made a mini tour of to sell signed bottles of Effen Vodka in local liquor stores from Syracuse, New York to Abbington, Massachusetts. 
He also launched Street King energy shot in 2011 as a rival to 5-Hour Energy, the category leader in concentrated energy drinks. But the drink has since been re-branded as SK Energy and its brightly-colored labels are a deliberate departure from the brooding tough-guy image it first rolled out when the drink hit store shelves.