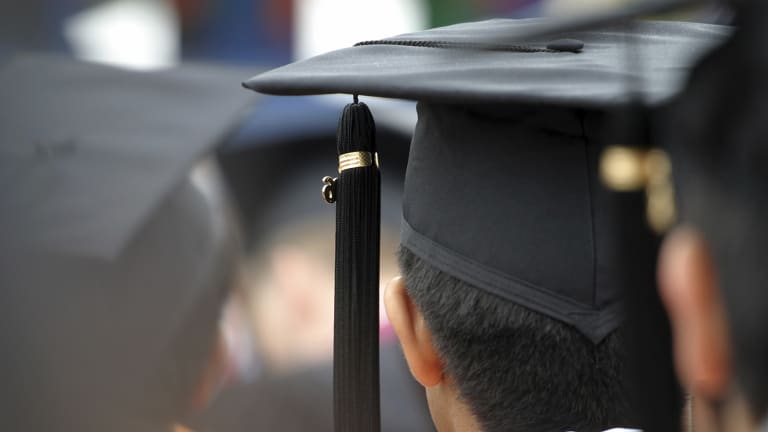 Publish date:
5 Ways to Prioritize Your Student Loan Payments
When you're fresh out of college and bringing home your very first substantial paycheck, it's sometimes hard to remember that some of that money needs to be used responsibly.
When you're fresh out of college and bringing home your very first substantial paycheck, it's sometimes hard to remember that some of that money needs to be used responsibly.
NEW YORK (TheStreet) -- When you're fresh out of college and bringing home your very first substantial paycheck, it's sometimes hard to remember that some of that money needs to be used responsibly.
Years later when people are moving to the more "balanced" stage of their lives, their 30s, loan repayments still are not always top of mind. When you have a robust social life, savings goals, vacation plans, rent payments and a bad Seamless or Uber habit, it's easy to forget that student loan payments should remain a financial priority.
As someone who has learned the hard way but managed to turn it around, below are five tips to help you stay on track when paying back your college debt.
1. Research the Best 401(k) Option for You
Upon landing your first job, there are a lot financial decisions to be made, including signing up for medical insurance through your employer and joining your company's 401(k) program. Depending on your situation -- your total loan balance, monthly payment, and overall income and expenses -- it may make sense to hold off contributing to your 401(k). This choice isn't for everyone as it depends on a variety of factors.
For example, it depends on your tax bracket. If you invest in your 401(k), you can often lower your tax bracket. In addition, if your employer offers a matching contribution, it may make sense to invest in your 401(k), otherwise you're throwing away free money.
Alternatively, you may want to ask your employer if they are willing to contribute to your student loan payments in replacement of a 401(k) contribution. It's important to evaluate whether your investments earn more than your debt. However, if you're really strapped for cash, putting that money towards your monthly student loan payment can help provide a bit of financial wiggle room and help pay off that debt quicker.
Whatever your situation, it's important to consult your financial advisor before making this decision.
2. Don't Fear the "B-Word"
A lot of recent college graduates flinch when they hear the word "budget," but creating a budget to help you manage your finances is the opposite of scary.
It's easy to push important financial obligations to the back of your head when you're first out of school. According to research from Student Loan Hero (where I am CEO), a quarter of Americans would prefer to pay for Netflix than student loans, and 23% would prioritize social activities.
Outlining a budget that not only accounts for your bills and loan payments, but social activities such as movies, concerts, and going out to eat with friends, can help make sure you're still paying down your debt each month. With great free services like Moven, Mint and Digit out there that help you to do this automatically by tracking spending, creating a budget has never been easier.
3. Focus on Making the Right Decisions on "The Big Stuff"
There are many large expenses that are often on the horizon as you move through your 20s and beyond. From marriage, to real estate, to starting a family, these are all big financial undertakings. In order to really make these big financial decisions a priority, try to cut out the small, frivolous purchases and focus on the big-ticket items. Saving for a down payment on a home is obviously more financially important than spending $6 a day at Starbucks.
Typical housing expenses (rent, utilities etc.) should never account for more than 35% of your monthly income, according to financial expert Jean Chatzky. If you're paying more than this, you may want to consider making a change. If you live alone, consider getting a roommate to cut your rent in half or even Airbnb your room when you are out of town. Though it may be easier said than done, it may also be worth thinking about moving, whether it is to a smaller apartment, or even another city.
If you're living in an expensive area, like New York City, for example, think about how your expenses may decrease if you change locations. I personally did this and left New York for Austin so I could focus more on my student loan repayments. This, of course, is all dependent on work and your personal flexibility. It could, however, be a huge factor in helping to prioritize your student loan repayments.
In addition, it makes sense not to get in over your head. If you are saving for a down payment on a home it makes more sense to purchase one that is in your price range rather than purchasing a home that has a mortgage payment that will cause you to drown financially. This means, don't buy the most expensive home or product. If you're looking for a new car, it's best to purchase a used vehicle instead of that new BMW.
Prioritizing the most important financial decisions is a key to staying on track with your budget and loan repayments.
4. Keep Saving
It's tempting to take extra money you may have each month and put it towards something else -- whether it's for something fun like a weekend away or something more responsible, like continuing to paying down your loan balance. However, it's important not to forget to contribute to your savings account or emergency fund.
Most Americans cannot even afford a $400 emergency fund. According to Dave Ramsey -- the first step toward paying off consumer debt is building a $1000 safety net. Other experts recommend saving 5%-to-10% of your net income.
Next, focus on paying off any consumer debt -- credit cards and student loans. Following that, save a few months of expenses up, just in case. There are even tools that can help you do this. For example, Acorns, an app that takes pennies off your purchases and rolls them into an investment account that's easily liquidated. Having these emergency pockets of money set up can ultimately ensure you don't miss a loan payment due to an unexpected emergency.
5. Pick a Student Loan Repayment Plan
In order to prioritize paying down your student debt, payments must remain a top priority. Utilizing strategies such as the "debt avalanche" strategy -- where borrowers pay off their most high interest loan first, allowing them to potentially save thousands of dollars on interest -- or the "debt snowball" strategy that is known as the most psychologically rewarding strategy by paying off the smallest principle loans first. Whichever plan is right for you, pick one and stick with it.
You'll feel a sense of gratification as you continue to see your total loan balance decrease. Beyond that, it may be worth considering refinancing or consolidating your student loans. Companies like Common Bond, SoFi and Earnest all have options to help refinance, if it is the right decision for you.
This article is commentary by an independent contributor.