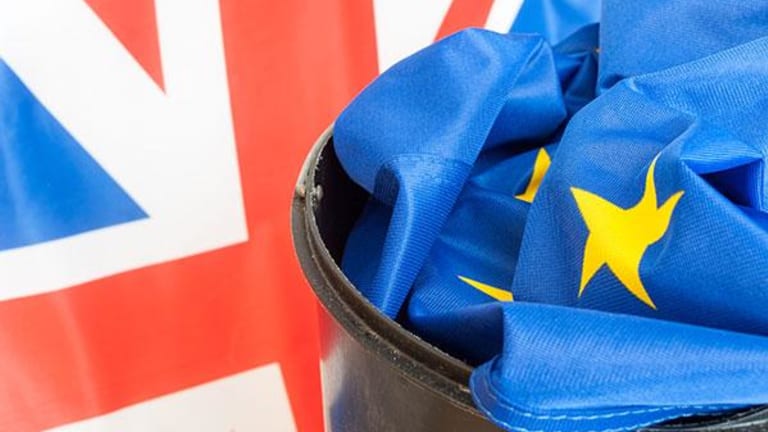 5 Utility Stocks to Buy When the Markets Are Tanking (See: Brexit)
Utility stocks often outperform when markets are volatile, and they pay dividends. Here are five of the best utility stocks to buy now.
During these dog days of low interest rates, utility stocks can offer the low risk of bonds without the paltry returns that fixed-income generates. Take Friday, for example. Major U.S. stock market indices are down 2%-3% on the Brexit vote results, but utility stocks are up.
Investors are seeking lower volatility in this uncertain environment. And it's not just Friday. The Dow Jones Utility Average just hit an all-time high, and utility stocks are some of the best performers so far this year. The utility sector as measured by the Utilities Select Sector SPDR (XLU) - Get Utilities Select Sector SPDR Fund Report is up 17% so far this year, vs. the 0.1% gain for the S&P 500.
Although increased demand has driven up utility stocks as a group, that doesn't mean these stocks can't sustain their relative values, particularly shares of a select few companies.
Utility stocks are appealing because of their stable revenue streams and the regulated nature of the business. These companies provide basic services that everyone needs, and their consistent dividends make them attractive to investors. Because of the capital-intensive nature of the business, a low interest rate environment affords the opportunity to strengthen infrastructure and add revenue-generating assets.
That said, since valuations have become stretched compared to where they've been historically, it's important to look at underlying fundamentals before flipping the switch and stocking up on utilities. Using our Guru Stock Screener, we've tagged five utility stocks that deserve a look.
1. Ormat Technologies (ORA) - Get Ormat Technologies, Inc. Report
Ormat Technologies is engaged in the geothermal and recovered energy power business.
Its operations include:
-- The electricity segment, which develops, builds, owns and operates power plants in the U.S. and internationally
-- The product segment, which designs, manufactures and sells equipment and power generating units and provides engineering services.
Our Lynch model considers this company a "Fast Grower" due to its strong average earnings growth (26.67%). Ormat's price-to-earnings-to-growth (P/E/G) ratio, which evaluates fairness of price, is strong at 0.59 (must be under 1 to pass). The company also stacks up well under Validea's "Momentum" investment model, which looks for increasingly strong stock performance compared to the S&P (over the recent 4-month period). Over the past year, price performance has compared well with the overall market (as indicated by a weighted relative strength of 80), and the stock price ($43.32) is within 15% of the 52-week high ($45.13).
2. Dynegy (DYN)
Dynengy, through its subsidiaries, produces and sells electric energy, capacity and ancillary services through over 30 power plants with approximately 26,000 megawatts of generating capacity.
This utility stock scores 90% under our Piotroski model, which looks for situations where a stock's book value is high compared to the value the market assigns it (the "book-market" ratio). The model then analyzes other fundamentals to ensure that the market perception is not founded in financial weakness.
Given that Dynegy's return-on-assets (0.23%) and operating cash flow ($94 million) are both positive, and the company's gross margin has increased over the past year (from 33% to 48%), it meets the benchmarks inherent in the Piotroski investment screen. Our Benjamin Graham-based investment methodology likes Dynegy's strong cash flow of 2.64 (the model requires a minimum of 2.0) and the moderate price-to-earnings ratio of 13.82 (versus the model's maximum of 22).
3. Energy Company of Parana (ELP) - Get Companhia Paranaense de Energia Report
Energy Company of Parana generates, transmits and distributes electricity and provides telecommunication services in the Brazilian State of Parana.
Under our Lynch-based investment screen, Energy Company of Parana is considered a "Slow Grower" (based on moderate earnings growth of 8.06%) and earns a score of 91% based on its robust yield of 13.20% (compared to the S&P's 2.43%). Further, the company's impressive price-to-earnings-to-growth ratio of 0.40 (a main focus in this model) signals fairness of price.
Our John Neff-based screen, which looks for price-to-earnings ratios of between 40% and 60% below market, likes Energy Company of Parena's ratio of 8.48. This model looks at a stock's total return (earnings-per-share plus yield) divided by its price-to-earnings ratio and then compares the quotient to the industry average. Energy Company of Parena's ratio of 2.51 is more than double the industry average of 0.42. Our stock screen based on "Value Investor" guru Graham likes Energy Company of Parena's long-term (10- year average) earnings-per-share growth of 35.4% as it signals a strong track record of the underlying business.
4. Huaneng Power International (HNP) - Get Huaneng Power International Inc. Report
Huaneng Power International is an independent power producer engaged in the generation and sale of electric power in China and Singapore.
Our "Contrarian Investor" David Dreman-based investment model gives Huaneng Power International high marks based on its substantial market cap of $14.83 billion and its positive earnings trend over the past two quarters. This model requires that the price-to-earnings ratio fall within the bottom 20% of the overall market (currently 11.87). With a P/E of 4.50, Huaneng Power International shows well. In fact, the company's ratios of price-to-cash flow, price-to-book value, and price-to-dividend all fall within the bottom 20% of the market, characteristics consistent with a contrarian investment tilt. Return-on-equity of 18.68% puts Huaneng Power International above the top third of large-cap stocks, giving a thumb's up to the company's structural integrity.
5. CLP Holdings Limited (CLPHY)
CLP Holdings Limited, through its subsidiaries, is a generator and supplier of electricity in Hong Kong, Mainland China, India, Southeast Asia, Taiwan, and Australia.
Under our Lynch investment strategy, CLP is considered a "True Stalwart" based on its moderate earnings growth of 10.57% and its inventory-to-sales ratio of 3.85% (below the model maximum of 5%). The company's yield-adjusted price-to-earnings-to-growth ratio, which this model evaluates to determine fairness of price, is a comfortable 0.87. Validea's "Momentum" investment model likes CLP's increasing relative strength trend during the recent four-month period as well as its weighted relative strength of 81 (slightly above the model's minimum requirement of 80).
See full Brexit coverage here.
This article is commentary by an independent contributor. At the time of publication, the author was long DYN, although holdings can change at any time.
John P. Reese is founder and CEO of Validea.com, an investment research firm, and Validea Capital Management, an asset management firm serving affluent investors and companies. He is also co-author of two investing books, including The Guru Investor: How to Beat the Market Using History's Best Investment Strategies (Wiley). Under no circumstances does the information in this column represent a recommendation to buy or sell stocks. Reese appreciates your feedback. Click here to send him an email. TheStreet.com has a revenue-sharing relationship with Amazon.com under which it receives a portion of the revenue from Amazon purchases by customers directed there from TheStreet.com.