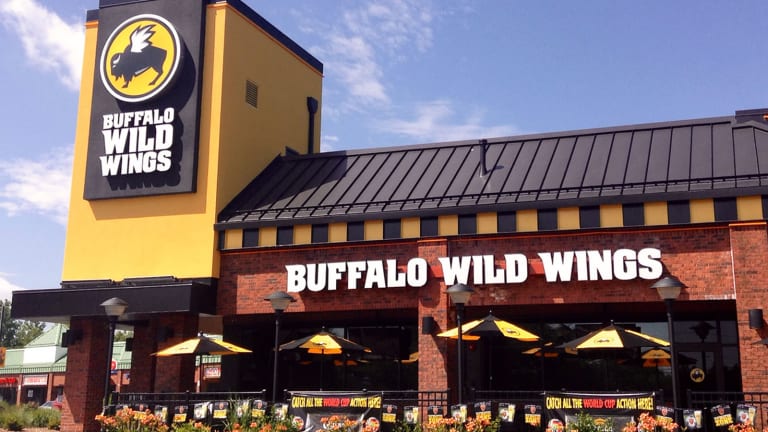 Publish date:
5 Top Restaurant Stocks With Solid Prospects and Fundamentals
This industry is ultra-competitive, but these companies earn high scores based on investment strategy metrics.
This industry is ultra-competitive, but these companies earn high scores based on investment strategy metrics.
The restaurant industry has seen moderate growth for each of the past six years, a trend that is expected to continue this year, with sales reaching $783 billion, according to the National Restaurant Association.
Market research firm NPD estimates that restaurant traffic will increase by 1% this year and growth will probably remain at that level for the next several years.
Same-store sales grew by 1.6% last year, but fourth-quarter growth slowed to a marginal 0.4%, not great, particularly given low gas prices, low inflation and nearly full employment.
Nevertheless, overall sales and the long-term trend continue to favor this industry. Restaurant operators, however, will have to set themselves apart to capture a bigger slice of the pie.
One NPD analyst said, "There are pockets of opportunity and pockets of growth, but overall it's still a battle for market share."
Part of the battle is that customers are different from those 20 years ago in that they pay closer attention to details such as a restaurant's diet-specific menu (gluten-free, allergy-sensitive), sustainability efforts and food sourcing. Food quality alone isn't enough to sustain or gain market share.
Young consumers, according to the NPD analyst, want something "new and different, an experience to be had. It's become a form of entertainment."
Although marketing efforts will play a key role in the success achieved by industry players, a company's underlying fundamentals remain an essential part of the equation.
Using Validea's Guru Stock Screener tool, here are five restaurant stocks that earn high scores based on investment strategy metrics.
1. Buffalo Wild Wings  (BWLD)

This $2.71 billion company operates and franchises casual-dining restaurants with a sports bar feel. Each restaurant offers a multi-media system, a beer menu including nearly 30 varieties, an open layout and a food menu with a wide selection of chicken wing styles and sauces.
Buffalo Wild Wings scores in the 90th percentile under both our Buffett and Fisher models. Both Warren E. Buffett and Kenneth Fisher like the company's free cash flow per share (3.38), and low leverage strengthens return on total capital -- which has averaged 13.6% over the past 10 years -- therefore satisfying the Buffett benchmark.
Strong earnings predictability and consistent earnings-per-share growth get also high marks under the Buffett strategy, and a price-sales ratio of 1.44 based on trailing 12-month sales is a plus under the Fisher methodology. For the fiscal first quarter ended March 27, the company reported same-store sales growth of 2.4% at its franchised restaurants and earnings per diluted share increased by 13.5% to $1.73.
2. Cracker Barrel Old Country Store  (CBRL) - Get Report
This company, which was established in 1969, operates 636 restaurant/gift shops in 42 states based on a trademarked rustic, old country-store concept. These stores feature home-style country food and a range of decorative and functional items, gifts and toys, apparel, cookware and food.
This company earns a perfect score under the O'Shaughnessy investment model based on its substantial size (market capitalization of nearly $4 billion), consistent earnings per share (which has grown each year over the past five) and a modest price-sales ratio of 1.38 (compared with the 1.50 benchmark). This month, Cracker Barrel reported positive fiscal third-quarter results, including increased comparable restaurant and stores sales of 2.3% and 2.2%, respectively, and a 22% increase in adjusted earnings per diluted share from a year earlier.
3. Fiesta Restaurant  (FRGI) - Get Report

This is the parent company of the Pollo Tropical and Taco Cabana restaurant brands, which specialize in fast-casual restaurants offering Caribbean and Mexican-inspired food.
Under the Peter Lynch-based investment model, Fiesta's healthy average three- four- and five-year EPS growth of 28.34% passes this model's minimum requirement of 20% and classifies the company as a fast grower.
He liked to use the price-earnings-growth ratio to determine fairness of stock price, so this model requires a company to have a PEG ratio of below 1.0. Fiesta passes with a ratio of 0.60.
The company also boasts modest leverage, with a debt-equity ratio of just 29.13%.
4. Red Robin Gourmet Burgers (RRGB) - Get Report

This operator and franchiser of casual-dining restaurants offers a wide variety of gourmet burgers.
Red Robin scores 91% under the Lynch investment screen based on a PEG ratio of 0.51 (anything under 0.50 is considered best case in this model), and the average EPS growth rate of 32.5% is well within the range this strategy favors of between 20% and 50%.
Given the company's sales of $1.26 billion, the Lynch strategy likes to see price-earnings ratios of below 40. At 16.28, Red Robin shows well.
5. Ruth's Hospitality  (RUTH) - Get Report

This company develops and operates fine-dining restaurants under the name Ruth's Chris Steak House. These restaurants cater to special-occasion diners and a business clientele, and the stock receives high scores under both the Fisher and Lynch investment strategies.
Ruth's Hospitality's reasonable price-sales ratio of 1.50, coupled with long-term EPS growth of 19.15% (compared with a required 15% minimum) and three-year average net profit margin of 6.59% (compared with a required 5% minimum) help the stock score highly, according to the Fisher strategy.
Under the Lynch strategy, the PEG ratio of 0.88 reflects fairness of price relative to its growth rate. The company's average four- and five-year EPS growth of 21.5% gets high marks as well.
Ruth's Hospitality's exceptionally low debt of just 8.41% of equity is a plus. For the fiscal first quarter ended March 27, total restaurant sales increased 4.2% from a year earlier.
John P. Reese is founder and chief executive of Validea.com, an investment research firm, and Validea Capital Management, an asset management firm serving affluent investors and companies. He is also co-author of two investing books, including "The Guru Investor: How to Beat the Market Using History's Best Investment Strategies."
Under no circumstances does the information in this column represent a recommendation to buy or sell stocks.
Reese appreciates feedback. Click here to send him an email.
TheStreet.com has a revenue-sharing relationship with Amazon.com under which it receives a portion of the revenue from Amazon purchases by customers directed there from TheStreet.com.
This article is commentary by an independent contributor.
At the time of publication, Reese was long CBRL and RUTH.