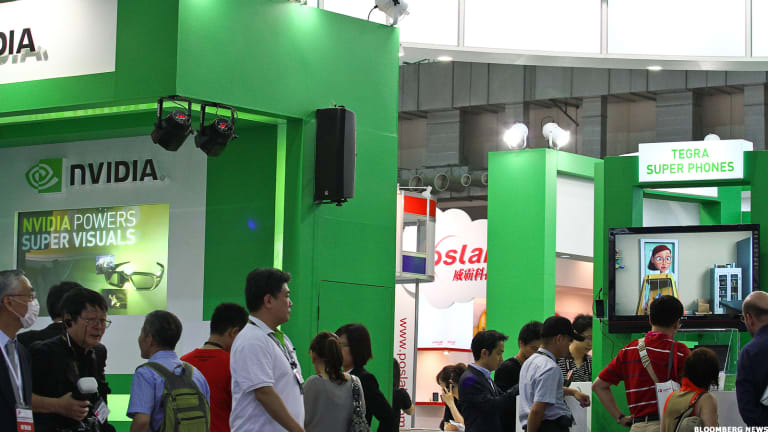 5 Things to Watch When Nvidia Reports Earnings on Thursday
The GPU giant's shares have been flying high amid enthusiasm for its gaming, server and automotive prospects. Can it meet the Street's high expectations?
The GPU giant's shares have been flying high amid enthusiasm for its gaming, server and automotive prospects. Can it meet the Street's high expectations?
Three months ago, Nvidia Corp. (NVDA) - Get Report soundly beat its July quarter (fiscal second quarter) estimates and issued above-consensus October quarter sales guidance. Yet with the stock up about 60% on the year going into earnings, shares sold off the next day.
But that selloff didn't last long: Nvidia is now up 22% from where it traded prior to the July quarter report, and sports a whopping $125 billion market. That spells a pretty high bar for its October quarter report, which arrives after the close on Thursday, Nov. 9.
This column originally appeared on Real Money, our premium site for active traders. Click here to get great columns like this.
On average, analysts polled by FactSet expect quarterly revenue of $2.37 billion and adjusted EPS of $0.95. And the consensus for January quarter sales stands at $2.44 billion. But given how much Nvidia has been consistently beating estimates in recent quarters, higher numbers will likely be needed for the stock to rally post-earnings.
Here are a few other things to keep an eye on as Nvidia reports:
Gaming GPU sales
Nvidia's total gaming product revenue rose 52% annually to $1.19 billion in the July quarter. For the October quarter, the consensus is for revenue to rise a modest 3% to $1.28 billion, thanks partly to tough comparisons caused by the year-ago ramp of Nvidia's Pascal-architecture gaming GPUs.
Also potentially impacting growth: AMD Inc.'s (AMD) - Get Report Vega desktop GPUs, which put the company on better high-end footing, launched in August. But the performance of the first Vega parts trails that of Nvidia's two most powerful desktop GPUs, the GeForce GTX 1080 Ti and Titan XP, and the chips are relatively power-hungry. Meanwhile, total PC gaming hardware demand appears to be strong, as is demand for Nintendo's Nvidia-powered Switch handheld console.
Volta's data center sales
Nvidia began shipping its powerful Tesla V100 server GPU, the first chip based on its next-gen Volta architecture, in late July. Cloud giants and others have been expected to avidly use V100s to power systems meant to train AI/deep learning algorithms. In addition, Amazon Web Services (AWS) is two weeks removed from making V100-powered cloud computing instances available to customers; it could be just a matter of time before Microsoft (MSFT) - Get Report and Alphabet/Google (GOOGL) - Get Report make similar announcements.
Strong V100 sales are expected to help Nvidia's Datacenter segment revenue rise 92% annually to $461 million. Google's use of its home-grown Tensor Processing Unit (TPU) to handle some (though not all) of its AI training work could be a slight headwind.
Demand from cryptocurrency miners
On its Q3 earnings call, AMD said it expects "some leveling off" of graphics card demand from cryptocurrency miners in Q4, and noted it has graphics card channel inventories that had been depleted by crypto demand start to rise again.
Will Nvidia provide similar commentary? If it does, markets might take it in stride, given expectations that mining-related GPU sales would eventually slow and the limited price movement recently seen in Ethereum (the cryptocurrency that miners most often deploy GPUs to obtain). After backing out $66 million in quarterly Intel licensing payments that ended in March, Nvidia's "OEM and IP" revenue, which covers sales of mining-optimized GPUs as well as less powerful PC GPUs sold to OEMs, is expected to rise 52% to $182 million.
Intel commentary
On Nov. 7, Intel Corp. (INTC) - Get Reportannounced it's hiring Raja Koduri, formerly the head of AMD's Radeon Technologies Group (the company's GPU product segment), to head a new Core and Visual Computing Group that (among other things) will develop "high-end discrete graphics solutions for a broad range of computing segments." That, of course, is a field that Nvidia has towered over for a long time.
Look for analysts to offer a question or two on the earnings call about what Nvidia, whose GPU R&D investments and developer ecosystem remain valuable moats, thinks about Intel's plans. And what, if any, moves it might make to counter.
Spending growth
As Nvidia makes big investments to maintain its gaming GPU momentum, grow its data center footprint and land deals for its Drive PX autonomous driving platform, its spending pace has begun picking up. In the July quarter, operating expenses grew 19% annually on a non-GAAP basis to $533 million, and 21% on a GAAP basis (includes stock expenses, among other things) to $614 million.
For comparison, non-GAAP operating expenses only rose 8% in fiscal 2017 (it ended in January). Did spending growth continue accelerating in the October quarter?
Nvidia and Alphabet are holdings in Jim Cramer's Action Alerts PLUS Charitable Trust Portfolio. Want to be alerted before Cramer buys or sells NVDA or GOOGL? Learn more now.
Don't miss these top stories on TheStreet: