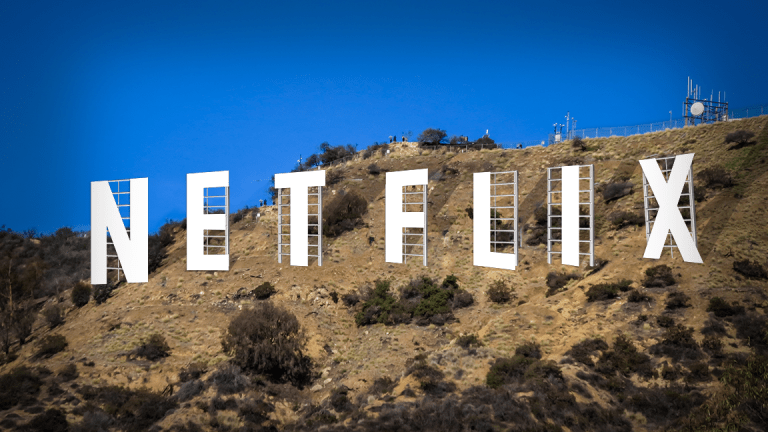 5 Key Things to Watch for as Netflix Reports Earnings
International growth, the impact of Netflix's price hike and remarks about content plans are among the things worth watching as the streaming giant reports.
With the help of rising equity markets, Netflix (NFLX) - Get Report shares have risen another 10% since the streaming giant soundly beat its third-quarter subscriber guidance and (thanks to its recent price hike) offered a mixed fourth-quarter subscriber outlook. Netflix is now worth $95 billion, or more than Twenty-First Century Fox (FOXA) - Get Report (acquisition premium and all) and CBS (CBS) - Get Report combined.
That positions Reed Hastings' firm to crack the $100 billion threshold in the event it delivers better-than-expected Q4 results and Q1 guidance on Monday. On average, analysts polled by FactSet expect Q4 revenue of $3.28 billion (up 32% annually) and GAAP EPS of $0.41. Those numbers roughly match Netflix's own guidance, which also calls for the company to add 1.25 million U.S. streaming subs and 5.05 million international subs during the quarter.
Here are a few things to keep an eye on as Netflix reports after the bell on Monday and hosts an "earnings interview" at 6 p.m. ET (TheStreet will be covering the report and interview through a live blog on Monday afternoon; please check our home page for more details): 
1. The Price Hike's Effects
While Netflix's Q4 international guidance for seasonally strong Q4 was above consensus estimates, its U.S. guidance fell short. That had everything to with Netflix's early-October price hike, which only impacted the U.S. and select European countries.
Thanks to the hike, which respectively raised prices for Netflix's Standard (HD) and Premium (4K) plans by $1 and $2 per month to $10.99 and $13.99, Netflix opted to be conservative with its U.S. guidance. The Q4 report will let us know whether or not the caution was warranted.
It should also give us an idea as to how much the price hike is lifting Netflix's average selling price (ASP). ASP was already up 7.4% annually in Q3, ahead of the hike.
2. Specifics About International Growth
Much of Netflix's recent breakneck international growth has come from Europe and (to a lesser extent) Latin America. Did Asian markets such as Japan, India and South Korea play a larger role in Q4? Also, to what extent are foreign-language Netflix originals, such as Narcos, 3% and Okja, boosting international sign-ups?
Netflix doesn't break out its international subscribers by market. But the Q4 shareholder letter and earnings interview might yield some new details about how Netflix is progressing in various overseas markets.
3. Comments on Content Investments
With Disney (DIS) - Get Report having inked a deal in December to buy most of Fox's assets, Netflix now faces even more pressure to grow its library of kids and animated original content before its deal with Disney runs out at decade's end, around the time that a Disney-branded streaming service launches. Netflix has already set a 2018 content budget of $7 billion to $8 billion (up from 2017's $6 billion); look for management to field some questions during the earnings interview about its plans to use Netflix's giant content budget to help replace the kind of material Disney currently provides.
Also look for a question or two about the impact of recent Netflix movie launches -- Will Smith's Bright, especially -- and what (if anything) Netflix plans to do differently on the original film front in 2018 given the very mixed reviews the company's 2017 slate received.
4. The Impact of Carrier Deals
In September, Netflix announced a well-publicized deal with T-Mobile US (TMUS) - Get Reportunder which Netflix's Standard plan is included with subscriptions to T-Mobile ONE unlimited postpaid plans. And on Jan. 9, T-Mobile announced that it added 1.1 million branded postpaid net subscriber adds in Q4, including 891,000 postpaid phone net adds.
Keep an eye out for comments on how much of a lift T-Mobile provided to Netflix's Q4 U.S. subscriber adds, as well as the impact of pay-TV bundling deals with Altice subsidiaries in both the U.S. and overseas markets. Management has suggested it's eager to strike more such deals in 2018.
5.Marketing Spend
In its Q3 shareholder letter, management noted Netflix's Q4 U.S. streaming contribution margin (guided to be at 34.4%, down from Q3's 35.8%) will be pressured by higher marketing (ad) spend. "We spend disproportionately [on marketing] in the US to generate media and influencer awareness for our programming which we believe, in turn, is an effective way to facilitate word of mouth globally," the company wrote.
How much of a payoff does Netflix feel it got from this elevated spending? And how much plan to grow its U.S. and international ad spend in 2018? As it is, the company's marketing spend rose 21% annually over the first nine months of 2017 to $858.1 million.
This column originally appeared on Real Money, our premium site for active traders. Click here to get more great columns like this.

More of What's Trending on TheStreet: