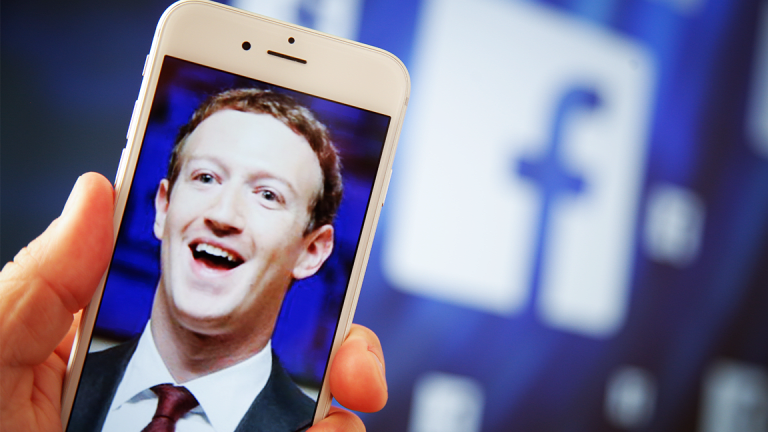 5 Key Things to Watch as Facebook Reports Earnings
The impact of recent news feed changes and plans for monetizing Facebook Messenger and WhatsApp are among the things to watch as the social media giant reports on Wednesday.
Though Facebook (FB) - Get Report shares slipped a bit in early January thanks to worries about planned news feed changes, they're still above where they traded before a strong Q3 report was shared (along with very aggressive 2018 spending plans) in early November, and up about 40% over the last 12 months.
As a result, Mark Zuckerberg's firm still faces something of a high bar for its Q4 report. The FactSet analyst consensus is for revenue of $12.55 billion (up 42% annually) and GAAP EPS of $1.94, but chances are that Facebook, which has beaten estimates like clockwork in recent years, will have to top those numbers for its shares to rally post-earnings.
Here are five things to keep an eye on as Facebook reports after the close on Wednesday and hosts its earnings call at 5PM ET:
The impact of slowing ad load growth and higher ad prices
Facebook has cautioned for a while that it won't see major increases in news feed ad load -- the number of ads that are shown during a given amount of news feed scrolling -- starting in the second half of 2017. And true enough, slowing ad load growth resulted in Facebook's paid ad clicks/impressions rising only 10% annually in Q3 - a marked slowdown from Q2's 19% growth and Q1's 32%.
But this was more than offset by a 35% increase in Facebook's average ad price - a big improvement from Q2's 24% increase and Q1's 14%. Slower ad supply growth is naturally providing a lift to prices; Facebook's constant ad targeting and measurement improvements, and the confidence they give advertisers to up their Facebook budgets, aren't hurting either.
Though Facebook does have some other growth drivers at its disposal, such as active user growth and Instagram ad sales, it clearly needs to keep seeing strong ad price growth to offset the impression growth slowdown. On this count, it's worth noting that Merkle, a major online ad agency, saw its clients' ad spending growth for Facebook proper slow to 20% in Q4 from 40% in Q3, with higher ad prices partly offset by a 27% drop in impressions.
Company-specific factors naturally play a role in the numbers reported by individual ad agencies. In addition, Merkle reported its clients' Instagram ad spend rose 122%. But Merkle's data does make for an interesting datapoint given Facebook's own remarks about ad load.
Commentary about recent news feed changes
On Jan. 11, Zuckerberg disclosed that Facebook is prepping news feed algorithm changes that will result in users seeing more content from "family, friends and groups," and less from "businesses, brands and media." He added -- in remarks that caused Facebook shares to slump -- that these changes will cause time spent on Facebook "and some other measures of engagement" to drop in the near-term.
Though Zuck and other Facebook execs have marketed this change as one meant to improve the quality of time spent on Facebook, there's likely a business angle to the move as well. Engagement rates for Facebook proper have reportedly begun to slip, and being seen as a time-waster by consumers is a risky proposition when there are many good and cheap digital content alternatives available. Thus the news feed change could be a case of short-term pain producing a long-term gain.
But either way, expect Facebook to field some earnings call questions about the expected near-term business impact of the change. And the impact might not be entirely negative, since showing fewer "organic" posts from followed brands and publishers gives those brands and publishers more incentive to grow their reach via Facebook ads. Moreover, as Merkle observes, the fact that users will see fewer organic brand/publisher posts could boost engagement rates for paid posts.
Spending plans
CFO Dave Wehner raised eyebrows during its Q3 earnings call when he forecast Facebook's GAAP costs and expenses would rise 45% to 60% in 2018, and that its capital spending would roughly double from an already-high 2017 level of $7 billion. Plans to double the number of people working (inside and outside of Facebook) on monitoring content and ads are behind some of this growth. So is Facebook's ongoing data center building spree, done in part to handle the massive amounts of video being viewed and shared on its platform.
But Facebook also has a history of initially setting very ambitious spending forecasts, and then slowly dialing them back some. If, for example, the company says on its call that it now only expects 45% to 50% cost/expense growth and 80% capex growth, odds are that investors will respond positively.
Messaging app plans
On the Q2 earnings call, Zuckerberg said he'd like to see his company "move a little faster" with regards to monetizing Facebook Messenger and WhatsApp, each of which now claim over 1.2 billion monthly active users (MAUs). And while Facebook has taken initial steps in this direction -- Messenger has seen some ad tests, and it also supports Facebook's Instant Games platform, which now supports ads and in-app purchases -- both apps remain pretty lightly monetized compared with Facebook proper and Instagram.
Two weeks ago, Messenger chief David Marcus suggested two of Facebook's 2018 priorities will be to improve its effectiveness as a marketing platform and as a "customer care" channel -- both point to new revenue opportunities. WhatsApp, meanwhile, has rolled out an app that helps businesses engage with customers, while stating it plans to charge for an enterprise-class version of the offering. Facebook could use the Q4 call to elaborate some more on such efforts.
Video progress
Facebook rolled out its ad-supported Watch professional video platform to a decent amount of fanfare last summer. The initial returns seem to be mixed -- some partners seem quite pleased with the traffic they're getting, but others are unhappy about ad prices and/or average viewing times.
But Facebook remains quite committed to making Watch a hit. The company has signaled a willingness to spend heavily to license popular content, and has ended a program through which it paid publishers to make news feed video in order to focus its resources on Watch. It also has predicted its planned news feed changes will result in fewer videos appearing in user feeds.
Facebook could share some new stats on its call to calm worries about Watch's popularity with either users or advertisers. The company could also share some new details about how it plans to make Watch stand out relative to Alphabet's (GOOGL) - Get Report still-dominant YouTube. In the past, Zuckerberg has suggested community and social sharing features would act as a key selling point.
This column originally appeared on Real Money, our premium site for active traders. Click here to get more great columns like this.

Jim Cramer and the AAP team hold positions in Facebook and Alphabet for their Action Alerts PLUS Charitable Trust Portfolio. Want to be alerted before Cramer buys or sells FB or GOOGL? Learn more now.
More of What's Trending on TheStreet: