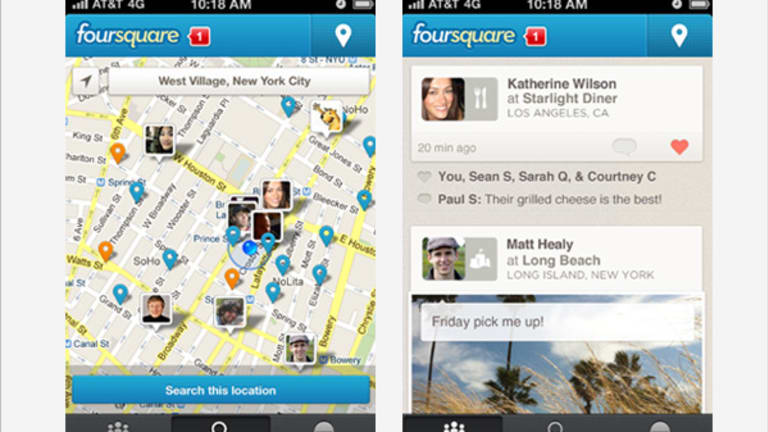 5 Technology Acquisition Targets
Industry experts tell <I>TheStreet</I> that the following companies are possible technology acquisition targets.
NEW YORK
Tech M&A declined substantially this quarter.
Dell
(DELL) - Get Free Report
buyout possibilities aside, there were just $8.9 billion in announced technology deals in the U.S. That's down from $23.4 billion last quarter and $15.8 billion in the quarter before, according to
Dealogic
. And it wasn't just deal volume that was in decline. There were less deals in total. We saw 552 this quarter, compared to the 600+ technology deals we saw in each quarter last year. Overall U.S. M&A activity was also down.
Also see: Dell Dude, You're Getting a Joke of a Premium >>
RRE
Ventures managing partner, James Robinson IV, attributes the decline in activity to market uncertainty surrounding "DC cliffhangers." Due to the presidential election and fiscal cliff negotiations, end of the year deal discussions were put on hold. But as the markets regained stability, deal talks resumed. Looking forward, Robinson says "M&A is coming, and big."
Frank Aquila, co-head of
Sullivan & Cromwell's
global corporate practice, is also optimistic about tech deals. "Look for a significant number of tech deals over the next year or so," said Aquila in an email. "As the larger players seek to better position themselves to compete, they will look to make both significant strategic acquisitions as well as bolt-on acquisitions."
Bankers are also predicting an uptick in tech M&A. Chet Bozdog, global head of technology investment banking at
Bank of America Merrill Lynch
, says "we expect 2013 to be a big year for tech M&A due to CEO confidence levels, the amount of cash on corporate balance sheets and the existence of reasonable valuations in the marketplace." Jeffery Bistrong, managing director at
Harris Williams
, is also optimistic about technology deals, particularly in the software and healthcare IT spaces.
So which tech companies are in play? Industry experts tell
TheStreet
that the following companies are sensible or likely acquisition targets.
Recently appointed Gilt Groupe CEO, Michelle Peluso, is said to have the right credentials to take the company public. When asked about IPO prospects, Gilt execs say that they are on that track, but Peluso says she's not ready to commit to a timeframe. Yet the markets have rebounded and Gilt's core businesses became profitable in December, so why wait? Perhaps the company is open to alternative options.
Gilt's recent turn to profitability may make it a more attractive target to strategic acquirers. Corporations like
Macy's
(M) - Get Free Report
,
Louis Vuitton
, or
Amazon
(AMZN) - Get Free Report
could create potential synergies. The e-commerce site not only brought in $600 million in revenue last year, but Gilt Groupe has also become a notable fashion brand.
Nordstrom
(JWN) - Get Free Report
acquired competitor
Hautelook
for $270 million in 2011.
Vice Chairman Susan Lyne didn't rule out an acquisition, when
interviewed in 2011
while she was CEO. Lyne said that though "anything can happen," she talked up the merits of being a private company. At the end of the day, most companies would sell themselves for the right price.
It's possible that
Groupon's
(GRPN) - Get Free Report
struggles as a public company have left Gilt feeling spooked. Though Gilt focuses more on discount goods and Groupon focuses more on discount services, both companies have their hands in each others businesses, with Gilt purchasing Groupon competitor,
BuyWithMe
, in 2011. As we saw with Groupon, it's difficult to be a public company in an industry with minimal barriers to entry. Companies like Gilt benefit when they remain a step ahead of competition. Otherwise market saturation, drives profits down. It's hard to stay ahead of the game when your strategies are publicly revealed. Gilt would be wise to carefully evaluate investor appetite before pulling the IPO trigger.
Gilt has already raised money at a billion dollar valuation. The e-commerce site has $221 million in venture funding, dating back to 2007. If Gilt doesn't get a great offer, an IPO may be their only option for repaying their investors in a timely fashion.
Foursquare is venture capital backed, so an IPO or an acquisition would be the standard ways to repay their investors, but an IPO seems unlikely. Foursquare has struggled to make a profit in its existing business model, and only generated an estimated $2 million in revenue last year. Without a game plan, the profit problem could be unattractive to public investors.
The company has raised capital based off a $760 million valuation, so private investors must be optimistic about the company, and if it could sell itself. A number of acquirers could use Foursquare to create synergies. With over 30 million users and 3 billion check-ins, Foursquare has data points that could be an invaluable metric for advertisers. Its platform could also be integrated to enhance an existing social media or internet service. There's also a big push to mobile these days, and Foursquare is already present there. Sam Hamadeh, CEO of private research company, Privco, says the the company "could be worth more as part of a bigger buyer's play on local mobile ads and commerce. Groupon acquiring Foursquare for example wouldn't be out of the question."
Yahoo!
(YHOO)
is another company that's been named as a possible acquirer of Foursquare. CEO Marissa Mayer is rumored to be fond of the social media service. And Yahoo's recently been on a
Both Yahoo! and
Facebook
(FB) - Get Free Report
were reportedly interested in Foursquare in 2010, though a deal didn't come to fruition; perhaps talks could resume again.
Foursquare CEO Dennis Crowley, however, may be wary of an acquisition. He's already experienced a failed acquisition, having sold Dodgeball to
Google
(GOOG) - Get Free Report
in 2005, only to have it later shut down. If he's passionate about the future of Foursquare, he'll likely want to make sure that his company finds a good home this time.
There is generally a lot of consolidation in the e-commerce space. Like Gilt Groupe,
Etsy
is a venture-backed company that quickly made a name for itself. With over 25 million members and nearly $900 million in 2012 sales, Etsy's prospects seem promising. Granted, most of that money doesn't go to Etsy. Buyers and sellers convene in an eBay-like fashion.
The popular destination for handmade and vintage goods could easily integrate with a company like
eBay
(EBAY) - Get Free Report
. Etsy may have raised capital last year at a hefty $600M+ valuation. But with a $68 billion market cap, eBay can afford Etsy. Privco CEO Sam Hamadeh says, "Synergies with Ebay are quite obvious," But Hamadeh warns, "the bigger Etsy gets it will only get more expensive for Ebay, so they should swoop in now." Look to Etsy for a deal. Amazon is another major e-commerce brand that could potentially make a bid.
It's also worth noting that CEO Chad Dickerson cast doubt on IPO plans, when he spoke at a PandoMonthly event in January. Although he didn't mention an acquisition, it sounded like he was open to alternative methods of financing, citing concerns about the costs and scrutiny associated with being a public company.
Etsy started financing rounds in 2005. If investors aren't provided with returns soon, it's possible they could get antsy with Etsy.
Like Gilt Groupe, Square is often cited as an IPO candidate. Founder and CEO, Jack Dorsey, hasn't ruled it out, but Square might make a better acquisition target.
The mobile payment service has received $341 million in funding, so Square is heavily venture-backed. Square's
has valued the company around $3.25 billion, but a strategic acquirer like
Visa
(V) - Get Free Report
could afford Square. In fact, Visa already invests in Square, and a lot of financial institutions could create synergies with the San Francisco-based company. Smartphone and tablet transactions are on the rise, so it could be wise for a traditional payment service provider to integrate a company that's already making headways in this space.
Also see: The Mobile Payments Revolution Is Here >>
PrivCo's Hamadeh says an acquisition is likely. "Square will not do an IPO because from its inception it is a company that was built to be bought. Square has achieved impressive revenue growth, but through profit-less prosperity." Hamadeh makes an interesting point about Square's current business model. "Square's strategy has been all about generating increasing mobile payment volume at flat fees (no swipe fees) which by definition leads to adverse selection: that is, the merchants with the lowest average check price will use Square as it's cheaper, while those with large average check prices use a traditional banking solution tied mobile swipes using a mobile card processing device."
Square is still gaining traction, so it's reasonable that the company could hold out for a better valuation in 2014. But with NCR, GoPago, LevelUp, PayPal and Bank of America's Mobile Pay all entering a similar space, there are no guarantees that they'll be a long-term market leader. With Dorsey on board (he co-founded
Twitter
), and a
Starbucks
(SBUX) - Get Free Report
partnership, Square has certainly garnered a lot of media attention. As an early mover, Square has an advantage, but ultimately, the winning service may be the one that's the most cost effective and efficient.
Compuware was cited by multiple bankers as a likely acquisition target. Recent
suggest that there's buyout interest in the enterprise software company. Although Compuware spurned Elliott's propositions, there's said be private equity interest.
Jeffery Bistrong of
Harris Williams
predicts that there could be consolidation amongst Compuware and others in this space, which includes
Red Hat
(RHT) - Get Free Report
and
CA
(CA) - Get Free Report
. "They haven't been able to innovate rapidly enough to differentiate themselves," says Bistrong in a phone interview. "They have tried to be acquisitive with next generation cloud based solutions," but the company hasn't succeeded. Competitor
BMC Software
(BMC)
is now in play, with recently revelations that BMC may be offered a multi-billion take private deal.
Software is expected to continue to see a lot of acquisitions, as the industry has seen substantial M&A activity in recent years. The outlook for deals remains strong, with Bozdog saying "software is likely to be a very busy sector" this year.
--Written by Katie Roof in New York--