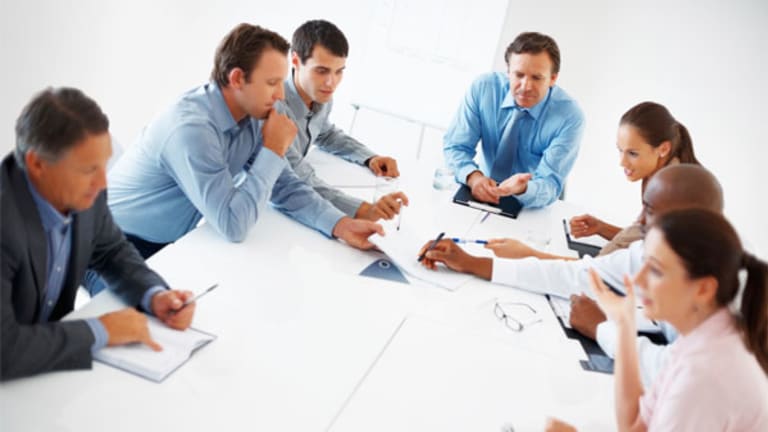 5 Tech Titans Teetering at the Brink
Slumping stocks, stunted turnaround strategies and soured shareholder sentiments have helped shine a severe light on these 5 prominent tech CEOs.
NEW YORK (
) -- Slumping stocks, stunted turnaround strategies and soured shareholder sentiments have helped shine a severe light on several tech CEOs recently.
The salty
Yahoo!
(YHOO)
chief Carol Bartz has long lost her gruff charm and she may not be able to hang on to her job much longer, if new media reports stating that the company is searching for her replacement are true.
It's been a
who was brought in more than two years ago to bring order and direction to the disarray Yahoo! had fallen into.
But Bartz isn't alone. Other tech titans have been called out for failing to meet market challenges or, in some cases, driving the business into the ditch.
Here are
five tech CEOs in the hot seat
who may not get through the year in their current roles. The ranking is in order of stock declines.
No. 5: Yahoo! CEO Carol Bartz
Key misstep
: Ineffectual execution.
Stock performance
: Yahoo! shares are down 7% this year.
In 2009, a sharp-tongued, straight-talking Carol Bartz was considered just the right type of leader that could make the necessary cuts and pull Yahoo! by the shorthairs toward recovery. However, all that acerbic charm and
"re-architecting and globalizing"
hasn't really transformed the Net shop.
Although Bartz finally sealed the search outsourcing job to Microsoft's
Bing
, very few additional accomplishments can be added to the scorecard. A mobile search partnership with
Nokia
(NOK)
is a dubious achievement. Getting
by
Alibaba
in China doesn't exactly fit the tough-as-tacks image.
And while the
could improve things, a new
saying that Yahoo! is seeking a new chief suggests Bartz may not be around to take much credit for the deal.
No. 4: Microsoft CEO Steve Ballmer
Key misstep
: Failing in mobile as
Apple
(AAPL)
and
Google
(GOOG)
ran away with the show.
Stock performance
: Microsoft is down 12% so far this year.
As recently chronicled,
Microsoft's
(MSFT)
Ballmer has had a few major blunders during his 11 years as CEO. But the impatience started to get loud in March, when big investor
Greenlight Capital's David Einhorn
publicly
urged Microsoft to replace its CEO.
Under Ballmer, Microsoft launched the successful Xbox video game unit and delivered a very competent Windows 7 operating system. But Ballmer may be better known for the Windows Vista fiasco and letting the smartphone revolution slip through his hands.
No. 3: HP CEO Leo Apotheker
Key misstep
: Failed to win Wall Street's confidence.
Stock performance
: HP is down 15% this year.
HP
(HPQ)
hired Leo Apotheker in September as a
take-charge leader
to fill the shoes of
as part of an ethics scandal. But in the nine months since his appointment, Apotheker has made very little, if any imprint on HP.
In March, six months after the stand-up guy was hired, Apotheker finally stood up and delivered
. But the presentation
and unimpressed investors resumed their HP selling.
No. 2: Cisco CEO John Chambers
Key misstep
: Plunged into consumer goods, neglected the core business.
Stock performance
: Cisco is down 23.5% this year.
Cisco's
(CSCO)
notched some huge accomplishments during John Chambers' 16-year tenure as CEO, not the least of which was the phenomenal sales growth from $2 billion when he started in 1995 to the $40 billion the networking giant pulled in last year.
Occasionally, the hunt for that growth took Cisco down some ridiculous paths --
Flip
video cameras,
Linksys
home WiFi routers. Chambers acknowledged the problem(s) and has vowed to cut the distractions.
But it was his leadership that steered Cisco wrong. Investors may not be confident that Chambers is the right person to get Cisco back on course.
No. 1: RIM co-CEOs Jim Balsillie and Mike Lazaridis
Key misstep
: Staying the course too long.
Stock performance
: RIM has dropped by half this year so far.
The power duo at
Research In Motion
(RIMM)
proves that sometimes it takes two people to thoroughly mess up a good thing. The
first-quarter earnings call last week
helped illustrate how well the executives divided their duties and just how far
their collective thought capsule had drifted.
RIM's BlackBerry was instrumental in the birth of the smartphone era. It not only captivated a lucrative business user crowd, but teens and lacrosse moms couldn't put them down.
But when smarter touchscreen phones from Apple and Google came along, RIM misjudged the threat.
Balsillie defended the BlackBerry's
simplicity about two years ago, calling it "just a small task handler."
RIM's new BlackBerry is late and the presumably transformative QNX devices won't be available until next year -- something Balsillie and Lazaridis may not be on hand to see.
>>To see these stocks in action, visit the
5 Tech Titans Teetering at the Brink
portfolio on Stockpickr.
--Written by Scott Moritz in New York.To contact this writer, click here: Scott Moritz, or email: scott.moritz@thestreet.com.Follow Scott on Twitter at MoritzDispatch