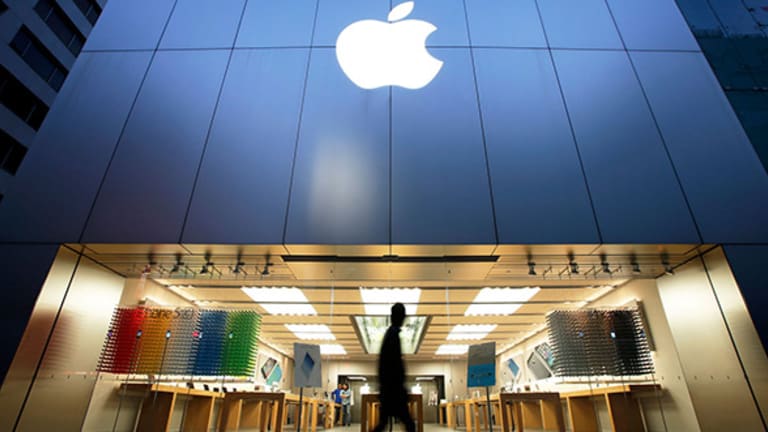 Publish date:
5 Surprising Takeaways From Apple's Earnings Report
Consumer icon Apple beat earnings expectations on Tuesday, but here's the real story behind the numbers.
Consumer icon Apple beat earnings expectations on Tuesday, but here's the real story behind the numbers.
The fourth quarter earnings of the most valuable company in the world, Apple (AAPL) - Get Report were released on Tuesday. And as expected, they were stellar.
Big name tech stocks have been on a tear lately. Alphabet (Google), Microsoft, and Amazon all recently reported skyrocketing earnings numbers.
With Apple riding high on expectations of breaking last year's December quarter holiday sales record this year, did the Cupertino-based behemoth deliver the goods? Was Apple's earnings report as "good" as it should have been?
Now, let's look at five unexpected takeaways from Apple's operating results.
1. Clocking record numbers, but...

Propelled by iPhone sales, Apple fourth quarter revenues rose 22.3% from a year ago to settle at $51.5 billion.
The higher earnings-per-share (EPS) was also partially due to Apple's move to actively repurchase shares from the public, providing higher value to shareholders.
While these numbers did surpass analysts' revenue estimates and EPS suggestions of $51.1 billion and $1.88, respectively, they didn't exactly blow the doors off expectations.
So, yes, good numbers all around -- but they could have been better.
2. Growing demand from the supposedly exhausted Asian dragon
If you think China is down for the count, think again. Despite investor pessimism over the region, Greater China, which includes Hong Kong and Taiwan, displayed a feverish appetite for Apple's products yet again.
Sales from the region nearly doubled from the same period a year ago to $12.5 billion, while unit sales in China exploded a mesmerizing 120%, as the Middle Kingdom's rising middle class dipped into its expanding pockets to bite on the apple.
However, compared to the third quarter, sales declined slightly. Even a small slowdown in sales there must be tracked closely as many in the industry opine that China is on the verge of overtaking the U.S. as Apple's biggest market.
3. The unexpected rise of "other products"
Out of Apple's total fourth quarter revenue of $51.5 billion, the iPhone may have contributed a massive $32.2 billion. However, contribution by other products such as the Apple Watch, Apple TV, Beats and iPod cannot be ignored -- and yes, they are gaining ground as well.
Zipping 105% from the year-ago period, this segment brought in $3.05 billion in revenues to the table.
What's commendable is that in contrast to the 11% drop in the broader PC market (which has left rivals such as Hewlett-Packard struggling), Apple has witnessed Mac sales rise by 3% to sit at 5.7 million units for the September quarter.
4. An Android "switchers" avalanche
Apple appears confident of grabbing a giant's helping of the market share for the smart phone segment, from rivals built using the Android OS. For the September quarter alone, Apple hinted at 30% of those who were switching from other smart phones to iPhones were Android users.
5. Signs from the holiday quarter
For the quarter ending December, CEO Tim Cook is banking big on existing customers upgrading to newer iPhone models.
With the full round of December sales yet to be declared, Apple stays on course for a big year. This growth tech stock belongs in every portfolio.
Looking to add other tech stocks to your portfolio? Click here for new investment ideas in the fast-changing world of technology.
This article is commentary by an independent contributor. At the time of publication, the author held no positions in the stocks mentioned.