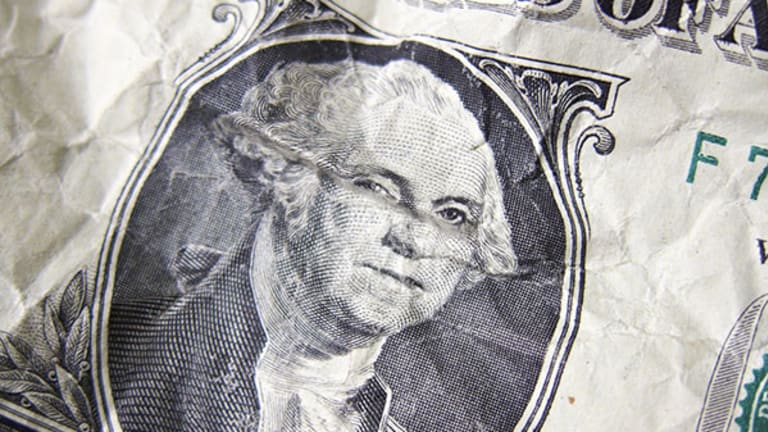 5 Stocks With Global Brands That Will Benefit When the Dollar Weakens
The world is convinced that the greenback will continue to rally, but the chart says that it is decision time. Which brands love a weak dollar?
We may be at a fork in the road when it comes to the price of the the dollar. 
Starting around May 2014, the U.S. Dollar hit bottom and rose dramatically until mid March 2015. Since then it has largely gone sideways and has been bouncing around within a tight channel.
Right now, the price of the dollar is still within the narrow channel, but technicals appear to be rolling over, and there is certainly a chance of the price breaking the support level. If it does, there is a lot of air below!
Perhaps that is what commodities, materials and emerging-markets stocks have been sniffing out lately as they have seen spectacular rallies over the past few months.
Here is how the dollar looks on a chart. If I were forced to bet, I would say the dollar is headed down.
Aside from owning commodities, energy and emerging-markets bonds and equities, which U.S. brands seem well-positioned if the dollar slides?
Here are a few charts of the brands in the Dynamic Alpha Brands Index with revenue of at least 40% coming from outside the United States. For a falling dollar, stocks with more international revenue are best positioned for earnings beats & better earnings comparisons going forward.
1. Microsoft (MSFT) - Get Report
Current yield: 2.6%
The charts of "old technology" companies (look at ORCL as well) have been perking up lately, perhaps because of the safety, dividend and global footprint.

2. Philip Morris International (PM) - Get Report
Current yield 4.1%
I have never been a smoker or user of tobacco products but there are hundreds of millions of people around the globe who are, and Phillip Morris owns many of the top tobacco brands including Bond Street, Chesterfield, Marlboro, Parliament and Virginia Slims.
3. Facebook (FB) - Get Report
Although Facebook has no dividend yield, it has great growth and a global footprint.
Facebook has more than 1 billion users globally, creating a captive audience to monetize and market to in a variety of ways. The company also own some well-known growth brands such as Instagram and WhatsAPP, to name a few.
The stock has been a monster since bottoming at about $24 in late 2013.
You see Jim Cramer on TV. Now, see where he invests his money and why Facebook stock is a core holding of his multimillion-dollar portfolio. Want to be alerted before Jim Cramer buys or sells FB? Learn more now.

4.ExxonMobil (XOM) - Get Report
Current yield: 3.5%
All energy stocks have gotten clobbered over the past 18 months, but ExxonMobil isn't going away and it has the global scale to survive and thrive. The stock price has been flexing its muscles lately.
I know the consensus is still bearish on oil and all commodities, but for now at least, ExxonMobil is in the portfolio, performing well, and technicals still appear attractive, though the stock is overbought. But most stocks are currently overbought after a huge run-up in the past month.
5.Chubb (CB) - Get Report
Technically, Swiss insurer ACE acquired Chubb, but because the United States is such a powerful market and Chubb has a more recognizable brand name, the new company kept the Chubb name. The company is now the world's largest property and casualty insurer.
Before the merger, ACE was a strong performer, and lately, Chubb's stock seems to have its mojo back.
This article is commentary by an independent contributor. At the time of publication, the author held no positions in the stocks mentioned.