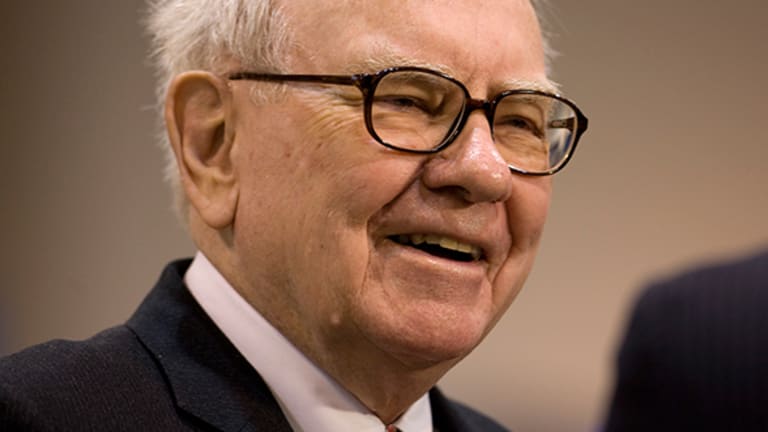 5 Stocks Warren Buffett Has High Hopes for in 2016
2015 wasn't exactly a banner year for Warren Buffett, and in 2016, the Oracle of Omaha will be looking for more than one of his investments to rebound.
Editors' Pick: Originally published Dec. 30. 
 2015 wasn't exactly a banner year for Warren Buffett, and in 2016, the Oracle of Omaha will be looking for more than one of his investments to rebound.
Shares of Buffett's Berkshire Hathaway (BRK.A) - Get BRK.A Report (BRK.B) - Get Berkshire Hathaway Inc. Class B (BARK.B) Report -- both class A and class B -- underperformed in 2015, declining more than 10% in value through market close Tuesday. As CNN Money's Paul La Monica recently pointed out, the last time the conglomerate did so poorly was in 2008, in the heat of the financial crisis. But that year, Berkshire outperformed the benchmark S&P 500; in 2015, it did not.
Not that it has all been bad news for Buffett as of late.
Berkshire successfully orchestrated the tie-up of Kraft Foods Group and H.J. Heinz alongside private equity firm 3G Capital to form Kraft Heinz  (KHC) - Get Kraft Heinz Company (KHC) Report . The deal, which closed mid-year, translated to a record profit for Berkshire in the third quarter thanks to a $7 billion pretax windfall.
The conglomerate has also announced big-name deals, including an agreement to buy battery maker Duracell from Procter & Gamble (PG) - Get Procter & Gamble Company Reportand the acquisition of Precision Castparts (PCP) . Both are expected to close in 2016.
Still, some believe Berkshire Hathaway may get worse before it gets better, and a fair number of its investment holdings will be hard-pressed to produce better returns in 2016 than they did in 2015.
Take a look at five of Buffett's worst-performing stocks of 2015 that the Oracle of Omaha will be hoping for a turnaround on in 2016. All comprise 1% of his public equity portfolio or more.
Walmart
Walmart (WMT) - Get Walmart Inc. Report shareholders, including Buffett, have seen better days. The retail giant's share price declined 28.3% through market close Tuesday, and though it climbed in December, gains were modest.
In October, Walmart shares saw their steepest one-day decline in 25 years after warning that earnings per share could be cut by 6% to 12% during the next fiscal year, the result of increased employee wages and training costs as well as e-commerce spending and lower prices. In its third-quarter earnings report, Walmart cited the negative impact of currency headwinds as well.
The company is facing increasingly stiff competition for consumers' dollars from entities such as Amazon (AMZN) - Get Amazon.com, Inc. Report and Costco (COST) - Get Costco Wholesale Corporation Report (Buffett also has shares of the latter). Just days after Christmas, Walmart shares declined in the wake Amazon's report of a record-breaking holiday season for its Amazon Prime service.
There are, however, bright spots. One example: Walmart Pay, a mobile payment solution the retailer rolled out in December.
American Express
Despite some recent headwinds, Buffett isn't budging on American Express (AXP) - Get American Express Company Report . The payments giant has been among his top holdings for years (it recently dropped to his No. 5 biggest position following the Kraft Heinz deal).
At the May 2015 Berkshire Hathaway Shareholders Meeting, the Oracle of Omaha said despite struggles, he remains happy with American Express. "American Express is still a very, very special company," he said. He also commended CEO Ken Chenault for doing a "sensational job."
American Express stock declined 24.2% in 2015 through market close Tuesday. Shares have been dragged down by a number of factors, including the strong dollar and a lost deal with Costco. The company racked up a win in December when a federal appeals court lifted a temporary ban on it, allowing it to reinstate a longtime policy that prohibits merchants from steering customers toward cheaper forms of payment.
IBM
The share price of IBM (IBM) - Get International Business Machines (IBM) Report , one of Buffett's most hotly debated stock picks in recent years, declined 12.9% through market close Tuesday.
Even though the billionaire continues to stick by the tech giant (and even scoop up more of its shares), he is still waiting for a return on his investment. In November, Berkshire announced that it had lost $2 billion on its IBM investment. However, it said that the downturn was "temporary" and emphasized that it had "no intention" of selling.
In fact, Buffett may have anticipated IBM's stock struggles when he first bought into the company in 2011. "We should wish for IBM's stock price to languish throughout five years," he wrote in that year's letter to shareholders, his hope being that the firm would in turn buy back stock -- which it has.
TheStreet's Jim Cramer took a critical view of IBM and Buffett's take on it in early December.
"Warren Buffett is addicted to buyback and dividends," he said. "I want more than that. They have to make acquisitions."
Deere 
The share price of agricultural equipment maker Deere  (DE) - Get Deere & Company Report declined by 12.2%, weighing on the Berkshire portfolio as a position the billionaire has significantly added to rather recently. But as with IBM, Buffett appears to be betting on the firm as an extended long-term play.
"It's a good company" he said of Deere in a March interview with CNBC. And even though he acknowledged it may struggle over the next few years, he said that over a decade he believes it will be worth more than its current value.
Procter & Gamble
Procter & Gamble (PG) - Get Procter & Gamble Company Report weighed on the Berkshire investment portfolio in 2015, its share price declining 11.8%. But if all goes according to plan, it won't be doing so for long.
In November 2014, Berkshire announced an agreement with P&G to buy Duracell in exchange for turning over its entire $4.7 billion stake in the consumer-products company. P&G also agreed to inject around $1.8 billion into the battery maker. "We want Berkshire to be an ever-growing collection of good businesses that we can hold forever," he said at the time.