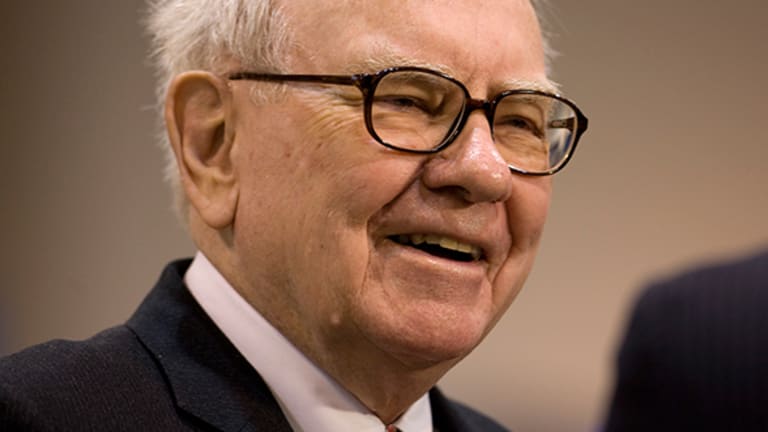 Publish date:
5 Stocks Warren Buffett Would Love
Warren Buffett is praising index funds, but a closer look at Berkshire Hathaway's holdings show quality and value reign supreme. Here are investments that would meet his requirements.
Warren Buffett is praising index funds, but a closer look at Berkshire Hathaway's holdings show quality and value reign supreme. Here are investments that would meet his requirements.
Editors' pick: Originally published May 20.
Billionaire investor and Berkshire Hathaway Chief Executive Warren E. Buffett may sing the praises of S&P 500 index funds, but his enthusiasm could be intended for the average investor who lacks the wisdom and experience needed for active investing.
A look at Berkshire Hathaway's holdings shows the stocks of companies that fit into a value approach, much like that of his mentor and quintessential active investor Benjamin Graham. The holdings also include high-quality firms, many of which have protective moats around their businesses that help defend profitability and the returns that they can generate. 
Emulating the strategies of Buffett and Graham with quantitative approaches to find attractive investment opportunities, like the five names below, is something we have been doing on Validea for more than a decade. 
In a recent Bloomberg article, columnist Nir Kaissar pointed out that Berkshire Hathaway's portfolio is less expensive than the S&P 500, with a price-book ratio of 2.4, a price-earnings ratio of 16.5 and a price-cash flow ratio of 9.8, compared with 2.8, 19.1 and 11.1, respectively, for the index.
Its holdings also reflect a higher quality than those of the S&P 500, with an average return on equity of 13.1%, compared with 12% for the index, and show less earnings volatility.
This is illustrated in three of Berkshire Hathaway's larger holdings: Phillips 66, Walmart and General Motors, which all show below-market valuations and high return on equity.
Ownership data is as of March 31:
| | | | | |
| --- | --- | --- | --- | --- |
| Company | Holdings (in millions) | P/E Ratio | ROE | % Ownership by Berkshire Hathaway |
| Phillips 66 | 75,551 | 11.7 | 16.3% | 14% |
| Walmart  | 55,236 | 14.2 | 18.2% | 1% |
| General Motors | 52,236 | 4.6 | 27.7% | 3% |
When evaluating a company, Buffett breaks things down to core fundamentals and looks at whether a business is proven and stable, involves simple products and services, and at what price he can get the stock (or buy the entire company). He looks for a durable competitive advantage and an enduring moat that is, some quality that makes the business almost impossible for a competitor to overtake.
The Validea Buffett-based investment model, based on the book "Buffettology," incorporates the tenets of this wildly successful and much celebrated investor. It evaluates a company's earnings predictability over the most recent 10-year period by checking for consistent growth in earnings per share, ROE at or above 15%, and return on total capital, which includes debt, of at least 12%.
It also looks for a conservative financing structure -- ideally, long-term debt below two times but not greater than five time earnings -- and positive free cash flow.
To determine if management is using retained earnings to the shareholder's advantage, the model calculates the difference between the most recent year's earnings and those of 10 years ago and then divides by the total amount of retained earnings over that same period. The best-case scenario is a ratio of at least 15%.
Once a company passes these tests, our model determines whether the stock price is attractive by comparing expected rates of return based on both ROE and earnings per share. The best-case scenario is if the average of these two percentages exceeds 15%, but a stock will pass at or above 12%.
Using our Guru Stock Screener, here are a list of companies that score 80% or higher under the Buffett methodology and have a minimum debt-to-equity ratio of 1:
1. Alliance Data Systems  (ADS) - Get Report
The company provides data-driven marketing and loyalty solutions to consumer-based businesses in a range of industries. This company scores 93% under our Buffett model, due to its stable and growing earnings per share and consistently higher-than-average ROE (10-year average of 27.5%, compared with the requirement of 15%).
The 10-year average return on assets of 3.4% exceeds the 1% benchmark, and the company's free cash flow of $24.30 a share indicates that cash is being generated more quickly than it is spent. Under our model, the expected average rate of return of 19.7% makes this an attractive stock.
2. Hasbro  (HAS) - Get Report
The company is a highly recognizable brand name in toys and game products including licensing, digital gaming, television and movie entertainment.
Our Buffett model finds the company's earnings to be adequately predictable, and both the one-year and three-year average ROE figures are strong at 21.7% and 23.6%, respectively. Cash flow per share is a comfortable $1.46 and, over the past 10 years, management's use of retained earnings would have returned 16.7% to shareholders.
3. H&R Block  (HRB) - Get Report
Through its subsidiaries, H&R Block provides tax preparation and other financial services to the general public primarily in Australia, Canada and the United States, including assisted tax return preparation and a range of online services from tax advice to complete do-it-yourself tax return preparation and electronic filing.
Under our Buffett model, H&R Block gets high marks for ROE (10-year average of 29.8%, compared with the minimum requirement of 15%) and return-on-total-capital (19.1%, well above the 12% requirement). The model estimates a strong average expected return of 16.3% over the next 10 years.
4. Rockwell Collins  (COL)
The company designs, produces and supports communications and aviation electronics for commercial and military customers worldwide.
Rockwell Collins scores 82% in our Buffett model, even though it is a bit more leveraged that the other companies (earnings would be able to pay off debt in less than five years, as opposed to the best-case scenario of two years). However, the fact that it operates in the aerospace and defense industry gives it a secure stream of revenue and provides an economic moat, which scores high in this model.
The 10-year average ROE of 39.5% is nearly triple the minimum requirement of 15%. The expected average return on this stock is robust at 16.8%.
5. Sherwin-Williams  (SHW) - Get Report
This company is a household name in paints and related products, which gives it a durable competitive advantage.
The company scores 86% under our Buffett model, with ROE of 31.3% (well above the 15% best-case scenario in the model) and return on capital (average over the past three years) of 34%, nearly triple the required level of 12%.
Sherwin-Williams' debt could be paid off in less than two years, a plus in this model. And, based on the 16.5% return on retained earnings, management seems to be doing a good job of passing value to the shareholders.
We know that Buffett likes the paint business because Berkshire Hathaway owns Benjamin Moore. 
John P. Reese is founder and chief executive of Validea.com, an investment research firm, and Validea Capital Management, an asset management firm serving affluent investors and companies. He is also co-author of two investing books, including "The Guru Investor: How to Beat the Market Using History's Best Investment Strategies" (Wiley). Under no circumstances does the information in this column represent a recommendation to buy or sell stocks. Reese appreciates your feedback. Click here to send him an email.
TheStreet.com has a revenue-sharing relationship with Amazon.com under which it receives a portion of the revenue from Amazon purchases by customers directed there from TheStreet.com.
At the time of publication, Reese was long ADS, SHW, HAS and HRB, though holdings can change at any time.