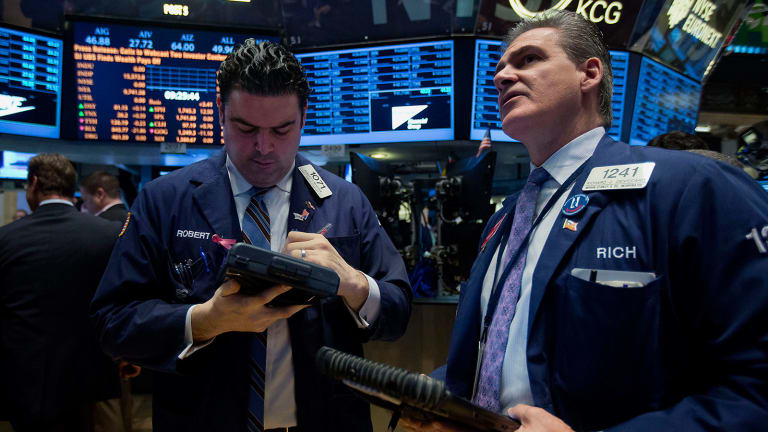 5 Stocks That Are Bucking the Weak Third-Quarter Revenue Trend
With S&P 500 revenue falling in the third quarter, here are five stocks with sterling sales growth.
Third-quarter earnings season is half over, and it's understandable if investors are struggling to make sense of it all. There have been some high-profile disappointments, but also some blowout results from major companies. The market has done well during the season, but is the positive comparison of results to expectations unfairly overshadowing the fairly negative results themselves?
Here's where the season stands now: Overall, third-quarter profits are down 2%, according to Thomson Reuters data, a number that reflects a blending of the stocks that have reported and estimates for the ones that haven't. Revenue is down 3.8%. In fairness, the profit number represents an improvement from earlier this month; on Oct. 1, analysts were looking for a drop of 4.2%. That improved view comes as nearly three-fourths of companies have topped expectations, a beat rate higher than the long-term average of around 65%.
That context eases the sting of the profit drop, but ultimately hurdling over a low bar isn't a sign of robust strength. Revenue in particular remains a concern as sales can't be goosed though cost-cutting the way profits have been. More than half of the stocks that have reported have missed revenue expectations, which is arguably the most important statistic of this earnings season. At the end of the day, long-term stock gains require profits and sales to grow, and that's just not something we're seeing.
Despite that concern, stocks remain an attractive place for investors who know where to put their money and what areas still look risky. The energy sector remains a weak spot for markets; profits are down by nearly two-thirds there, decimated by the impact of lower global growth on oil prices. Financials have also been weak, with 30% of the stocks in that sector missing earnings expectations (the second-lowest rate for a sector behind utilities, though only four utilities have reported thus far, making for an incomparably small sample size), hurt by weaker trading revenue.
So where should investors go? In this environment, the stocks that are poised for outperformance are the ones that focus on the U.S. consumer, which still has good spending power. In a muddled earnings season, here are five stocks that truly shine, not only growing their revenue, but doing so at a faster rate than their peers.
1. Apple (AAPL) - Get Apple Inc. Report
No surprises here, as the U.S. stock with the largest market capitalization is one all investors should look at. But the way the tech giant continues to execute makes it a bet with low risk. Apple grew revenue by a staggering 22% percent in the quarter, many times the 5.1% growth rate of its peers.
2. Infosys (INFY) - Get Infosys Limited American Depositary Shares Report
Infosys is another play in the tech space, which has been one of the strongest performers this season. The company provides consulting and outsourcing services and has been on a tear of late. Revenue is up 14%, compared with the 9.6% growth rate of its peers.
(TK: According to its results, revenue was up 8.7% year over year in reported terms, and 14.2% constant currency terms.)
3. Canon (CAJ) - Get Canon Inc. American Depositary Shares Report
Canon sells printers, copy machines and other office equipment, and while that may not be the most exciting business, there's nothing boring about its results. Revenue is up 6.1% in the quarter, easily eclipsing the 4.5% rate of its peers.
(TK: According to the company's results, "net sales" were up 6.1% year over year in the latest quarter. The company does not report a "revenue" number.)
4. Verizon Communications (VZ) - Get Verizon Communications Inc. Report
Telecommunications is a defensive play, but this is an environment where defense is an important part of one's portfolio. Verizon topped expectations in its most recent quarter and grew revenue 5%. (Peer group comparisons are misleading here given how few companies there are in this sector.)
5. Nike (NKE) - Get Nike Inc. Report
A staple of consumer stocks for a reason, Nike grew its revenue by 5% over the past quarter. While this was slower than its peers, the fact that the company executed so well despite its heavy global exposure demonstrates how well managed and positioned it is. (Nike said revenue growth was 14% excluding currency changes.)
This article is commentary by an independent contributor. At the time of publication, the author held positions in the stocks mentioned.