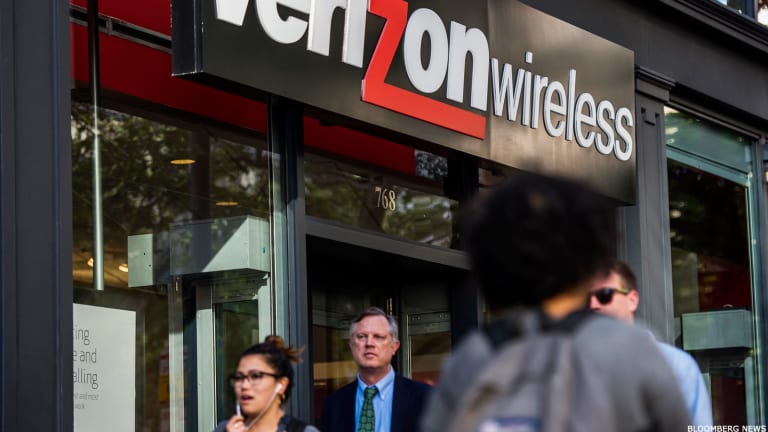 Publish date:
5 Stocks Ready to Call Up Big Gains in 2016
Telecom stocks are holding up relatively well so far this year. Here are five that look poised for breakout gains.
Telecom stocks are holding up relatively well so far this year. Here are five that look poised for breakout gains.
Another week, another selloff. The big S&P 500 index shed 1.56% between Friday's open and Monday's close, giving back a big chunk of Friday's rebound and starting the final week of January off on less than auspicious footing.
But not all stocks got walloped yesterday -- and one of the corners of the market that held up the best was the telecom industry. That's nothing new. Telcos have been showing strong performance from a relative strength standpoint all year long; some of the biggest stocks in the group are among the minority of issues that are actually up year-to-date.
And it's no coincidence that, while the rest of the market stumbles, we're seeing bullish trading setups in a handful of big telco stocks this week.
That doesn't mean it's a good idea to start indiscriminately buying up stocks in the telecommunications industry, however. Some are set to perform a lot better than others. To make heads or tails of the trades that look best-positioned for breakout gains, we're turning the charts for a technical look at five potential buy signals to keep a close eye on in the final week of January.
In case you're unfamiliar with technical analysis, here's the executive summary: Technical analysis is a way for investors to quantify qualitative factors, such as investor psychology, based on a stock's price action and trends. Once the domain of cloistered trading teams on Wall Street, technicals can help top traders make consistently profitable trades and can aid fundamental investors in better planning their stock execution.
Without further ado, here's a rundown of five technical setups that are showing solid trading potential right now.
Verizon Communications
Up first is $190 billion telco Verizon Communications (VZ) - Get Report . Verizon is a member of that small group of stocks that's been able to keep their heads above water in 2016. Since the calendar flipped to January, this stock has managed to move 1.75% higher (that performance number moves up to 3% when dividends are factored in). The good news for investors is that Verizon is on the edge of entering breakout territory as January comes to a close.
Verizon is currently forming an ascending triangle, a bullish price setup that's formed by horizontal resistance up above shares (at $47 in this case), and uptrending support to the downside. Basically, as shares of Verizon have pinballed in between those two technically-meaningful price levels, this stock has been getting squeezed closer and closer to a breakout through our $47 price ceiling. The breakout finally happened on Friday, and Verizon managed to stave off the selling to close above $47 again today.
If shares can hold that $47 line in the sand today, then we've got a confirmed buy signal in Verizon.
Relative strength, down at the bottom of Verizon's chart, adds some extra confidence to the breakout that's being tested today. Our relative strength line has gone parabolic in the last two months, indicating that Verizon's outperformance over the S&P has been accelerating.
If you decide to be a buyer this week, prior support at $44 is a logical place to park a stop loss.
Shenandoah Telecommunications 
Moving down the market cap spectrum brings us to small-cap telco stock Shenandoah Telecommunications (SHEN) - Get Report . Following a correction last fall, Shenandoah has been carving out a bottom for the last month and change, holding on to a slight gain for 2016. Now shares are testing a key breakout level at $22. Here's how to trade the stock.
Since December, Shenandoah Telecommunications has been forming a rounding bottom pattern, a bullish reversal setup that looks just like it sounds. The rounding bottom signals a gradual shift in control of shares from sellers to buyers -- and in Shenandoah's case, it triggers with a sustained breakout through resistance at $22.
Why all of that significance at the $22 level? It all comes down to buyers and sellers. Price patterns, such as this rounding bottom setup in Shenandoah Telecom, are a good quick way to identify what's going on in the price action, but they're not the actual reason a stock is tradable. Instead, the "why" comes down to basic supply and demand for Shenandoah's shares.
The $22 resistance level is a price at which there has been an excess of supply of shares; in other words, it's a spot where sellers have previously been more eager to step in and take gains than buyers have been to buy. That's what makes a breakout above $22 so significant -- the move means that buyers are finally strong enough to absorb all of the excess supply above that price level.
Remember to be reactionary here. Upside in Shenandoah doesn't become a high-probability trade until shares are able to catch a bid materially above $22.
Nippon Telegraph and Telephone 
Relative strength in the telecom industry isn't relegated to U.S. stocks. $82 billion Japanese telco Nippon Telegraph and Telephone (NTT)  is showing traders a big buying opportunity this week. The good news is that you don't need to be an expert technical trader to figure out why. Instead, the price action in this big Japanese communications company is about as straightforward as it gets.
Since shares bottomed back in October, shares of NTT have been making their way higher in a well-defined uptrend. The uptrending channel in NTT is formed by a pair of parallel trend lines that have identified the high-probability range for shares to stay stuck within. Every test of trend line support has provided a low-risk, high-reward buying opportunity. And shares are bouncing off of support for a fourth time this week. It makes sense to buy the latest bounce.
Don't get thrown off by the abundance of gaps on NTT's chart right now. Those gaps, called suspension gaps, are caused by overnight trading on the Tokyo and London Stock Exchanges. They can be ignored for trading purposes.
AT&T
AT&T (T) - Get Report  may be on the other side of the world from NTT, but the price chart in this U.S. communications giant looks incredibly similar to the one we just looked at. Like NTT, AT&T has been bouncing its way higher in an uptrending channel, in this case since August. In short, AT&T is a "buy the dips stock" right now, and with shares range-bound in January, it makes sense to wait for the next text of support so you can buy the bounce.
Actually waiting for this week's bounce is important for two key reasons: it's the spot where shares have the most room to move up before they hit resistance, and it's the spot where the risk is the least (because shares have the least room to move lower before the channel breaks, and you know you're wrong). Remember, all trend lines do eventually break, but by actually waiting for a bounce to happen first, you're ensuring AT&T can actually still muster buying pressure along that line before you put your money on shares.
The 50-day moving average has started acting like support in AT&T in the last month or so. That makes it a logical place to park a stop loss order below. If the 50-day gets violated, then the uptrend in AT&T is over, and you don't want to own it anymore.
T-Mobile US
Last up on our list of telco trades is $30 billion mobile phone carrier T-Mobile US (TMUS) - Get Report . T-Mobile has been churning sideways for the last six months or so, oscillating between $35 and $43 -- or so it seems. Zoom in on the chart a bit, and T-Mobile's price action starts to look a whole lot more directional for 2016.
T-Mobile is currently forming an inverse head and shoulders pattern, a bullish reversal setup that indicates exhaustion among sellers. The inverse head and shoulders pattern is formed by two swing lows that bottom out at approximately the same level (the shoulders), separated by a lower low (the head). The buy signal comes on a move through T-Mobile's neckline, which is currently at the $41 price level.
Lest you think that the inverse head and shoulders is too well-known to be worth trading, the research suggests otherwise: A recent academic study conducted by the Federal Reserve Board of New York found that the results of 10,000 computer-simulated head-and-shoulders trades resulted in "profits [that] would have been both statistically and economically significant." That's a good reason to keep a close eye on T-Mobile's $41 level here.
Disclosure: This article is commentary by an independent contributor. At the time of publication, the author held no positions in the stocks mentioned.