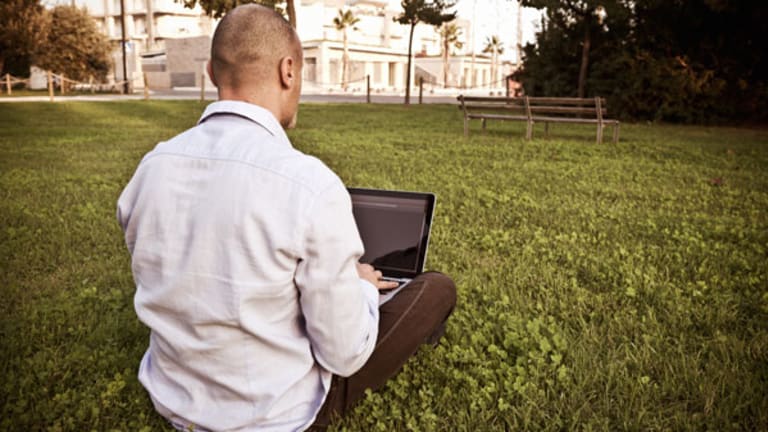 5 Social Media Lessons Learned at Vegas Expo
Google continues its reign as the most important entity in online marketing, but incorporating others makes all the difference.
NEW YORK (TheStreet) -- Social media's valuation explosion and obvious potential are captivating investors, however, the synonymous growth momentum forging the tantalizing space creates a minefield requiring careful navigation. One misstep and your portfolio could get "Myspaced" faster than a Snapchat video.
After a rocky start, to say the least, Facebook (FB) - Get Meta Platforms Inc. Class A Report investors (the majority of retail traders) may finally have their heads above water but continuously live in fear of what Twitter (TWTR) - Get Twitter, Inc. Report, LinkedIn (LNKD) , or the 12,000-pound gorilla Google (GOOG) - Get Alphabet Inc. Class C Report may offer users next.
I wanted to gain an insider's view of issues, opportunities, and expectations from and for the people who work in social media every day. After all, I can examine 10-K filings and stock charts all day, every day, but that's driving with the rear view mirror compared to the view from the trenches.
In order to gain a front row seat, I attended the Social Media Marketing Expo, or SMX, in Las Vegas last week. It was a (very) full two-day event held at Aria Resort and Conference Center (MGM) - Get MGM Resorts International Report. What happened in Vegas isn't going to stay in Vegas because I'm going to share with you the most salient takeaways of the event from this investor's point of view.
As a blogger, I learned that if you're even half-way serious about online marketing and you're not attending a SMX show (they have conferences all over the world apparently), you should be worried, because your competition was probably there.
LinkedIn wasn't a priority in terms of time, money, or resources for acquiring new customers; Pinterest is. Granted, LinkedIn is a professional platform, but professionals are consumers also. Considering the stock's blazing appreciation this year, I would've guessed enough revenue resulted from consumer marketing to warrant greater discussion.
Seated at lunch with eight other conference attendees, the message was the same; they don't use LinkedIn for consumer marketing. As part of my research for this article, I checked my profile and counted the display ads. The only ads I could find today were similar to BremerBank offering cash flow and receivable's financing. I no longer own a business that could take advantage of short-term financing. Anecdotally, the LinkedIn ads displayed to me demonstrate the site's focus on business marketing verses consumer marketing.
What isn't said is sometimes as or more consequential than what is. In LinkedIn's case, I can't help but think the lack of consumer ads means more opportunity and more room to grow.
Twitter isn't pushing Facebook into the dustbin of history. Even before Twitter announced its IPO, investors were asking if users are moving away from Facebook to Twitter. In particular, concerns abounded about teenager usage patterns.
The message was quite clear at the SMX. Both are equally beneficial, and while they clearly have different marketing utilities, Facebook isn't fading as a result of Twitter's recent success. If anything, the social media space tide is rising, lifting both Facebook and Twitter's revenue.
I don't believe investors can conclude Facebook is totally safe from Twitter, much less a sure thing, but rumors of its death are premature.
Companies cannot "set it and forget it" when it comes to social media marketing. It's no different than other forms of marketing, and businesses will have to sleep in the bed that they make. It's not enough to simply create profiles on various social media sites and expect to gain new followers and an avalanche of new revenue/orders.
The fact that social media doesn't run on autopilot isn't enough to warrant a spot as something "learned,", however what did strike me as how much there is to do and how many landmines companies face. Even multi-national General Electric (GE) - Get General Electric Company Report figured out that if they don't put the "social" in social media marketing they won't succeed. Take a look at GE's Facebook page, and what you will find is a noticeable lack of "corporate" in it. It's a little geeky, interesting, and funny at the same time. They have over a million followers.
Compare GE's Facebook page with Goldman Sachs (GS) - Get Goldman Sachs Group, Inc. Report page, or almost lack of one. It's no wonder why Goldman has only 7% as many followers. Actually, I'm surprised they have that many. TheStreet.com (TST) - Get TheStreet, Inc. Report with a market cap of less than 1% of Goldman Sachs has almost twice as many followers.
I saved the best for last. At least if you're a company trying to market products online or off.
According to the presenters, there are over 500 million tweets per day, but there are more than 2 billion Twitter searches per day. That's four times as many people searching for information than are posting it. If you want to get your message out, there are people who want to read it.
Using hashtags increases the likelihood of your tweet being read, but if you use more than two hashtags in any given tweet, the engagement rate begins to drop significantly. People don't respond well to tweet spam.
If you want to build your Twitter following, you must find and attract influencers in the space you're interested in. Having influencers with large numbers of followers will encourage others to follow you.
Twitter allows you 140 characters per tweet, but you should target no more than 100 characters for best results.
Your Google profile page has page rank. Page rank hasn't been updated in months. If you're wondering why your ranking hasn't improved this year, it's because ranking is in a holding pattern for you and everyone else.
You wouldn't drive across the country without GPS and or map. Trying to figure out social media marketing without attending conferences is more careless because jobs and money are on the line.
At the time of publication, Weinstein was long TST.
This article is commentary by an independent contributor, separate from TheStreet's regular news coverage.