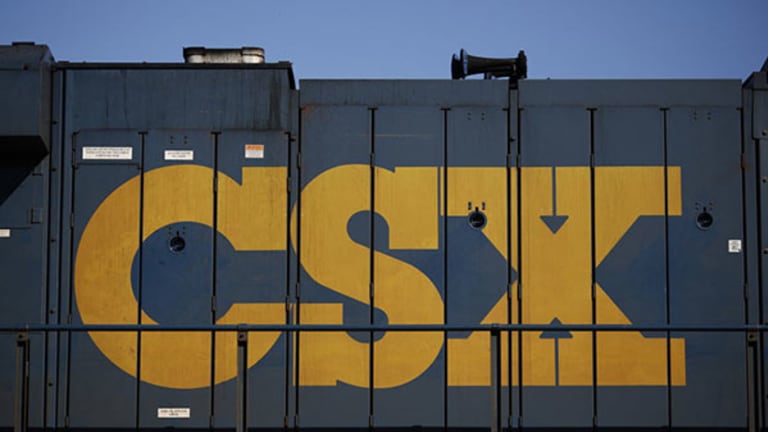 5 Shipping Stocks to Buy to Benefit From Lower Oil Prices
Analysts say a Brent crude price of $86 or lower would help shipping lines report significantly improved earnings for the fourth quarter of 2014. Here are shipping stocks to consider.
NEW YORK (TheStreet) -- Oil prices are bad for companies that extract and sell it but good for those that buy a lot of it -- like shipping companies.
According to analysts at BIMCO, the world's largest trade association for shipping companies, a Brent crude price of $86 or lower would help shipping lines report significantly improved earnings for the fourth quarter of 2014. It is safe to expect that shipping companies would report somewhat improved fourth quarter results. Here are five to watch.
1. Matson Inc (MATX)
Spun-off from Alexander & Baldwin (ALEX) in 2012, Matson is a shipping company that operates in the small Jones Act shipping niche. The company concentrates its business in the Pacific region, with its focus on routes between Hawaii -- which is its core market -- Micronesia, Guam and the U.S. mainland.
Being a Jones Act player means that Matson is one of the few shipping companies that is allowed to transport goods between ports within the U.S. The company reported in 2013 that it generated about 65% of its revenues from Jones Act shipping and it shows just how profitable this niche is for Matson. Mainly due to the wide economic moat that Matson enjoys through the Jones Act, the company is well positioned to be successful over the long-term.
Matson has also been committed to rewarding its investors. It has one of the highest dividend yields in the shipping industry, having increased dividend payout twice over the last two years -- while paying off the debts it inherited from its parent company. Moreover, with a payout ratio of about 56%, the company is likely to keep paying dividends.
The company recently raised its outlook for the fourth quarter of 2014, claiming that the sharp drop in the price of bunker fuel led to a "better-than-expected fuel surcharge collections relative to the company's fuel expenditures." So investors might want to keep an eye on this to benefit from the low oil prices.
2. Nordic American Tankers Limited (NAT)
Nordic American Tankers is one of the oil tank companies that are well positioned to benefit from the onslaught in the oil market. 
Low oil prices have led to an increase in the demand for crude oil. Countries across the world are buying more crude oil for commercial stockpiling. For instance, China employed about 83 oil tankers last year, which, as Bloomberg reported, was a sign of stockpiling.
The increase in demand is also accompanied by a reduction in fuel costs -- bunker fuel in this case. This means that oil tankers are poised to report better margins, which should be magnified by increased demand.
Despite the struggles of oil tankers since the financial crisis, Nordic American Tankers has managed to stay ahead, thanks in part, to its low debt burden. 

NAT Debt to Equity Ratio (Quarterly)
data by
In addition, the company has paid uninterrupted dividends since 1997.
3. Scorpio Tankers Inc. (STNG)
Scorpio Tankers is another company that should benefit from the said surge in the demand for crude oil. 
Improving operating margin
Scorpio Tankers' operating margin, which currently stands at about 24% for the trailing-twelve-month period, has been on an impressive rise over the last two years as the chart below shows. And it is very likely that this will improve with the surge in demand for oil coupled with the reduced bunker fuel price. Bunker fuel is the biggest component in the operating expenses column of shipping companies, according to FinanceQA.
data by
Increasing revenue
The fact that Scorpio's revenues have been on the rise -- especially when that of its peers are heading in the opposite direction -- is a good reason to take a look at this company.
data by
Dividends
Last but not the least, Scorpio Tankers also likes making its shareholders happy through dividends. The company started paying dividends in 2013, following its IPO in 2010. And impressively, it has increased its payout consistently quarter after quarter. However, it should be noted that the company's payout ratio is high, standing at about 91.4% for the trailing-twelve-month period.
4. DHT Holdings, Inc. (DHT)
DHT Holdings is a crude oil tanker company that should also benefit from low oil prices. One reason why DHT Holdings is well positioned to benefit from the state of the oil market in 2015 is its acquisition of Samco Shipholding in September last year. The acquisition meant that seven very large crude carriers were added to DHT Holdings' fleet. Two of the seven vessels are in the -- improving -- "spot market." This is the market for short-term contracts, usually no longer than three months in duration. And with 61% of DHT Holdings's fleet in the spot market, the chances that the company will benefit from the robust tanker market in 2015 become bigger.
Owing to low fuel cost, DHT Holdings could be able grow its EBITDA margin further in 2015.
5. Teekay Tankers Ltd. (TNK)
TeeKay Tankers is a pick based on the idea that oil prices will increase in the next year or so. The company is essentially built to capture upside opportunities in the spot market. However, it also use fixed-rate time charters to hedge its business model.
With the current low oil prices, the need for oil storage facilities has increased. And Teekay's strategy means that its vessels are available for hire for storage. And as long as crude oil price remain low, buyers are likely to buy and want to store oil until prices increase. Having reported growth in its spot tanker rates during the third quarter, and with oil prices gaping lower since then, it is safe to expect that that its fourth quarter report will be better. More importantly, this trend is likely hold for the most part of 2015 considering that it will be difficult for oil prices to return to over $100 overnight.
Other Places to Look
It is important to note that the benefit of low oil prices isn't limited to oil tanker companies alone. The truth is just about any shipping company that's directly responsible for fuel costs will benefit. According to First Base Freight, WHICH IS WHAT?, the price of fuel is the number one factor affecting shipping costS. Therefore, investors might also benefit from this trend by looking at shipping companies that account for fuel costs -- like in the case of Matson.
This article is commentary by an independent contributor. At the time of publication, the author held no positions in the stocks mentioned.