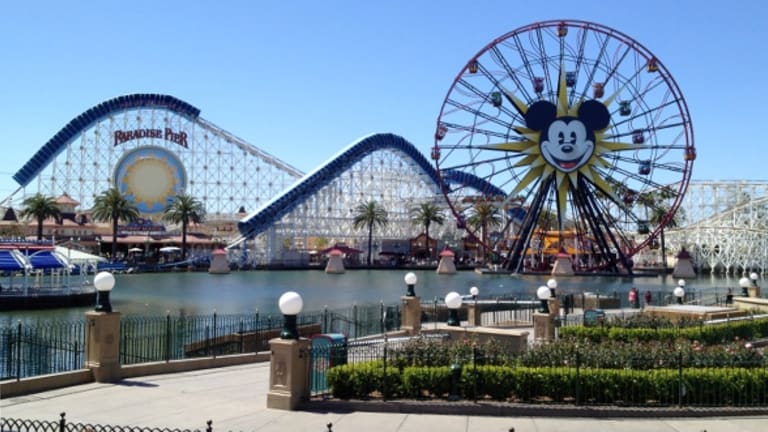 5 Rocket Stocks to Buy for Blastoff Gains
These stocks have both short-term gain catalysts and longer-term growth potential.
There's something to be thankful for this Thanksgiving.
Last week provided a strong showing for the stocks in the S&P 500 index. Between Monday's open and Friday's close, the big index managed to end things 1.75% higher than it started, bringing markets back within 2.1% of all-time highs.
And while the seasonally low volume of the holiday week isn't likely to bring about any monster moves this week, the stage is certainly set for a test of prior highs in the final stretch of 2015. Of course, not all stocks are participating in the upside we're seeing here. In short, stock picking still matters in this market.
To make the most of the bullish turn in sentiment ahead of Thanksgiving, we're turning to a fresh set of Rocket Stocks to buy this week…
For the uninitiated, "Rocket Stocks" are our list of companies with short-term gain catalysts and longer-term growth potential. To find them, I run a weekly quantitative screen that seeks out stocks with a combination of analyst upgrades and positive earnings surprises to identify rising analyst expectations, a bullish signal for stocks in any market. After all, where analysts' expectations are increasing, institutional cash often follows. In the last 325 weeks, our weekly list of five plays has outperformed the S&P 500's record run by 79.06%.
Without further ado, here's a look at this week's Rocket Stocks.
Walt Disney 
Up first is media giant Walt Disney (DIS) - Get Free Report . Disney has been a stellar performer in 2015, rallying more than 27% since the calendar first flipped to January and outperforming the rest of the broad market by a big margin in the process. And Disney's momentum isn't showing any signs of slowing down this fall.
While the Disney name might conjure up images of characters such as Mickey Mouse, Winnie the Pooh and even Pixar favorite Buzz Lightyear, the firm's reach extends well beyond the its namesake brands. Disney also owns television networks such as ABC and ESPN, a pair of lucrative cash cows. Back within the Disney-branded ecosystem, the firm's assets include theme parks and cruise ships, merchandising units and TV and film studios.
The firm's valuable collection of intellectual property creates valuable cross-selling opportunities that less-integrated firms can't take advantage of. A new Disney movie can get marketed through Disney's ad networks and then be monetized over and over again through merchandise, theme park rides and TV shows.
That virtuous cycle for successful Disney film franchises is exactly the reason for investor excitement over the release of Star Wars: The Force Awakens next month, Disney's first major release from the Star Wars franchise since acquiring Lucasfilm in 2012. With the potential for yet another blockbuster film, big successes in the resorts unit and a deep library of valuable content, Disney looks well-positioned as we head into 2016.
For another take on Disney, check out "Can Disney Continue to March Higher?"
eBay
Payments are hot right now -- thus the excitement over big public offerings such as Square (SQ) - Get Free Report  last week and PayPal (PYPL) - Get Free Report  earlier this year. But it's PayPal's former other half that investors should be paying attention to this fall; eBay (EBAY) - Get Free Report  has been the outperformer of the two. While PayPal has lost about 5.3% of its value since debuting as a publicly traded firm this summer, eBay is up more than 4%.
eBay is still one of the biggest marketplaces on the Internet, with approximately $83 billion in merchandise volume last year. For perspective, by itself as a standalone company, eBay moved one in every $12 spent online in 2014. eBay has expanded beyond simply providing a peer-to-peer auction platform in recent years, transitioning into a broader marketplace with considerable presence from businesses. With 159 million active buyers and 25 million active sellers, eBay benefits from one of the biggest moats (and hardest networks to replicate) in the space.
Financially speaking, eBay is in good shape, with $7.4 billion in debt on its balance sheet and $8.8 billion in cash and investments to offset it. While that net cash position only adds up to around 4% of eBay's market capitalization today, the lack of leverage on this firm's balance sheet gives it options, especially with regard to potential acquisitions. A big consumer business means that eBay earns deep margins for its efforts -- and shares look relatively inexpensive, particularly compared to other tech names in this environment.
The PayPal spinoff this summer might be providing investors with a bargain opportunity in eBay this fall.
Bristol-Myers Squibb
2015 is turning out to be a solid year for shareholders in $113 billion pharmaceutical company Bristol-Myers Squibb (BMY) - Get Free Report . Since the calendar flipped to January, shares of Bristol-Myers Squibb have managed to climb nearly 15% higher, leaving the broad market's barely-breakeven performance in the dust. And from here, this drug maker looks like it has ample upside ahead.
Bristol-Myers Squibb is among the biggest pharma firms on the planet, with a stable of household-name drugs that includes depression treatment Abilify, atrial fibrillation treatment Eliquis and blood thinner Plavix. Like most of its peers, patent losses have been a big black cloud for this firm, but most of those expirations have been priced into shares at this point, and new treatments, such as cancer drug Opdivo, are poised for commercial success.
Right now, Bristol-Myers Squibb owns one of the most attractive drug pipelines among the large pharma firms, focusing on challenging, in-demand specialties such as immunology and cancer treatments. The firm also has plenty of dry powder to invest in growth, with more than $2.7 billion in net cash and investments at last count.
With rising analyst sentiment in shares of Bristol-Myers Squibb this week, we're betting on shares of this Rocket Stock.
Alaska Air Group
Hardly a week has gone by lately where we haven't had an airline on our list of Rocket Stock names -- and for good reason. After starting off the year with some sluggish performance, the airline industry has been conspicuously outperforming the rest of the market in recent months. And Alaska Air Group (ALK) - Get Free Report  is the way we're playing that trend today.
Alaska Air Group operates Alaska Airlines and Horizon Air, a pair of air carriers that operate a combined fleet of 142 Boeing 737 and 52 Bombardier Q400 aircraft. The firm is the seventh-largest airline in North America, serving approximately 100 cities in its network and connecting Alaska with the lower 48 states and vacation destinations such as Hawaii and Mexico. 
Alaska, like its industry peers, has been enjoying some major tailwinds of late. Plummeting oil prices have caused the firm's biggest variable cost, jet fuel, to plunge, while sustained low interest rates have lowered capital costs, making it cheaper than ever to upgrade fleets. That cyclically strong environment for air carriers isn't showing any signs of changing significantly as we head into 2016, and that fact spells more strong performance from Alaska Air as we finish off this year.
Waste Management
Last up on our list of Rocket Stocks this week is aptly named trash collection stock Waste Management (WM) - Get Free Report . Waste Management is the biggest waste services provider in the country, with more than 252 landfills, nearly 300 transfer stations, and 21 million customers in the U.S. and Canada. That scale matters in the trash business. It enables Waste Management to service larger national accounts that smaller operators in this fragmented industry can't bid on.
Despite the waste industry's reputation as a "recession-proof" business, the trash business really ebbs and flows with the broader economy. That's been a good thing of late; as economic output has ramped up in the last few years, so too have waste volumes. Those aren't all garbage, either -- Waste Management is also the biggest recycler in the country, with more than 15 million tons of recycling working its way though the firm's network of facilities last year. As companies look to go green, Waste Management's exposure to the more labor-intensive recycling business should continue to pay off for investors.
Historically, Waste Management has operating a growth-by-acquisition model, increasing its top line by tucking in new firms to its sprawling network of facilities. That's not changing in 2015, as the firm adds material capacity to its income statement. The sale of the Wheelabrator waste-to-energy plants at the end of last year pared down Waste Management's exposure to energy commodity prices at the same time that those commodities were plummeting, good timing on management's part. That said, Waste Management's unmatched size means that it's able to start growing its renewable energy business when the economics start making sense again.
With rising analyst sentiment coming into shares of Waste Management this week, we're betting on this Rocket Stock.
Disclosure: This article is commentary by an independent contributor. At the time of publication, the author held no positions in the stocks mentioned.