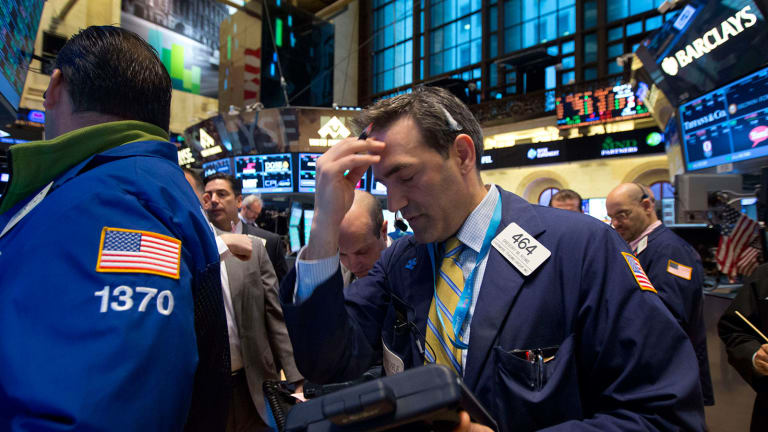 5 Rocket Stocks to Buy During the Market Meltdown
While the broad market is correcting hard, there are some pockets of strength to take advantage of.
BALTIMORE (Stockpickr) -- Last week's price action wasn't pretty. U.S. markets cratered between last Monday's open and Friday's close, the S&P 500 ending things 5.73% lower by the time the dust had settled. That's bad enough to make last week the worst one-week drop since 2011.
Forget about "summer doldrums" in the stock market. It's more like a summer selloff this August.
But while the broad market is correcting hard, there are some pockets of strength. And those relative outperformers are the best way to side-step the selling this summer. To find the next ones, we're turning to a fresh set of Rocket Stocks worth buying this week.
For the uninitiated, "Rocket Stocks" are our list of companies with short-term gain catalysts and longer-term growth potential. To find them, I run a weekly quantitative screen that seeks out stocks with a combination of analyst upgrades and positive earnings surprises to identify rising analyst expectations, a bullish signal for stocks in any market. After all, where analysts' expectations are increasing, institutional cash often follows. In the last 312 weeks, our weekly list of five plays has outperformed the S&P 500's record run by 77.02%.
Without further ado, here's a look at this week's Rocket Stocks.
5 Toxic Stocks You Should Sell Now
JPMorgan Chase
Up first is mega-bank JPMorgan Chase (JPM) - Get JPMorgan Chase & Co. Report. In spite of last week's selloff, JPMorgan is having a solid year. Since shares bottomed back at the end of January, this $235 billion diversified financial stock is still up about 15%. And JPMorgan's mammoth size gives it a defensive bent as we head toward the end of August.
JPMorgan Chase is one of the biggest banks in the U.S., with more than $2.6 trillion in assets globally. The firm's businesses include everything from retail and commercial banking to treasury services, asset management, and investment banking. As the global economy goes, so goes JPMorgan Chase -- and despite some macro hiccups overseas in recent weeks, the overall health of the economy remains solid, keeping JPMorgan's loan book healthy with minimal charge-offs.
As one of the "too big to fail" banks, JPMorgan faces considerable regulatory scrutiny. And while more stringent capital requirements will mean that JPMorgan isn't able to generate the sorts of leveraged returns it once did, that oversight should keep the firm on solid ground from a financial standpoint.
The firm's 2.7% dividend payout also ties the firm for the biggest yield of the big-four banks right now, a fact that shouldn't be lost on investors in this low-rate environment.
Reynolds American
$60 billion tobacco stock Reynolds American (RAI) is another large-cap firm that's been outperforming in 2015. Since the calendar flipped to January, this "sin stock" has managed to rally more than 30%. And after a major shift to Reynolds' business through the acquisition of peer Lorillard, the firm has even more upside room ahead of it.
Reynolds American is the No. 2 cigarette maker in the U.S., with approximately 35% of the market. The firm's big cigarette brands include Newport, Natural American Spirit, and Camel. Reynolds also owns Grizzly and Kodiak smokeless tobacco and the Vuse e-cigarette brand. Even though the domestic tobacco market is fading slowly, it's a slow decline indeed, and exposure to products like e-cigs helps to reduce the negative impact from declining revenues.
The firm's newfound scale should provide a very welcome margin boost on its existing products at the same time that more innovative offerings help to abate revenue declines. Dividends are the big story at the tobacco companies. In exchange for a declining market, Reynolds American and its peers are returning value to shareholders in the form of large dividend checks each quarter.
Any more uncertainty over the Fed's timeline to hike interest rates could provide a shot in the arm for Reynolds this quarter.

Public Storage
Self-storage REIT Public Storage (PSA) - Get Public Storage Report is the biggest in the business. The firm owns a stake in more than 2,000 storage facilities in the U.S. and another 200 in Europe. It also owns an $849 million stake in publicly-traded PS Business Parks (PSB) - Get PS Business Parks, Inc. Report. Scale isn't normally a major advantage for commercial landlords, but Public Storage's size does give it a major edge in getting access to cheap funding. If credit markets tighten the way Wall Street expects, that's going to be an increasingly valuable perk for Public Storage shareholders.
Public Storage's national reach also provides important diversification. Even though the firm adds up to just 5% of the self-storage industry's capacity, exposure to regions with active real estate markets helps keep occupancy high. The firm's brand recognition also translates into a high number of free or low-cost sales leads.
From a financial standpoint, Public Storage is in good shape. The firm only carries about $38 million in net debt, a tiny chunk of its market capitalization. For comparison, Public Storage earned $326 million in profit last quarter alone – from a balance sheet perspective, this company's leverage is minimal.
With rising analyst sentiment in shares of Public Storage this week, we're betting on shares.

Edison International
Edison International (EIX) - Get Edison International Report was one of a handful of stocks that didn't get shellacked alongside last week's selloff. While other stocks were getting pummeled, Edison actually ended the week about 1.6% higher. That's not an anomaly -- the whole utility sector has been showing major signs of strength in the last few months, and Edison looks well-positioned to keep on outperforming as we head into September.
Edison International is an electric utility that provides power to about 14 million customers in Southern California. That's a high power demand region with attractive rates, but it's not an especially easy market because of the major cost of infrastructure spending. After its merchant generation business went bankrupt, the firm spent time reducing its overall market risks by making more of the business regulated, trading off the potential for windfall profitability in good times in exchange for consistent performance and dividend creation. That stable performance makes Edison a good defensive play for this week.
One thing that makes Edison a unique way to play strength in the utility sector is the fact that this stock hasn't been a particularly attractive bet in the past. Major missteps in the unregulated part of Edison's former business meant that this stock underperformed its peers materially in recent years. But with many of those issues now resolved in 2015, and a dividend payout that's been ratcheting higher, Edison International has some lost time to make up for from a performance standpoint.
Equifax
Last up on our list of rebound Rocket Stocks is $12 billion credit bureau Equifax (EFX) - Get Equifax Inc. Report. If you've used any consumer credit products in recent years, Equifax knows about it – and financial institutions count on that intel to make lending decisions, manage risks, and detect fraud. The mission-critical nature of that credit data to financial firms gives Equifax a big, deep economic moat.
On an ongoing basis, Equifax's credit databases are very scalable and relatively inexpensive to maintain, but they're also incredibly difficult to replicate. Because the cost of Equifax's credit reporting products is small relative to the benefit they provide (and in some cases that cost is borne by the borrower, not the lender), it's a relatively easy sell for financial firms. It's also becoming an easier sell for firms that aren't lending money, as employers and insurance companies begin using credit reporting data increasingly for their own risk management.
A small portion of Equifax's sales are generated overseas today, but that's changing too. As growing middle class populations in emerging markets begin to demand credit products at an increasing rate, investors should expect to see revenues from abroad move above the 25% mark. Momentum has clearly been on the side of buyers lately -- the firm is up 23% since the start of 2015. We're harnessing that bullish momentum this week with a bet on shares.
This article is commentary by an independent contributor. At the time of publication, the author held no positions in the stocks mentioned.