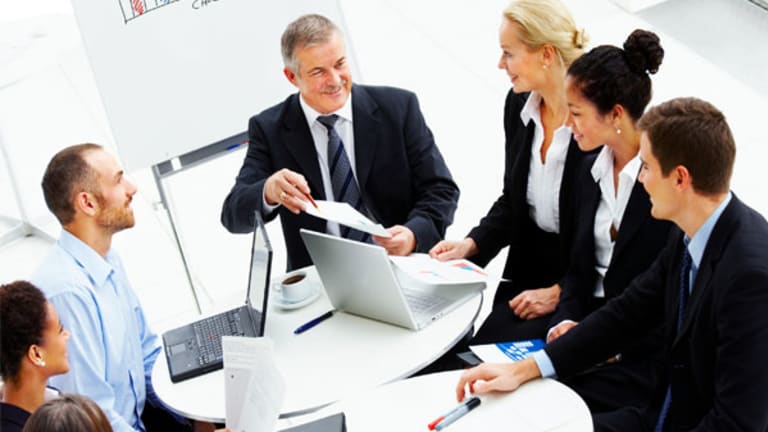 5 Reasons Steve Jobs Should Stay as Apple Chairman
Some analysts are questioning whether Jobs will drag the company down by staying on as Chairman. Here's why Apple would be smart to keep him.
The following commentary comes from an independent investor or market observer as part of TheStreet's guest contributor program, which is separate from the company's news coverage.
NEW YORK (
) -- For the last several years, the financial world has watched to see if Steve Jobs was healthy enough to stay at
Apple.
(AAPL) - Get Apple Inc. (AAPL) Report
Jobs' executive talents are legendary. Apple's board ousted Jobs in 1985 over differences in corporate strategy, a move it soon came to regret. Jobs went on to head
Pixar
, a quirky little animation studio that he turned into an entertainment powerhouse and ultimately sold to
Disney
(DIS) - Get Walt Disney Company Report
.
Meanwhile, Apple's shares were languishing and the company came perilously close to ruin. Apple ultimately bought out Jobs' NEXT Software Inc. to get him back. Jobs later claimed that Apple was 90 days from bankruptcy when he returned in 1997.
Since then, Apple has made an astonishing comeback under Jobs' leadership, growing into the second-most valuable company in the world and nibbling hard at frontrunner
Exxon Mobil
(XOM) - Get Exxon Mobil Corporation Report
. Jobs has been hailed as one of the greatest CEOs of our era, and perhaps the most brilliant technology business leader of all time.
But even the most brilliant men are mortal, and Jobs has suffered from a rare form of pancreatic cancer since 2003. With the unveiling of each new Apple product has come endless speculation as to whether Jobs would be well enough to make the presentation himself. Some analysts have worried, despite the company's obvious success, that concerns about Jobs' health have pulled down the value of Apple's stock in recent years.
So, when Jobs announced his resignation as Apple's CEO yesterday, there was little surprise and, perhaps, some relief. Apple COO Tim Cook, who's been groomed as Jobs' heir-apparent for about six years, stepped smoothly into the top spot. Apple's shares fell only about 1 percentage point.
>> Jobs as Chairman: Stay or Go?
However, rumors of Jobs' departure may be somewhat premature. Jobs also asked to continue as Chairman of Apple's board of directors, and reportedly told the board he intends to be an active chairman. Some analysts who once wondered whether Apple could survive without Jobs are now questioning whether he'll drag the company down by staying on. But Apple would be smart to keep him, and here's why:
1.
Steve Jobs is unique.
He's been the public face of Apple for decades, his iconic black turtleneck and jeans defining the visionary CEO who breaks from the blue-suited herd. The sheer force of his enthusiasm has been enough to draw customers to Apple products again and again, changing the way the world uses technology. By all accounts, though, Tim Cook is a capable leader who may lack Jobs' extraordinary charisma. By staying with Apple long enough to publicly partner with Cook, Jobs may be able to transfer a little of his personal magic to his successor.
2.
Jobs is ill, not disgraced.
When corporate CEOs step down, it's often because they've transgressed. Mark Hurd departed
Hewlett-Packard
(HPQ) - Get HP Inc. (HPQ) Report
under a cloud of sex-abuse scandal. Tony Hayward left
BP
(BP) - Get BP p.l.c. Sponsored ADR Report
at least in part because his insensitive public statements about the Gulf oil spill enraged the American public. If Rupert Murdoch leaves
News Corp.
(NWS) - Get News Corporation Class B Report
, it will be because he failed to address outrageous behavior on the part of his journalists. Being sick is far from scandalous. Jobs has done so much for Apple that the company could take a serious public relations hit if it was ungrateful enough to shove him out the door.
3.
Jobs may yet have more to give.
The details of Jobs' illness have never been made public, so it's hard to say how much he'll be able to contribute to Apple's future business development. However, in addition to his other outstanding traits, Jobs has proven repeatedly to have an exceptional grasp of what will excite American consumers. That kind of instinct is rarer than rare, and Apple would be crazy to give up on Jobs while he still has even a scrap of creative vision to offer.
4.
A board chair is not a CEO.
The work of a CEO is physically and emotionally exhausting. Cook will need to be active at Apple everyday, something that Jobs evidently can no longer do. But boards meet relatively infrequently, and board meetings can be scheduled to accommodate the needs of an ailing chair. Jobs may well be able to muster the necessary strength for occasional board meetings and calls even if he can no longer come to work every day.
5.
He'll know when it's time to go.
Jobs demonstrated that he won't let his ego outweigh Apple's needs when he resigned as CEO. His resignation letter began, "I have always said if there ever came a day when I could no longer meet my duties and expectations as Apple's CEO, I would be the first to let you know. Unfortunately, that day has come." Jobs seems to have remarkable common sense for a corporate titan, and he clearly loves his company. Apple's leadership can probably trust him to exercise that same good sense if his health continues to fail.
Transitions in leadership are often difficult, and too few companies have a workable transition plan. Jobs' request to stay on as board chair may be little more than the next step in his complete transition out of the company. But if the transition goes smoothly and Apple's share price stays high, Apple and its investors will have one more reason to thank Steve Jobs for his extraordinary service.
Readers Also Like:
5 Business Lessons From Steve Jobs
Apple Stock Still a 'Buy' Without Steve Jobs
This commentary comes from an independent investor or market observer as part of TheStreet guest contributor program. The views expressed are those of the author and do not necessarily represent the views of TheStreet or its management.