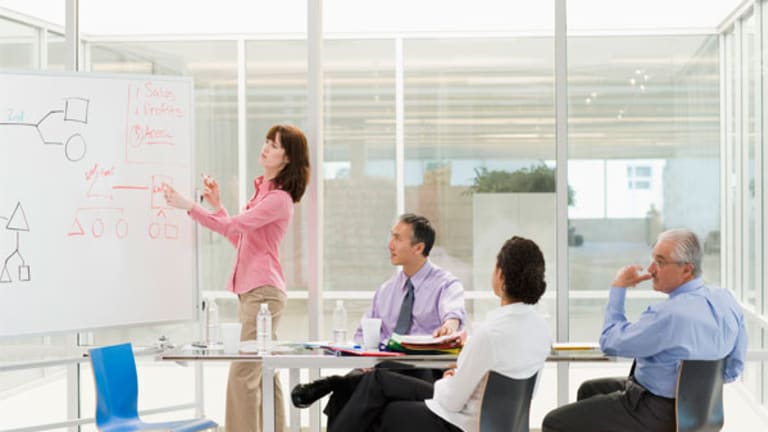 5 Reasons to Stay With the Big Banks
Here's a look at the advantages of keeping your deposits with the big banks vs. community banks.
The following commentary comes from an independent investor or market observer as part of TheStreet's guest contributor program, which is separate from the company's news coverage.
NEW YORK (
) -- If the Occupy Wall Street protesters have done nothing else, they've inspired millions of Americans to think long and hard about moving their money into local banks and credit unions. After all, it was big, multinational banks that crashed the world economy, tanked the housing market, and made life miserable for the rest of us, right?
Occupy Wall Street: News Feed >>
The latest news, photos and videos from the 'Occupy Wall Street' protests.
Now, news reports have it that those same big banks are setting aside hundreds of millions of dollars to reward their employees with hefty year-end bonuses. Shouldn't they be punished somehow? What better way than by being abandoned by their customers?
Unfortunately, the situation isn't that simple. Bank customers who protest the behavior of publicly traded, multinational banks by moving their money may feel good about putting their feelings on record. Local banks and credit unions have, by and large, done better than many of their larger, more corporate cousins, and can offer a level of warm, personal service the big banks often don't. But before you start closing your accounts and moving your money, here are five good reasons to stay with your big, bad bank:
Consumer banks aren't at fault.
Global, full-service banks are not usually single entities. They're typically massive conglomerates of investment banks, consumer banks, and holding companies. It was the investment banks, and not their consumer bank affiliates, that started playing Russian roulette with subprime mortgages and credit default swaps. Yes, be outraged with
JP Morgan Chase
(JPM) - Get Report
,
Goldman Sachs
(GS) - Get Report
or
Citibank
(C) - Get Report
if you will, but recognize that their consumer banking divisions had little or nothing to do with the financial brinksmanship that tanked the world economy or the personal greed that continues to offend average Americans and lawmakers.
Bank service is largely local.
While your neighborhood bank or credit union may seem charmingly personal compared to its global competitor, there's frequently little difference in how their local branches operate. A well-run branch of a multi-national bank can be every bit as welcoming and helpful as its competing neighbors. Not only that, you can comfort yourself that the local branch manager, tellers and desk clerks probably aren't enjoying any of those massive bonuses and other perks that investment banks continue to provide to their top producers.
>>'Bank Transfer Day' Won't Hurt Big Banks -- Why You Should Switch Banks Anyway
You may lose accustomed conveniences.
Big banks have big resources, and some of them have been smart enough to apply those resources to improving their customers' banking experience. Bank of America, for example, has a nifty little program on its ATMs that allows customers to deposit checks 24-7 without envelopes or deposit slips. That may sound like a small thing, but a former
Bank of America
(BAC) - Get Report
customer might, when standing in the rain at her local bank's ATM at 11:00 PM searching for a deposit slip and a dry envelope, wish she'd left her money where it was.
You may not want the hassle.
Closing a bank account, especially a checking account, can be a royal pain. In particular, if you've arranged for paychecks to be directly deposited or authorized your cable company, auto insurer or favorite charity to directly debit your account, you'll have to contact each one separately -- possibly more than once -- to make new payment arrangements. By the time you're done, your self-righteous indignation against your big corporate bank may have faded into a dim memory, overwhelmed by the frustration of dealing with inept customer service reps and clueless payroll clerks.
They'll never notice you've gone.
Global, full-service banks handle billions of dollars and millions of transactions every day. Even if thousands of their consumer customers were to walk away in a huff, the loss of their funds would hardly make a material blip on the banks' radar screens. (After all, if the big banks were seriously worried about losing customers, they might think twice about the fees they impose and the loans they decline.) If you want big banks to notice your ire, write to your Member of Congress or your favorite newspaper -- virtual or otherwise -- and make a specific complaint.
Bottom line: Move your money to a local bank or credit union if you want more personal service. If your goal is to protest the behavior of global banks, grab a sign and join the folks from Occupy Wall Street.
READERS ALSO LIKE:
Occupy Wall Street: News Feed >>
The latest news, photos and videos from the 'Occupy Wall Street' protests.
RELATED STORIES:
How to Quit Your Bank
5 Things to Know Before You Switch to an Online Bank
Become a fan of TheStreet on Facebook.
This commentary comes from an independent investor or market observer as part of TheStreet guest contributor program. The views expressed are those of the author and do not necessarily represent the views of TheStreet or its management.