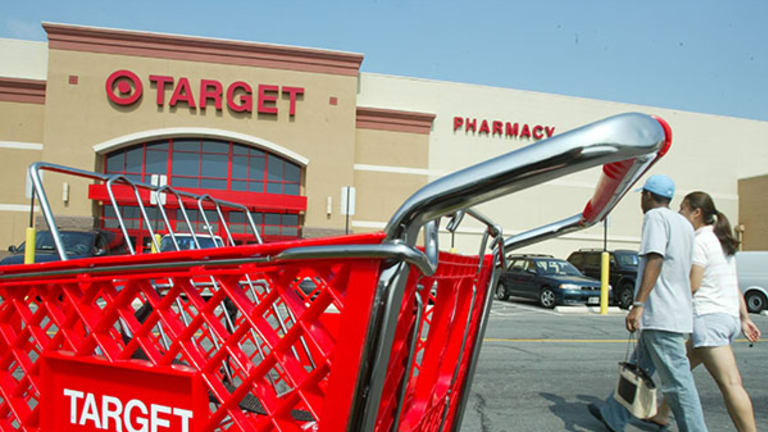 5 Reasons Target's New CEO Is Boring Chic
Target has announced its new CEO just before its second-quarter earnings release. Brian Sozzi analyzes what the new appointment means for the retailer.
New York (TheStreet) -- Target (TGT) - Get Free Report has announced a new chairman and chief executive officer just weeks before its Aug. 20 second-quarter earnings release.
Although the timing of the decision will raise concern on the performance of the business this summer, the actual candidate looks to be the right person at the right time for the job.
Thursday, Target announced that it has tapped former Sam's Club (a division of Walmart (WMT) - Get Free Report) President and Chief Executive Officer Brian Cornell as its first outside leader of the company. Effective Aug. 12, eight days before Target's second-quarter earnings release, Cornell takes over the reins from interim chief executive officer John Mulligan, who has led the retailer since the departure of Gregg Steinhafel on May 5. Target made no mention regarding Mulligan's status with the company following the arrival of Cornell in August.
Cornell joins Target, which my firm Belus Capital Advisors rates a sell due to material risks from the Canadian business, from a recent two-year plus stint at PepsiCo (PEP) - Get Free Report, where he was in charge of the Americas Food division.
Although not the proverbial sexy choice with a strong background in the apparel industry, Cornell is a solid appointment for this stage in the history of the Minneapolis-based retailer. Here are five reasons why.
Battle tested: Cornell was announced to his post at Sam's Club literally at the bottom of the stock market on March 9, 2009. Cornell witnessed firsthand how consumers increasingly demanded value at every corner of a retail store. Operating in that climate gives Cornell unique insight as to what is required to reignite Target's weak store traffic and stagnant top and bottom lines.  Traffic to Target stores, per Bloomberg, last increased (2%) in the first quarter of 2012, and has declined in six consecutive quarters.
Proven results-getter: From the year-ended Jan. 31, 2009 to Jan. 31, 2012, which covers Cornell's tenure with Sam's Club, the warehouse club operator added $6.9 billion in total revenue, according to Bloomberg data. Operating income went to $1.8 billion from $1.6 billion, giving the division relatively flat operating profit margins.
Cornell left Sam's Club on a high note, with same-store sales increasing 8.8% for the year-ended January 31, 2012, up from a 3.5% growth rate in 2011 and a 0.4% drop the year before, per Bloomberg. When Cornell exited, Sam's Club had $53 billion in annual revenue. Target had $35 billion in annual revenue in 2013.
Cornell's ability to manage a business larger than Target may partially explain why the company gave him dual responsibilities as chairman and chief executive officer.
Understands the consumer: Known for walking stores to understand the consumer, Cornell has shown he is capable of connecting with different income segments of the U.S. population. At Sam's Club, Cornell expanded the fresh food and health and wellness offerings to attract a higher income consumer, one whose spending has always been vital to the financial success of Target. Sam's Club was the first warehouse chain amongst Costco (COST) - Get Free Report and BJ's Wholesale Club to offer Wi-Fi in all of its stores.
Understanding how the consumer is using mobile devices to shop a retail store is essential in the omni-channel retail movement now well under way, which will only rise in adoption as point-and-buy technology (see Amazon (AMZN) - Get Free Report Fire phone) becomes entrenched in the shopping experience.
Further, Cornell's understanding of the consumer should help it to craft better marketing as a means to start reconnecting with consumers burned by the company's holiday 2013 data breach.
Operations focus: Cornell's experience in the food supply chain, having worked at Safeway before Sam's Club and recently at Pepsi, should help Target correct U.S. issues such as fresh food out-of-stocks. Should Cornell not opt to exit the struggling Canadian business following a thorough review process with a likely new executive team, this supply chain experience will be helpful in addressing the issues north of the border that have included similar out-of-stocks and poor presentation of merchandise.
Watch More: Norwegian Cruise Line CEO on Why The European Market is Hot (Exec Interview)
Has been the bad guy: On Jan. 24, 2010, Cornell announced that Sam's Club would cut 11,200 jobs or 10% of its workforce. Gone were the staffers used for in-store product demonstrations and those recruiting new members. That type of decision suggests Cornell is willing to make the tough maneuvers required to operating a healthy business in the interest of shareholders.
Cornell's ability to be a rock as the bearer of bad news will likely be tested in three manners:
The continued closure of underperforming U.S. stores. As of May 3, 2014, Target will have closed eight U.S. stores this year after announcing it would do so in January.
The possible decision of assuming a large income and balance statement hit from exiting the Canadian business.
The announcement of a material sum paid out to those affected by the holiday 2013 data breach, which could stifle Target's dividend and share repurchase plans in the near term. Comments from Target's 2013 10-K summarize the gravity of the situation Target faces as a result of the data breach:
The Data Breach we experienced was significant and went undetected for several weeks. We experienced weaker than expected U.S. Segment sales immediately following the announcement of the Data Breach, and we are currently facing more than 80 civil lawsuits filed on behalf of guests, payment card issuing banks and shareholders. In addition, state and federal agencies, including State Attorneys General, the Federal Trade Commission and the SEC, are investigating events related to the Data Breach, including how it occurred, its consequences and our responses. Those claims and investigations may have an adverse effect on how we operate our business and our results of operations.

If we experience additional significant data security breaches or fail to detect and appropriately respond to significant data security breaches, we could be exposed to additional government enforcement actions and private litigation. In addition, our guests could further lose confidence in our ability to protect their information, which could cause them to discontinue using our REDcards or pharmacy services, or stop shopping with us altogether.
At the time of this publication, the author's firm rated Target and Walmart a sell.
TheStreet's Brittany Umar introduces viewers to Target's new CEO:

WATCH: More feature videos on TheStreet TV | More videos from Brittany Umar
This article represents the opinion of a contributor and not necessarily that of TheStreet or its editorial staff.