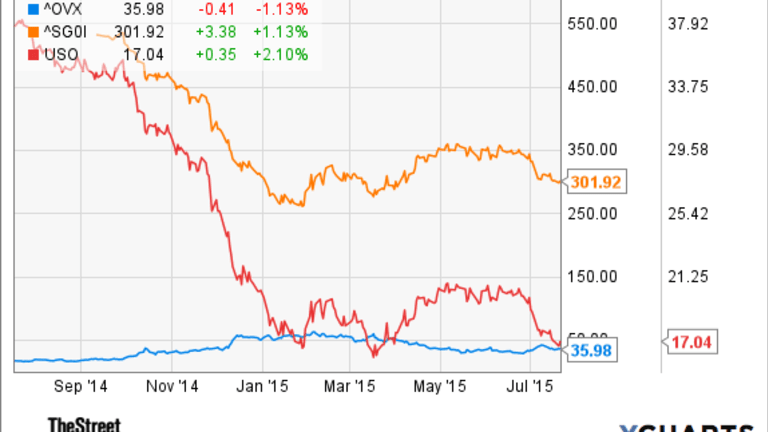 5 Reasons Short-Sellers May Soon Cover Oil Positions
Some analysts say the crude oil selloff will ramp up, but here are five reasons that may prove them wrong.
NEW YORK (TheStreet) -- Priced at $50 per barrel, oil still may have some downside risk. Despite some calls for oil prices to drop significantly lower, here are 5 reasons short-sellers may soon begin to cover positions.
The notion that Iran will be able to ramp up oil production is optimistic. The reality is, it may take 12 to 18 months to bring levels of production anywhere near 4 million bpd that Iran has been calling for.
Crude oil is priced in USD and there is a currency exaggeration (USD strength) distorting oil-price fundamentals. Yes the Federal Reserve will likely raise interest rates later this year, but this didn't suddenly come out of left field. Additionally, the USD has benefitted from the turmoil in Greece. That currency trade is losing steam.
Despite fewer storms expected in 2015, a weather headwind will soon be felt with the eye of the Atlantic hurricane season just weeks away. Supply nirvana could be derailed. Pipeline, tanker and rail transport are very vulnerable to impacts of weather, so downside in oil prices is limited.
Buy-side money has been very short the oil complex. That may soon lift prices as positions are covered with supply and demand fundamentals back in focus post the Iran nuclear-deal announcement.
Weakness in oil prices may bring debt defaults closer to reality than just a possibility.
Renewable energy usage and technological advances are growing quickly, but we largely need gasoline to fuel our transportation needs.
This article is commentary by an independent contributor.