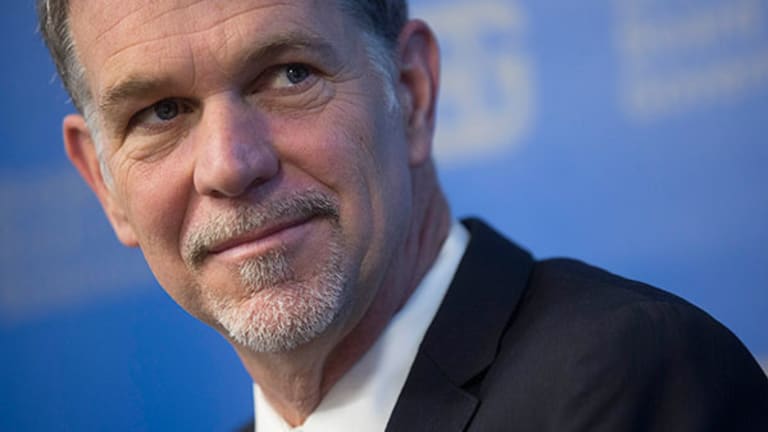 NEW YORK (TheStreet) -- Netflix (NFLX) - Get Netflix, Inc. (NFLX) Report has seemed like an unstoppable force for much of the past 10 years, barreling ahead and destroying everything in its path.
Until Wednesday, when Netflix's third-quarter user growth lagged estimates, prompting the market to punish the streaming platform for the transgression. Total paid subscribers in the U.S. at the end of the quarter numbered 40.27 million, missing analysts' expectations of 42.51 million. Netflix is seeking to offset slowing U.S. user growth with an expensive international expansion.
Profits of $29 million for the quarter missed analysts' expectations of $31 million. A year ago, net income totaled $59.3 million. Shares of the world's largest streaming platform were falling 6.9% on Thursday to $102.60.
Given Netflix's streak over the past few years, including 34 Emmy nominations this year for its original content, and mainstream followings for House of Cards and Orange is the New Black, it's tempting to assume that the good times will never end.
However, Netflix faces some serious risks. Here are five that could cripple the company, and the stock:
Content costs. If your business is based on content and content costs keep rising, that's no small issue. Case in point: Netflix recently opted out of renewing its distribution deal with Epix, which meant losing such films as The Hunger Games: Catching Fire and World War Z, among others."Good for them for showing discipline, but it's a balance," says Wedbush Managing Director Michael Pachter, who estimates that Epix asked for up to 50% more than the $1 billion Netflix was already paying. "The risk is the everyone does that."
Competition. Netflix wasn't the only streaming service to receive Emmy nominations for its original content this year. Amazon's  Amazon Prime won five Emmys for Transparent, its hit show featuring Jeffrey Tambor as a transgender character. Not only has it established that it too can create quality original programming, Amazon is now cheaper than Netflix. As a result of a new rate hike, Netflix costs $119 a year versus $99 for Amazon Prime. "If anybody is so naïve to think Amazon isn't going to exploit that and promote it, they're crazy," says Pachter. Amazon can also point out that customers of the world's largest online retailer also get a year of free shipping for that price. In addition to Amazon, rivals led by Time Warner's HBO and Hulu, the joint venture between Disney , Comcast's NBCUniversal and 21st Century Fox , are aggressively bidding on independent productions, lifting content prices. As more networks offer streaming, Netflix could become just one component in putting together a patchwork of entertainment options for cord cutters.
Bandwidth. Cable companies and telecoms aren't thrilled that Netflix takes up to 37% of the Internet bandwidth in North America. Comcast, for one, has asked Netflix to pay up in the past, and Netflix complied. The FCC's ruling on net neutrality has seemingly settled the issue, since the agency is now in charge of regulating broadband usage and has blocked such fees, but Pachter is unimpressed. "The fact is that the courts have decided that net neutrality can't be enforced, and the FCC has made a feeble attempt to enforce it, but they're not allowed to, so that's just another court decision away from the cable companies squeezing Netflix," he says.
Pushback from Price Hikes. As mentioned, Netflix is raising its monthly price to $9.99 from $8.99. Existing users who are grandfathered in are safe until October 2016. While $1 isn't much, there's a risk that price-sensitive consumers will cancel or decide to go elsewhere.
Netflix's Own Success. Before it reported its third-quarter earnings, Netflix was trading at a 247 price-to-earnings ratio. The stock is up 125% this year. Netflix faces the law of large numbers -- it's difficult to continue to grow at such a meteoric pace. "Netflix has a tough row to hoe because of their own enormous success to date," says Jeff Kagan, a telecom analyst based in Atlanta. "The question is how can they keep up at this pace. Typically companies who do accelerate at such a pace, simply burn out after a while."