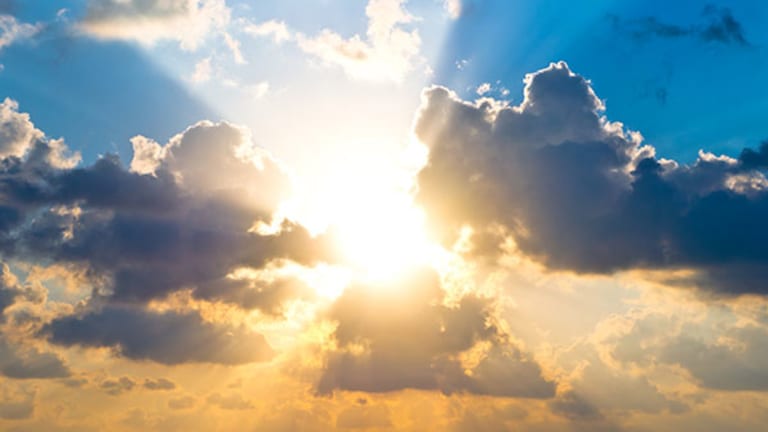 Here's How Geothermal Energy Will Soon Heat Up Wall Street
Increased fears of climate change and the need for clean, sustainable sources of power are making this energy resource hard to overlook.
NEW YORK (TheStreet) -- The geothermal power community gets no respect since solar and wind tend to steal the public eye when talking about renewable energy. More often than not, people tend to roll their eyes when I say I'm interested in geothermal heat.
Yet, the fact remains, the earth absorbs a whopping 50% of the sun's energy. So is it time to power your portfolio with geothermal energy? I believe so and later I'll tell you which stocks to watch.
For those not familiar with the energy source, a typical geothermal heat pump system benefits from the constant temperature between 50 and 60 degrees Fahrenheit of the upper 10 feet of the Earth's surface to heat a home in the winter, make hot water and produce electricity. At the same time, the system can extract heat from the building and then transfer it back to the relatively cooler ground in the summer. 
With a growing movement to adopt more sustainable energy solutions, investors may be interested in knowing geothermal fields produce just one-sixth of the carbon dioxide that a clean natural-gas-fueled power plant produces and is seen by the Environmental Protection Agency as the most efficient, clean and cost effective for temperature control.
The downside to geothermal power is really the fear of the unknown, unwarranted concerns that eventually some tapped locations may cool down and angst associated with tapping these hotspots and releasing toxic fluids (i.e. hydrogen sulfide).
Clearly the latter needs to be examined more, but the good news is more efficient drilling technologies may soon alleviate those concerns at a time when the U.S. is trying to further lower dependence on fossil fuels. That means geothermal power must no longer be viewed as the illegitimate step-child of renewable energy. This point is supported by a smaller footprint to develop geothermal versus solar or wind farms and geothermal being a 24/7 base-load power source that in many cases has generated heat since prehistoric times. 
While I'm a huge fan of wind and solar applications, they are intermittent and energy storage solutions are still a concern. This has me thinking there is room for geothermal to wiggle itself into the renewable conversation without the need to depend on storage.
Why now? It is increasingly getting harder and harder to avoid the topic of climate change, so tapping a constant source of power that will  generate little if any greenhouse gases is becoming hard to overlook, especially with so much uncertainty regarding the fate of nuclear power in this country. 

Thanks to enhanced geothermal systems (EGS), engineered reservoirs that maximize technology, geothermal power may very soon make headways beyond the hotter western U.S. states, especially since the U.S. Geological Survey estimates this vast, untapped geothermal resource is between 100 and 500 gigawatts, enough to power millions of American homes.
Considering the growing support geothermal energy is presently receiving from the U.S. Department of Energy (DOE) thus far in 2014, the best may be yet to come for this resource. For instance, back in February, the DOE announced a, pardon the pun, groundbreaking, move to create a dedicated subsurface laboratory called the Frontier Observatory for Research in Geothermal Energy. FORGE will focus on EGS, basically next-generation technologies, instrumentation and imaging critical to help geothermal become a more large-scale, economically sustainable heat exchange systems.
The DOE has also seen success from its financial support at the Oregon Institute of Technology, which now is tapping geothermal energy to heat the entire campus. Additionally, the of top scientists, which was commissioned by the DOE, revealed that using EGS at existing hydrothermal fields could add five to 10 additional gigawatts of electricity with the potential for significantly more. This may be why the DOE will be announcing sometime this Fall a new $10 million funding opportunity announcement to further improve EGS.
So which stocks benefit?
A move to more swiftly embrace geothermal energy would likely be great for industry giant Ormat Technologies (ORA) , which has geothermal projects in Nevada, Hawaii, California and Kenya and recently received big supply contracts in Indonesia.
Ormat, which holds its annual shareholder meeting on May 8 in New York, has also just confirmed it is trying to sell up to a 49% stake in a few of its U.S. power plants, a move likely to further reduce overall operating costs. With so much positive momentum in the geothermal space, I'm thinking Ormat, which has a ton of geothermal intellectual property and proven low water usage at power plants, is looking to leverage its 30-year experience in the space and be more of a equipment and service provider to its customers.
Currently about 25% of revenue generation comes from this segment, but I believe this can be a driver of growth for the company. More speculative plays include U.S. Geothermal (HTM) , Alterra Power (MGMXF) and Ram Power (RAMPF) .
So just as pork is advertised as the "other white meat," geothermal power is really the other renewable energy source that investors should start to give some respect. Maybe the real joke is the fact we aren't moving more quickly to gain better energy efficiency through geothermal heat pumps. I hope the recent DOE support helps change that perception.
At the time of publication the author had no position in any of the stocks mentioned.
Follow @bluephoenixinc
This article represents the opinion of a contributor and not necessarily that of TheStreet or its editorial staff.
>>Read more: Berkshire Annual Meeting: What Wall Street Is Saying