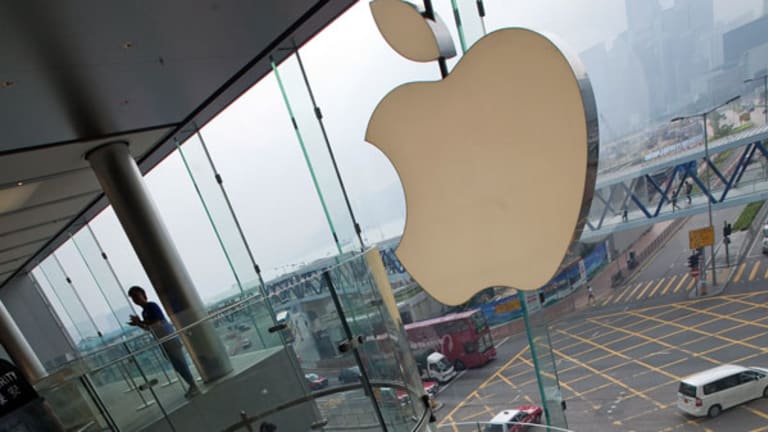 5 Reasons Apple's Stock Is in Secular Decline
Its stock is dead money unless and until Apple introduces another major blockbuster product.
NEW YORK (TheStreet) -- Apple's (AAPL) conference call Tuesday has clarified the panorama: Apple stock is headed to $350 and will probably penetrate below that level before finally stabilizing.
Even after the stock stabilizes somewhere at or below $350 the stock is likely to be dead money for a long time, probably trading between a range of $315 and $475 for several years unless and until it introduces another major blockbuster product that can reverse the company's long-term forecasted secular decline in earnings.
There are five reasons why Apple will fall likely fall much further before it finally stabilizes:
1. Apple's earnings are in secular decline.
Apple is still a secular growth story in terms of the volume of its products reaching consumers around the world. But Apple is no longer an earnings growth stock; it is an earnings contraction stock.
It has become clear that Apple's unsustainably high margins have finally begun to accelerate downward in a major way. This margin compression will tend to overwhelm the growth in sales volumes going forward, causing a likely secular decline in net earnings from Apple's current line of products in the next three years.
>>Also see: Apple Dividend Tops Dow Stalwarts ExxonMobil, AT&T >>
Management currently expects gross margins to contract to 36% to 37% in the April-June quarter, down from 37.5% in the most recent quarter and below analyst expectations of 38%-39%. This level of gross margins is also down from the company's peak in the high 40%s.
In my view, it is likely that Apple's gross margins will decline below 30% within three years and will stabilize at 25%-30% within five years. This implies negative earnings growth -- derived from its existing lines of products --for Apple for the next three to five years.
2. Apple needs another big hit product; it's nowhere in sight.
Because Apple's earnings stream from its current product line is experiencing an essentially irreversible process of secular decline, Apple desperately needs a new hit product line to arrest its overall contraction in earnings. iWatch is not going to do it as its impact would be substitutive or "cannibalistic" on existing product lines. iTV could do it, but may not be forthcoming -- at least not for several quarters.
There are many candidates for major product launches, but none seems imminent. Until such a launch has occurred or seems imminent, it will be difficult for investors to get excited about a stock experiencing a secular earnings decline.
3. Apple has not addressed its value-destroying cash hoard.
Apple's recently announced dividend raise is puny relative to its excess cash and represents a missed opportunity to put a dividend yield support under the stock. The announced stock buyback is comparatively large and should provide significant support for the stock.
However, Apple's cash hoard problem has fundamentally not been addressed. Even with the combined dividend and buybacks, Apple is still hoarding cash at a faster rate than it is returning it to shareholders.
I have said it many times: Apple's policy of hoarding cash is wasteful and it is destroying value for shareholders. Until Apple "gets it," its shares will likely trade at low PE multiples.
4. Still too many Apple Fan Boys.
Apple "Fan Boys" are largely responsible for the decline in Apple shares from the highs above $700 to the recent foray below $400. Why? Because too many of these Apple fanatics have been too enamored with Apples revolutionary products, and the ubiquity of these folks and their ideas in the media blinded people to the fact that Apple is a company facing a secular earnings decline.
>>Also see: Does Financial Literacy Matter? >>
No company, including Apple, has a monopoly on innovation. It is unrealistic to expect Apple to keep pulling rabbits out of its hat every couple of years. When the ranks of Apple fan boys dwindle to insignificance and/or their fawning is no longer taken seriously by the investing public, Apple's stock will have hit bottom.
In the meantime, Apple's stock will likely continue to grind lower as, one by one, investors realize that Apple's earnings are in long process of secular decline and that the stock is essentially dead money, at best, unless and until Apple gets lucky and is able to introduce another revolutionary product into the market that does not cannibalize its existing product lines.
5. The demoralization of Apple.
It's tough coming off the kind of euphoric emotional high that Apple's employees and investors have been on for the past few years. Internally, the relentless decline in Apple's stock is demoralizing to employees -- not only the ones that have stock options.
Furthermore, the increasing media questioning of its CEO and other executives will also take its toll on the troops. Apple is already suffering defections of key talent and this is only likely to accelerate as Apple loses some of its "hip" factor and starts to be perceived as a more pedestrian type of company.
Investors will also gradually suffer demoralization as Apple's stock is knocked off its pedestal as a "growth stock" and a "concept stock" and becomes more of a deep value play that people pick up because it's apparently cheap rather than because the company is growing its earnings at an exciting rate.
Conclusion:
In many ways, Apple is a victim of its own spectacular successes. Far too many people expected Apple's golden age was never going to be interrupted. However, realistically, no consumer electronics company can sustain 40%+ gross margins forever. And no one company can revolutionize the consumer electronics business year after year.
Apple employees and investors are in the early stages of a major psychological transition. As general expectations come back to earth, a hangover effect will set in. This will affect not only the price of the stock but also Apple's operations.
The hangover is ironic. Apple is a company that is, in many ways, still in the midst of a secular upswing if you analyze it in terms of the penetration of its products into the global economy and its impact on peoples' lives around the world.
Yet, as a stock, Apple is in a midst of a secular decline that can probably only be counteracted by the introduction of a revolutionary new product line. Such an apparition could occur, but I personally do not expect it to occur in time to prevent Apple's stock from declining to $350 or below.
Investors should note that the secular decline of the world's most important stock will almost inevitably have consequences for broad indexes such as the
and the
Nasdaq
and index ETFs such as
SPDR S&P 500
(SPY)
and
Powershares QQQ
(QQQ)
.
At the time of publication the author had no position in any of the stocks mentioned.
This article was written by an independent contributor, separate from TheStreet's regular news coverage.
James Kostohryz has accumulated over twenty years of experience investing and trading virtually every asset class across the globe.
Kostohryz started his investment career as an analyst at one of the US's largest asset management firms covering sectors as diverse as emerging markets, banking, energy, construction, real estate, metals and mining. Later, Kostohryz became Chief Global Strategist and Head of International investments for a major investment bank. Kostohryz currently manages his own investment firm, specializing in proprietary trading and institutional portfolio management advisory.
Born in Mexico, Kostohryz grew up between south Texas and Colombia, has lived and worked in nine different countries, and has traveled extensively in more than 50 others. Kostohryz actively pursues various intellectual interests and is currently writing a book on the impact of culture on economic development. He is a former NCAA and world-class decathlete and has stayed active in a variety of sports.
Kostohryz graduated with honors from both Stanford University and Harvard Law School.
View Kostohryz's LinkedIn profile and connect with him
; follow him on Twitter
and Google+
. When connecting, be sure to identify yourself as a reader from
TheStreet
.