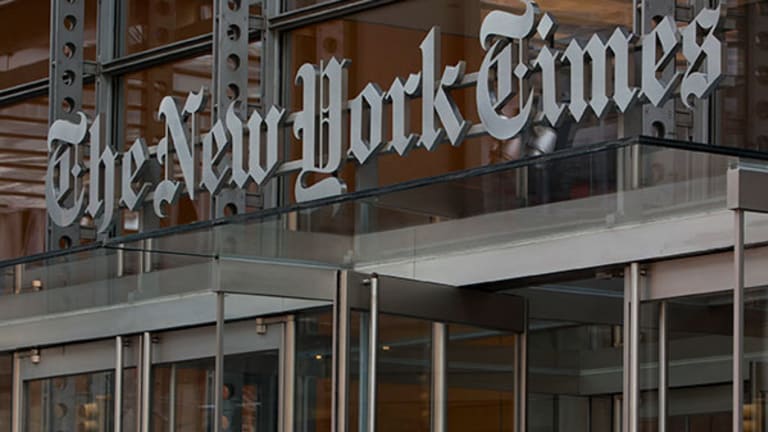 5 Publishing Stocks to Buy with Agile and Flexible Operating Models
Publishing has been upended by technology driven business disruption. Readership in traditional media has plummeted. A few publishing companies have implemented agile, flexible operating models. These stocks have tremendous upside.
Editors' note: This article has been corrected. In the original version, the first company listed was "Tegna." The stats given, however, were for "Gannet." Gannet spun off its newspaper division and renamed it Tegna, leading to the confusion. We regret the error. 
NEW YORK (TheStreet) -- Think media stocks, many disrupted out of a business, are a bad investment? Some aren't going down and are worth taking a look at. 
No industry has been more uprooted by technology-driven business disruption than the publishing industry. Content delivered digitally has dramatically changed information consumption for all segments of society. Over the past decade, readership in traditional media has plummeted and so have publishing stock prices. However, a few publishing companies have implemented agile, flexible operating models where content can be delivered in both traditional and digital channels without the burden of the CAPEX expenditures for print-only publishing.
Publishing companies with this continuous transformation environment (CTE) operating are poised to provide investors higher than median returns. Here is a list of publishing stocks with a continual transformation environment operating model that you should consider adding to your portfolio.
Gannet  : 59.98% ROIC
New York Times : 14.65% ROIC
Tribune Publishing : 9.03% ROIC
Lee Enterprises : 8.63% ROIC
New Media Investment : 7.58% ROIC
Here is a chart with more information on each stock:
We take our digital access to information for granted. In the 1990s, it was just beginning. America Online and Steve Case positioned AOL as the online service for people unfamiliar with computers. Beginning with online games, AOL added the now-famous "You've Got Mail," online chat, and a tremendous amount of content from repositories such as the Library of Congress and companies such as Pearson, Scholastic, and National Geographic. Soon, AOL was providing near-real-time news from media companies such as CNN and NPR.
By 1997, about half of all homes with Internet access had it through AOL. This was the start of the massive business disruption that hit publishing companies. Add Craigslist, Monster.com (MWW) and Amazon's (AMZN) - Get Free Report Kindle e-book reader into the mix, and soon publishing companies went from operating margins in the 30's to negative margins. For those publishing companies not entering bankruptcy, fire sales of their assets were common. I saw this massive shift firsthand as a director at Knight Ridder; once the second-largest newspaper company in the U.S.
This massive business disruption hit publishing companies hard because these companies had a fixed, capital intensive operating model. While these publishing companies had a core competency that could be used to thrive in the age of digital information -- content creation and aggregation -- they could not sustain their competitive advantage.
Why?
These companies had heavily invested in operating processes, information technology infrastructure and printing presses and machinery that could only be utilized for a print product. They were CAPEX intensive companies with inflexible operating models. When it was time to use their core competencies -- content creation and aggregation -- to produce digital products, they did not have the agility and flexibility to act. Instead, they were overrun by new companies that were not burdened with this outdated operating model. These new companies had a CTE operating model where CAPEX was eschewed for OPEX and no processes or infrastructure was established that could not readily be changed based on market conditions.
Today, the publishing companies that were in dismal shape not too long ago are reviving. They have reinvented themselves by getting rid of their CAPEX heaving operating models and implementing an operating environment that is capable of continual transformation. At the core, it has robust content creation and aggregation. The CTE operating model has the flexibility and agility to distribute that content in numerous channels; print and digital. As the marketplace shifts more and more to digital consumption, the publishing companies of today are not hamstrung by a print only CAPEX infrastructure and can be rewarded by their core competency -- content creation and aggregation.
In the CTE operating model, the company has very little reliance on anything "fixed." Operating flexibility is the new mantra. Change and innovation are embraced throughout the organization. Fixed assets are shed in favor of consumption-based enablers. Static internal business functions are shed in favor of business-outcomes-based service providers.
In a CTE environment, we have to rethink even the way the company is defined. A "company-owned" organization is composed of what is needed to nourish the company's core competencies. All other functions are provided by an ecosystem of trusted partners. This narrowed-down focus on a company's core competency allows the company to have a fanatical focus on flexibility, change, transformation, and innovation powered by its core competency, unimpeded by fixed assets and processes that would forever lock the company into a fixed, inflexible path. A select few publishing companies are adopting this operating model and starting to see the rewards.
There are five pillars of the CTE operating model:
"Company-owned" business functions must be directly tied to the company's core competency.
Non-core competency functions are "divested" from the company and provided by an ecosystem of trusted partners.
An ecosystem of providers provides services in a utility, consumption-based model.
Return on invested capital (ROIC) and total shareholder return (TSR) replace earnings before interest taxes depreciation and amortization (EBITDA) as key metrics.
The operational IT business unit provides the foundation of the CTE operating model and must be a service broker for the ecosystem of providers.
Companies that instill the CTE operating model are nimble, flexible, and ever changing. They turn on a dime, in a millisecond. A company with a focus on core competency enhanced by a continual transformation environment operating model can change, react, grow, and thrive in the harshest of disruptive environments. These publishing companies have learned their lesson and are now positioned to thrive.
Scott Stawski is author of Inflection Point: How the Convergence of Cloud, Mobility, Apps, and Data Will Shape the Future of Business.
This article is commentary by an independent contributor. At the time of publication, the author held no positions in the stocks mentioned.