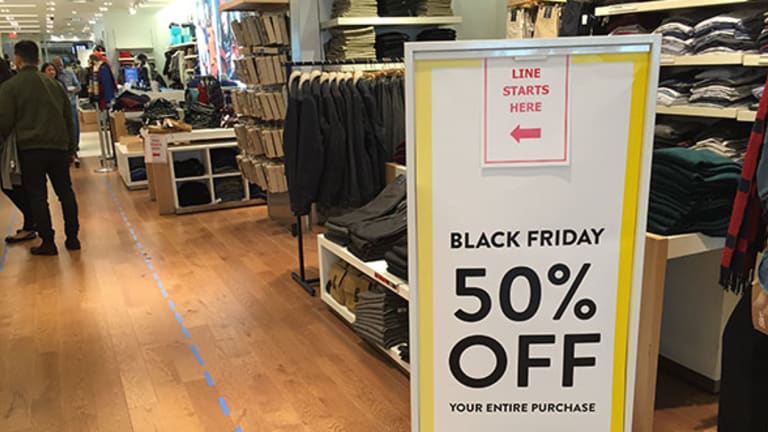 A picture is worth a thousand words, goes the old adage, and nowhere was it more applicable than in the kick-off to the holiday shopping season last week.
Some retailers saw lines wrapped around their expansive stores on Thanksgiving Day, while others were left wondering where the shoppers had gone. In addition, aggressive discounting revealed where the most inventory had built up, and some companies thought to be selling must-have holiday gifts instead found their products placed on clearance tables.
TheStreet takes a look at 5 revealing photos from visits to stores during the four-day shopping blitz that began on Thanksgiving Day.

J.C. Penney customers came out in droves on Thanksgiving to get discounted home goods and boots.

Best Buy also lured in plenty of customers on Thanksgiving Day with deep discounts on TVs. 
Despite the rise in online buying this year, one thing was made abundantly clear on Thanksgiving Day: people will still wait in long lines at a retail store to score big deals or simply hunt for gifts. J.C. Penney (JCP) - Get J. C. Penney Company, Inc. Report , which opened at 3 p.m. on Thanksgiving, saw lines snake around its stores at many locations across the country as customers tried to get discounted home goods and boots.
The mob scene also found its way to Best Buy (BBY) - Get Best Buy Co., Inc. Report , which opened its doors at 5 p.m. on Thanksgiving. According to a statement by Best Buy on Sunday, shoppers bought hundreds of thousands of TVs and millions of entertainment gifts such movies and video games on Thanksgiving and Black Friday, although it didn't break out which sales took place in-store vs. online. In visits to several stores, TheStreet observed strong sales of tablets and Beats headphones, as well as significant interest in the Apple Watch. 


Shoppers never seemed to show up to The Gap on Black Friday despite some huge discounts.

The year has been a tough one for apparel retailer Gap (GPS) - Get Gap, Inc. (GPS) Report as it has struggled to get its styles right for finicky consumers.Third quarter same-store sales at the Gap and Banana Republic divisions declined by 4% and 12%, respectively, while Old Navy's sales rose 4%. Shares of Gap have shed an astounding 36% this year versus a 1% increase on the S&P 500.
The holiday season start looks to have continued the theme for Gap in that consumers are uninterested in the wares that it's hawking. Gap, which opened on Thanksgiving evening, saw sparse customer traffic in several stores TheStreet visited despite an aggressive "50% off the entire store" promotion. In a Nov. 30 note, Mizuho Securities analyst Betty Chen pointed out that Gap was more promotional over the four-day holiday weekend than a year earlier, suggesting sluggish customer traffic.

Discounts on winter coats at department stores such as Macy's jumped to as high as 65% off.
This year has been the warmest start to a year since modern record keeping began, according to the National Oceanic Atmospheric Administration (NOAA), with September the hottest on record dating back to January 1880. 
And across retail, inventory of winter jackets, hats and gloves began to pile up heading into the holiday season, leading to some huge discounts. TheStreet noticed winter coats and heavy sweaters at department stores such as Macy's (M) - Get Macy's Inc Report not moving much on Thanksgiving and Black Friday, despite discounts of 40% to 50%. As a result, by Sunday TheStreet noticed even more aggressive discounting of winter discounts at department -- in some cases as much as 65% off.


Seeing GoPro cameras on sale during the holidays was once unthinkable.

Once a top gift for the holiday season, GoPro (GPRO) - Get GoPro, Inc. Class A Report cameras sat idle on many racks Thanksgiving Day and on Black Friday based on TheStreet's store visits. Teen apparel retailer Tilly's (TLYS) - Get Tilly's, Inc. Class A Report was trying to entice shoppers to buy a GoPro with a $25 gift card. By Saturday, one Best Buy location in Long Island, New York had GoPro cameras marked down over $40 on a hastily tossed together blue clearance table.
The mark-downs, in large part due to competition from other must-have tech gadgets such as the Apple Watch and remote-control powered drones with cameras, is reflective of how the year has gone for GoPro. Shares have plunged about 68% this year as once torrid profit growth has slowed. Analysts at Piper Jaffray recently reiterated their underweight rating on GoPro, citing greater discounting on GoPro products and the appearance of the cameras on flash sale sites.
A bad start to the holiday season for GoPro could mean more discounting and even slower profit growth in the quarters to come given the company's elevated inventory levels. Inventory skyrocketed 147% year over year in the third quarter as GoPro likely anticipated strong interest by consumers this holiday season, interest that hasn't materialized based on what's been seen so far on Black Friday weekend.