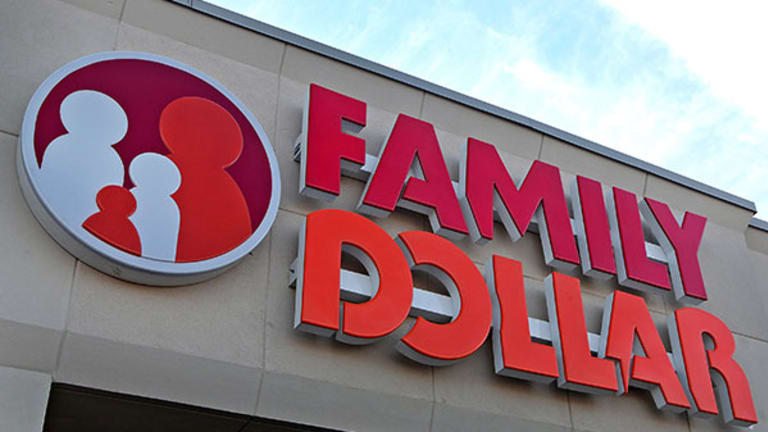 5 Once-Great Retailers Whose Abandoned Stores Are Now Halloween Shops
Office Depot, Barnes & Noble and Family Dollar were once bright spots on the retail landscape. Now many of their big boxes are occupied by Halloween costumes.
NEW YORK (TheStreet) -- Retail real estate vacancies are down, but that good news is just a Halloween costume for store-closing chains, including Staples (SPLS) , Barnes & Noble  (BKS) - Get Barnes & Noble, Inc. Report and Family Dollar (FDO) .
The national vacancy rate for neighborhood and community shopping centers -- a.k.a. strip malls -- sits at 10.3%, according to commercial real estate research group Reis. That's down from 10.4% earlier this year and well off the record-high 11.3% set in late 2011. Meanwhile, rents at those shopping centers rose for the eleventh consecutive quarter, to $19.51 per square foot each year.
It's been a similar recovery for malls, which saw vacancy rates drop from 9.4% in 2011 to 7.9% this year. Rents there have increased for the thirteenth straight quarter, to $40.32 per square foot in the 77 U.S. metropolitan areas that Reis covers.
Strip malls have benefited from surging chains, including organic food retailersTrader Joe's and Whole Foods (WFM) ; clearance stores including TJX (TJX) - Get TJX Companies Inc Report stores (T.J. Maxx, Marshalls, Home Goods) and Nordstrom (JWN) - Get Nordstrom, Inc. (JWN) Report Rack; outdoor stores such as REI and Cabelas (CAB) ; and even wine-and-beer superstore Total Wine. The expansion of those chains has prompted the National Association of Realtors to predict that retail vacancy will drop to 9.6% by this time next year, while retail rents will rise 2% this year and 2.4% by next year. Overall, the Realtors seem confident that retailers will suck up 11.2 million square feet of space this year and 19.3 million in 2015 as the economy improves and consumer spending increases.
But not every retailer falls on the buying side of the real-estate shuffle. The demise of Circuit City and stumbles of Best Buy (BBY) - Get Best Buy Co., Inc. Report made it clear that dedicated big-box electronics stores have had a tough time coming up with rent money of late. The same goes for booksellers, especially with Borders gone and Barnes & Noble wheezing its way into retail history.
From specialty clothing stores to hangar-sized office suppliers, there are still plenty of troubled chains looking to get rid of their office space for cheap. That makes it easy for developers and real estate holding companies to provide pop-up Halloween retailers like Spirit Halloween with the lease terms and space they require.
We took a look around the retail landscape and found five chains whose recently vacated storefronts will make fine Halloween shops in 2014 and in years to come. Here they are.
Office Max/Office Depot (ODP) - Get ODP CORPORATION Report
Stores closing: 400 through 2016
It turns out that maybe the local strip malls don't need so many office supply superstores.
But how many is too many, you ask? Well, last year's $1.2 billion "merger of equals" between Office Depot and Office Max made the ensuing, merged Office Depot realize that the one-time competitors had at least 400 redundant stores.
That's right. Where once families had two warehouse-sized options for buying their reams of paper, pens, desks, chairs and the like, they're now going to have one. Those 150 stores closing by the end of this year are just a fraction of the 400 stores the newly combined chain will be closing by the end of 2016.
That's more than 20% of the chain's 1,900 stores, and even those closures won't ensure that Office Depot can hold its own against Amazon (AMZN) - Get Amazon.com, Inc. Report and other low-priced online retailers.
At least Office Depot isn't alone in its misery.
Staples (SPLS)

Stores closing: 225 through 2015
As it turns out, just about every office supply retailer is figuring out that don't need a small airplane hangar to sell parents and kids school supplies anymore. You just need a Web site, a storage facility and a means of distribution.
Staples came to this conclusion within the last year or so. As a result, it announced in March that it planned on closing 12% of its North American stores and shifting its focus to online retail. It turns out that roughly half of all Staples sales come from online orders and that $500 million in overhead from these stores really isn't helping a chain that's already in flux.
Technology has just kept pecking away at Staples, as big-margin products like paper, ink, toner and printers are seeing reduced demand. While it's great that Staples is embracing online retail, the company is also aware that Amazon has beat it there and will force it into deep discounting just to survive. Staples execs claim they want to broaden the store's reach by offering tablets and other electronics, but those are low-margin products already being offered by similarly troubled chains including Walmart (WMT) - Get Walmart Inc. Report , Target (TGT) - Get Target Corporation Report , Sears (SHLD) and Best Buy.
It's a really bad time to be a big-box store selling products primarily made of paper.
Barnes & Noble (BKS) - Get Barnes & Noble, Inc. Report

Stores closing: 223 by 2023
The literate fans of this longstanding bookseller are starting to read the writing on the wall. Kids who grew up waiting in line outside Barnes & Noble and Borders for Harry Potter and Twilight pre-sales likely read the Hunger Games trilogy on a tablet or e-reader, and they likely bought that e-volume from Amazon or Apple (AAPL) - Get Apple Inc. (AAPL) Report .
This fact isn't lost on Barnes & Noble, which has closed roughly 20 stores a year over the last two years. Its Nook readers have been clobbered by Amazon's Kindle and by various tablets, resulting in the Nook being spun off into its own business. B&N's book sales are being beaten by Amazon on both price and availability.
The losses are mounting and its 600 or so stores are struggling. Its former flagship location on Fifth Avenue in New York City is now gone. Barnes & Noble is effectively doing worse than the independent booksellers it once attempted to put out of business.
The American Booksellers Association notes that since 2009 more independent bookshops have opened than closed in the U.S. Sales at those stores dropped 1.6% last year, but grew by 8% in 2012. By comparison, Barnes & Noble's same-store retail sales decreased by 6% last year after dropping 3.4% a year earlier. Including all its divisions -- retail, college and Nook -- Barnes & Noble's combined sales dropped 7% in 2013.
Family Dollar (FDO)

Stores closing: 370
How does a dollar store fail in an economy still sluggishly recovering from a recession?
Most don't, but Dollar General (DG) - Get Dollar General Corporation Report and Dollar Tree (DLTR) - Get Dollar Tree, Inc. Report haven't been as horribly mismanaged as Family Dollar has. The stores are a messy jumble of unshelved inventory, the board room was stocked with dead weight and the performance of the company's shares chummed the waters for activist investor Carl Icahn.
The result is a gutted low-end retailer and one less option for U.S. consumers slipping out of the middle class. If you're looking for an illustration of the profound effects of income inequality, take a look at the consumers left behind by shuttered Family Dollar locations and the conspicuously spending Halloween shoppers taking their place.
Coldwater Creek (CWTR)
Stores closing: 365
There was a huge, loyal market for the comfortable, professional women's clothing that Coldwater Creek produced. The chain just overestimated the size of it.
Back in May, a bankrupt Coldwater Creek was forced to sell off $160 million in assets to appease creditors. Even that gave the chain's creditors less than a dime on every dollar that they were owed. While former Coldwater Creek shoppers have been combing thrift stores and online auctions for the store's clothing since -- and have been giving private equity firm Sycamore Partnersa whole lot of input about what their planned Coldwater Creek online shop should look like when it opens in November -- there's little question about why many of its old storefronts are still vacant.
At its asset auction in May, chains including J. Jill, Forever 21, Ascena's (ASNA) - Get Ascena Retail Group, Inc. Report Lane Bryant and Maurices picked up the leases of coveted Coldwater Creek sites in New York, Texas, California and elsewhere. Though Coldwater Creek fans gave the store a huge sales boost just before it closed, the chains taking over some of its vacancies are aiming for the exact same demographic: shoppers who don't want grandma's brass buttons, but don't want their daughter's fast fashion, either.
Coldwater Creek left behind a huge mess, and Halloween shops are just part of the horde picking over its disheveled ruins.
-- Written by Jason Notte in Portland, Ore.
>To contact the writer of this article, click here: Jason Notte.
>To follow the writer on Twitter, go to http://twitter.com/notteham.
>To submit a news tip, send an email to: tips@thestreet.com.
RELATED STORIES:
Why We Don't Shop At RadioShack Anymore
Empty Shelves, Broken Promises at Walmart, Kmart, Sears