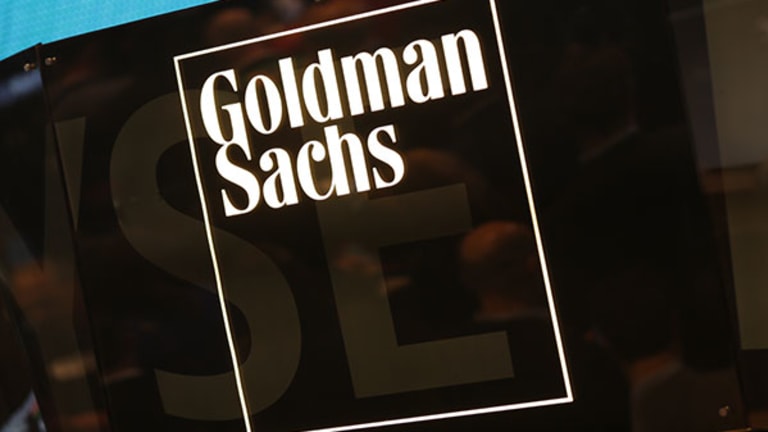 5 Lesser-Known Stocks Goldman Sachs Recommends You Trust
These companies aren't household names, but they're on track for market-beating performance.
For just a minute, stop looking at the banks, tech stars, energy giants, and "the usual suspects." Here are five lesser-known stocks that Goldman Sachs now recommends for investors. They're all compelling opportunities now.
data by
1. Freshpet (FRPT) - Get Freshpet Inc Report
While Freshpet may at first glance be too small a bet for your consideration, appearances can be deceiving.
The pet food manufacturer's mantra is simple: If our families are prescribed to eat healthy and fresh, then why should our pets be left out? That's a unique business model with no serious competitors.
Freshpet is set for a 36% year-over-year rise in revenues in 2015. Further, the 10-year-old firm is most likely to report full-year profit by 2016.
With zero debt and a gross margin of 44%, Freshpet is poised to dig deeper into the massive North American regional market for pet food, which is growing by 3.5% year-over-year and currently estimated at over $21 billion.
The over 50% price decline of the stock over the past six months sweetens the opportunity, giving investors an attractive entry-point.
data by
2. Pacira Pharmaceuticals (PCRX) - Get Pacira Biosciences, Inc. Report
Pacira isn't your standard drug maker.
The company's flagship product, EXPAREL, is targeted for single-dose infiltration into the surgical site to relieve post-surgery pain.
Out of the 70 million surgical procedures annually in the U.S., about 42 million (or 60%) are suited for EXPAREL use. Even at 8% of the pie, we are looking at a revenue opportunity of about $1 billion.
Analysts estimate a solid 24% year-over-year revenue growth this year with revenues topping the $245 million mark and profits more than doubling. While the second quarter was a miss on the earnings-per-share front, the company is expected to post 7% year-over-year earnings-per-share growth in the third quarter when it reports earnings on October 27.
The stock's current price at a 60% discount (from a year ago) offers an addictive pill that's hard to refuse.
data by
3. Deckers Outdoor Corp. (DECK) - Get Deckers Outdoor Corporation Report
Deckers is a new-age footwear manufacturer, creating apparel and accessories for everyday casual lifestyle use as well as for high performance activities.
The stock has fallen off its September 2014 high of nearly $100 and is now available at a 40% discount. This is mainly due to its wobbly earnings.
That said, upcoming earnings are expected to show signs of stability. In fact, Deckers could possibly end the year with no less than 10.5% earnings-per-share growth and further improve the pace by 12% the year after.
With a gross margin better than NIKE Inc. and a 9% net margin that's closing in on the footwear majors, Deckers is hugely undervalued. On a forward earnings basis, Deckers is about 10 times cheaper than rivals, Wolverine World Wide Inc. (11.4 times) and NIKE (27 times).
LPNT
data by
4. LifePoint Health (LPNT)
Founded in 1999, LifePoint Health owns and operates general acute care hospitals located in growing non-urban communities, the fastest growing sector of the national health care industry.
The stock's 15% drop over the last three months makes it an enticing buy. It's actually embarking on a higher growth phase.
Compared to 4%-per-year growth over the last five years, earnings-per-share is currently estimated to rise by 8% a year over the next five years. Revenues are in fact rising at a double-digit rate, and consistently.
LifePoint has also been strengthening its portfolio with niche acquisitions. For instance, it agreed to acquire St. Francis which is the only area hospital offering open heart surgery in Columbus, Ohio, and surrounding communities. Given its range of possibilities, this stock's a solid option.
data by
5. Old Dominion Freight Line (ODFL) - Get Old Dominion Freight Line, Inc. Report
It's not been a very good year so far for Old Dominion -- and that's what makes it an attractive investment.
With the stock now down more than 17% year-to-date, this 80-year old provider of local and long haul trucking services is a great play on economic recovery.
The nation's fourth largest less-than-truckload corporation boasts of a claims ratio and on-time record that are among the best in the industry. Earnings have also beaten expectations in the last four quarters.
The company is on course to finish this year with 17% earnings-per-share growth. What's more, Old Dominion out-wrestles its only relevant direct competitor YRC Worldwide Inc. in terms of gross margin and EBITDA, but it's valued at over 50% discount to the latter on a trailing 12-month price-to-earnings basis.
Of course, not all is sanguine with the world economy and many companies remain in critically poor shape. But with growth set to pick up for Old Dominion Freight Line, no wonder Goldman is recommending this potential multi-bagger.
This article is commentary by an independent contributor. At the time of publication, the author held no positions in the stocks mentioned.