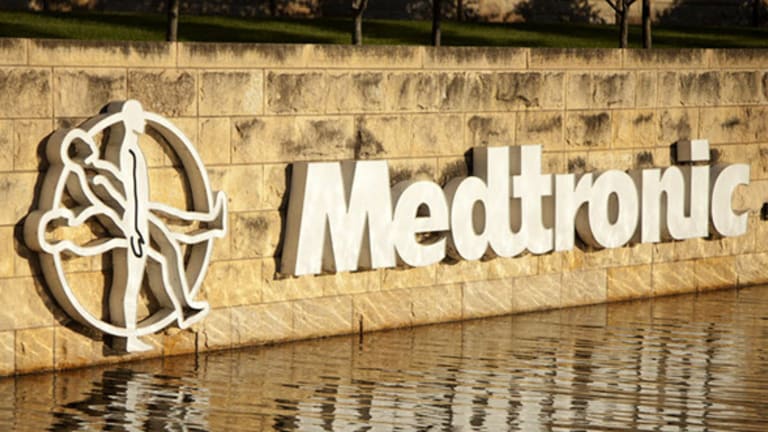 Publish date:
5 Large-Cap Breakout Stocks to Buy Now
Here's a technical look at when you should buy some of the biggest stocks on Wall Street right now.
Here's a technical look at when you should buy some of the biggest stocks on Wall Street right now.
Updated with new comments from Jim Cramer.
Investors cheered the Fed's call to pump the brakes on rate hikes on Wednesday afternoon, a move that swung the big market indices as much as a full percentage point from trough to peak in Wednesday's trading session.
Now central bankers expect to see two rate hikes hit over the course of 2016, half as many as Yellen and company expected back in December.
The revelation that the Fed won't be rocking the boat as much as previously thought is coming at an important time for the broad market. After a swift reversal higher a month ago, the big S&P 500 index keeps inching closer to a retest of its prior highs. As I write, the S&P is less than 1% shy of breakeven for 2016, and it's just 5% below its all-time highs.
That rebound is kicking up some attractive trading setups in some of Wall Street's biggest stocks this week. To find them, we're turning to the charts for a technical look at which big stocks are breaking out this week -- and when to buy them.
First, a quick note on the technical toolbox we're using here: Technical analysis is a study of the market itself. Since the market is ultimately the only mechanism that determines a stock's price, technical analysis is a valuable tool even in the roughest of trading conditions. Technical charts are used every day by proprietary trading floors, Wall Street's biggest financial firms, and individual investors to get an edge on the market. And research shows that skilled technical traders can bank gains as much as 90% of the time.
Every week, I take an in-depth look at big names that are telling important technical stories. Here's this week's look at five big stocks to trade.
Medtronic
Up first on the list is $108 billion healthcare stock Medtronic (MDT) - Get Report . Medtronic has been sawing sideways for most of 2016, continuously bumping its head up against a long-term resistance level up at $78. But zoom out on the chart and that sideways price action is actually setting up shares of Medtronic for a breakout move in March. Here's how to trade it.
Long-term, Medtronic is currently forming an ascending triangle pattern. The ascending triangle is a bullish price setup that's formed by horizontal resistance up above shares and uptrending support to the downside. Basically, as shares of Medtronic have pinballed between those two technically important price levels, this stock has been getting squeezed closer and closer to a breakout above our $78 price ceiling. When that breakout happens, we've finally got a buy signal.
Relative strength (not to be confused with RSI at the top of the chart) adds some extra confidence to the upside in Medtronic right now. That's because this stock's relative strength line has been making higher lows since shares bottomed in October, indicating that this stock is beating the broad market in the long-term. If Medtronic can catch a bid above $78, it's time to join the buyers.
China Mobile
We're seeing the same price setup in shares of China Mobile (CHL) - Get Report  right now, albeit with a bit of a twist. After selling off nearly 12% of its market value in the last 12 months, China Mobile is showing signs of a reversal thanks to an ascending triangle setup of its own. Even though China Mobile's price action isn't "textbook" (the ascending triangle is typically a continuation pattern, not a reversal pattern), it's tradable.
The big level to watch in China Mobile here is resistance up at $56.
Why all of that significance at the $56 level? It all comes down to buyers and sellers. Price patterns, such as this ascending triangle pattern in China Mobile, are a good quick way to identify what's going on in the price action, but they're not the actual reason a stock is tradable. Instead, the "why" comes down to basic supply and demand for China Mobile's shares themselves.
The $56 resistance level is a price where there has been an excess of supply of shares; in other words, it's a spot where sellers have previously been more eager to step in and take gains than buyers have been to buy. That's what makes a breakout above $56 so significant -- the move means that buyers are finally strong enough to absorb all of the excess supply above that price level. If shares can hold a bid above $56, China Mobile becomes buyable.
Apple
Tech giant Apple (AAPL) - Get Report  is showing some upside potential this week, following a breakout that happened at the start of this month.
Apple spent most of 2016 forming a "rounding bottom" pattern -- a bullish reversal setup that looks just like it sounds. The rounding bottom is a price setup that signals a gradual shift in control of shares from sellers to buyers. In Apple's case, the buy signal came on a push through round-number resistance up at $100.
Since then, Apple has been consolidating above that $100 breakout price, reversing to retest $100 in a move called a "throwback." A throwback happens when a stock breaks out and then moves back down to test newfound support at that former price ceiling level -- in this case, our $100 price level. While throwbacks look ominous, they're actually constructive for stock prices because they re-verify the stock's ability to catch a bid at newfound support. For that reason, it's best to think of a throwback as a buying opportunity in Apple, not a red flag. This week's bounce higher is that low-risk buy signal.
Momentum, measured by 14-day RSI up at the top of the chart, adds some extra confidence to Apple's breakout signal. This stock's momentum gauge has been in an uptrend since early January, an indication that buying pressure has been quietly building behind the scenes all year long. If you decide to be a buyer here, prior support at $92.50 is a logical place to park a protective stop.
From a fundamental perspective, Apple is a holding in Jim Cramer's Action Alerts PLUS charitable trust portfolio.
"I know some are worried about a possible slowdown based on Jabil's (JBL) - Get Reportoutlook, but I think that's a small worry," said Jim Cramer recently. "You have to think big about the second half with the new iPhone iteration and about the double-digit growth in the multi-billion service revenue business."
Exclusive Look Inside:
You see Jim Cramer on TV. Now, see where he invests his money and why Apple is a core holding of his multi-million dollar portfolio.
Want to be alerted before Jim Cramer buys or sells AAPL? Learn more now.
Ambev 
You don't need to be an expert trader to figure out what's happening in shares of $75 billion brewing stock Ambev (ABEV) - Get Report . The price action in this Brazilian beer giant is about as simple as it gets. Since mid-January, shares of Ambev have been bouncing their way higher in an uptrending channel, and they are testing a key price floor this week.
Ambev's price channel is relatively new. It's formed by a pair of parallel trend lines that have corralled this stock's price action for most of this year. And while this is only the third time the uptrend has been tested this year, it could be the start of a much more substantial trend for 2016. From here, it makes sense to buy Ambev's next bounce off of support.
Actually waiting for a bounce is important for two key reasons: It's the spot where shares have the most room to move up before they hit resistance, and it's the spot where the risk is the least (because shares have the least room to move lower before the channel breaks, and you know you're wrong). Remember, all trend lines do eventually break, but by actually waiting for a bounce to happen first, you're ensuring Ambev can actually still catch a bid along that line before you put your money on shares.
Corning
Last up on our list of potential breakouts is $21 billion specialty glass stock Corning (GLW) - Get Report . At a glance, Corning looks like another stock that's done nothing but grind sideways in recent months -- but long-term, shares are forming a classic upside pattern that's finally breaking out.
Since last December, Corning has been forming an inverse head and shoulders pattern, a trading setup that signals exhaustion among sellers. You can spot the inverse head and shoulders by looking for two swing lows that bottom out around the same level (the shoulders), separated by a bigger trough called the head; the buy signal comes on the breakout above the pattern's "neckline." That was the $19 level in Corning.
The breakout above $19 earlier this month has been followed up by consolidation just above that breakout level. Like with Apple, that's not a bad thing here. After a big move to drag shares through $19, that consolidation gives shares a chance to bleed off some overbought momentum.
From here, Corning is likely to head higher; if you decide to be a buyer, the 50-day moving average is a good place to park a protective stop. If the 50-day gets violated, then the pattern is busted, and you don't want to own it anymore.
Disclosure: This article is commentary by an independent contributor. At the time of publication, the author was long AAPL.