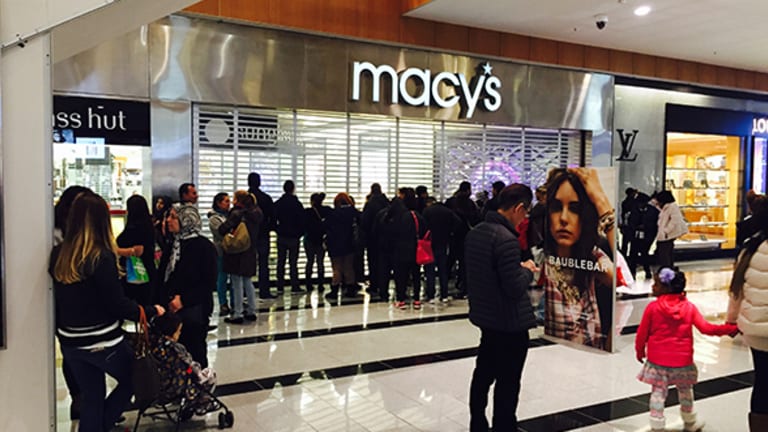 5 Key Numbers from Macy's Big Restructuring Announcement
Macy's had a disappointing holiday season, prompting execs to close stores and slash jobs in a sweeping reorganization.
After a seemingly decent start to the holiday shopping season, things pretty much went downhill for Macy's (M) - Get Macy's Inc Report .
On Wednesday, the department store retailer announced that same-store sales plunged 4.7% for the months of November and December combined. According to Macy's, sales trends into January have not improved much, either. The company now expects same-store sales for its fourth quarter, which runs through January, to fall by about 4.7%, worse than previous guidance for a decline of 2% to 3%.
Macy's also lowered its full-year earnings guidance to $3.85 to $3.90 a share from its prior expectations of $4.20 to $4.30 a share. The fresh earnings warning is especially troubling because Macy's had already lowered its full-year earnings outlook by about 40 cents a share when it reported third-quarter results on Nov. 11.
Macy's chairman and CEO Terry Lundgren said in a statement, "The holiday selling season was challenging, as experienced throughout 2015 by much of the retailing industry -- in the November/December period, we were particularly disadvantaged by the historically warm weather in northern climate zones where both Macy's and Bloomingdale's are especially well-represented."
Lundgren also continued to assign blame for sluggish sales to tepid spending by tourists to the U.S., due to the strong dollar.
As a result of the lackluster holiday season, Macy's is taking a series of big actions to restructure its business. TheStreet runs down the five most important numbers from the company's newly announced overhaul.
36
The number of store closings Macy's expects to complete by early spring. Final sales at these locations will start Jan. 11 and run for eight to 12 weeks. After those stores are shuttered, Macy's will operate about 730 locations in the U.S.
The oldest store closing will be in Ardmore, Penn., which opened its doors in 1930. 
4,365
How many Macy's employees will be let go as a result of its sweeping reorganization. In addition to store closures, Macy's plans to adjust staffing levels at Macy's and Bloomingdales stores to match current sales trends, reduce back office positions and vacate a customer service center.
Macy's is also slashing non-payroll budgets company-wide in areas such as travel, meetings and consulting services.
"In light of our disappointing 2015 sales and earnings performance, we are making adjustments to become more efficient and productive in our operations," said Lundgren, adding, "there will be short-term pain as we tighten our belt and realign our resources."
$400 million
How much Macy's expects to save on the expense line starting this year from its latest round of restructuring.
As a result of the expense reductions, Macy's anticipates it will achieve a "modest" improvement in its earnings before interest, taxes, depreciation and amortization margin rate year over year.
36 years
Average age of the stores Macy's said will be closed by the middle of this year.
Clearly, these stores were opened in a different era for retailing. Now, with people migrating back to cities and buying apparel from mobile devices, the need for so many stores across the country is less necessary.
50
The number of Macy's Backstage off-price stores that will be opened over the next two years.
Oddly, Macy's noted that most of the stores will debut inside of existing Macy's stores, which opens the door up to cannibalizing the full-price wares the company is trying to sell.