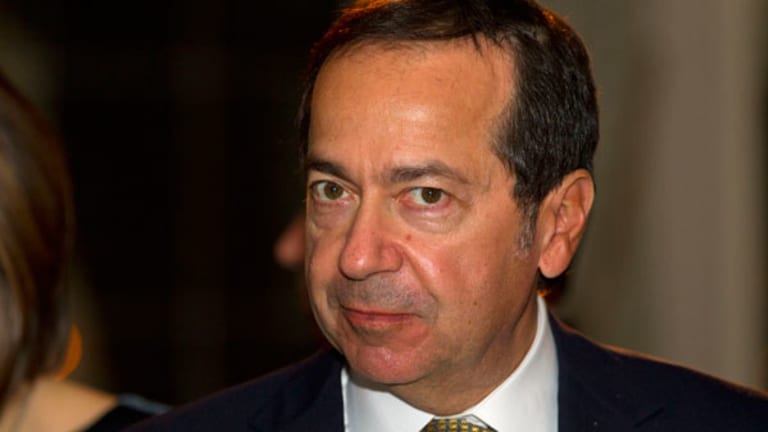 5 Investments That Show John Paulson Knows How to Play M&A
John Paulson said in a 2014 interview that he expected high levels of M&A activity to continue "for the foreseeable future." He has invested accordingly, and it is paying off.
NEW YORK (TheStreet) -- John Paulson said in a 2014 interview that he expected high levels of corporate merger and acquisition activity to continue "for the foreseeable future." He has stacked his chips accordingly, and it is paying off.
The Paulson Enhanced fund, which bets on mergers and acquisitions, climbed more than 13% during the first quarter of the year, according to Swiss banking group SYZ. In a letter to investors reported by USA Today, Paulson wrote that his firm remains "well-positioned to take advantage of attractive merger related opportunities in the robust M&A environment."
Paulson excels in M&A investing. He has been especially successful in merger arbitrage, an event-driven strategy that entails simultaneously buying and selling the stocks of two merging companies. Paulson discussed the approach in a piece on risk arbitrage. "In effect, the true skill in risk arbitrage is about avoiding losses," he wrote. "And to avoid losses, one must understand, evaluate and manage risk."
Paulson's public equity portfolio, disclosed in his latest 13F filing for the first quarter of 2015, reveals where the hedge fund manager is placing his M&A bets and provides insights into merger arbitrage plays. It also demonstrates how he is profiting from them.
Valeant (VRX)
As of the end of the first quarter, Paulson has a $407.2 million stake in Valeant. And before it acquired Salix, he had a significant position in that company, too, at one point owning more than 9% of the drug maker.
Paulson's firm showed strong support for Valeant's Salix takeover, calling the deal "very accretive to Valeant," and adding that the merger removed near term uncertainty for Salix. "Valeant gets rewarded with a high growth business at a reasonable price by acting quickly in this transitional period for Salix," Paulson & Co. wrote in an email to Forbes. The deal was completed on April 1.
Valeant isn't likely to stop there with acquisitions. It is said to be in talks to acquire Egyptian drugmaker Amoun. At the firm's annual shareholder meeting, CEO Michael Pearson said he sees emerging middle-class markets in Asia, the Middle East and Latin America as prime territories for growth. "I would expect Asia to grow faster," he said. "We should be making acquisitions five years from now and maybe it should be $5 billion."
Actavis (ACT) - Get Free Report
Actavis completed its takeover of Allergan on March 17, bringing to a close one of the most talked-about acquisitions in recent months. The transaction, valued at $70.5 billion, resulted in the creation of one of the world's top 10 pharmaceutical companies by sales revenue. The company is expected to have $23 billion in sales in 2015.
As with Valeant and Salix, Paulson played both sides of the deal. At the end of the fourth quarter of 2014, he had a $1.4 billion stake in Allergan and a $407.7 million investment in Actavis. At the end of the first quarter, he disclosed a $1.7 billion stake in the combined company, which is now his second-largest holding.
Thus far, the acquisition has worked out extremely well for Actavis. On May 11, the company reported a 59% increase in net revenue and 23% growth in per-share earnings.
DirecTV (DTV)
According to the Wall Street Journal, the Justice Department and Federal Communications Commission have nearly wrapped up their reviews of the acquisition agreement between AT&T (T) - Get Free Report and DirecTV. And by the looks of it, the $49 billion deal will get the go-ahead.
Paulson has been building a stake in DirecTV for a while, and as of the end of the first quarter holds 11.4 million DTV shares valued at $970.1 million.
He is also a shareholder of Time Warner Cable (TWC) , the acquisition of which went the other way. In April, Comcast (CMCSA) - Get Free Reportabandoned its proposed $45 billion merger with Time Warner Cable after holding out for federal approval for over a year.
Shire (SHPG) - Get Free Report
John Paulson got burned in 2014 when AbbVie's (ABBV) - Get Free Reportplans to acquire Shirefell through. AbbVie said in October it would no longer recommend its $54 billion bid for the Ireland-based company to shareholders. Paulson's countermove was to urge Allergan to bid for Shire, which didn't work out either.
Paulson hasn't thrown in the towel yet -- in fact, quite the opposite. Shire is Paulson & Co.'s top holding, and the firm's stake is valued at nearly $2 billion as of March 31.
While the company failed to be acquired, it has been acquiring. In February, it completed the purchase of NPS Pharmaceuticals in a $5.2 billion deal. "It is another step in the direction of becoming a biotech," company CEO Flemming Ornskov said in an interview.
Zillow (Z) - Get Free Report
Zillow completed its $2.5 billion acquisition of Trulia in February, and the deal appears to be off to a strong start. The company reported a 35% jump in first quarter revenue and reaffirmed its 2015 outlook on May 12. "The combined team at Zillow Group is executing extremely well across all of our brands and marketplaces," CEO Spencer Rascoff said in a statement.
John Paulson is betting on Zillow and picked up a stake in the online real estate company during the first quarter of the year. As of March 31, he owns 200,000 shares -- a position valued at $20.1 million.
This article is commentary by an independent contributor. At the time of publication, the author held no positions in the stocks mentioned.