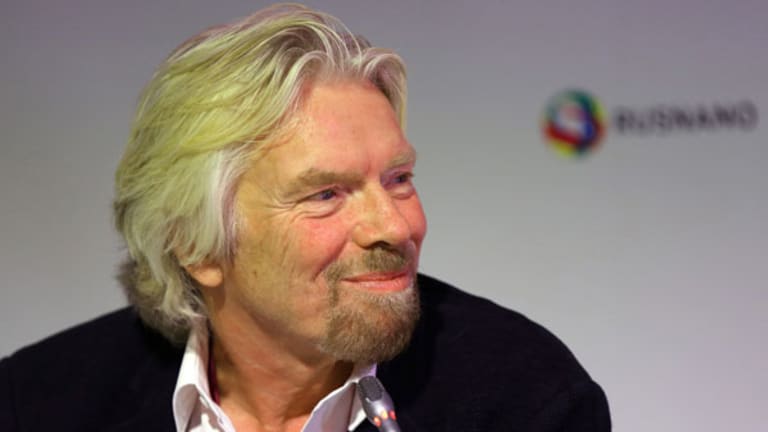 5 Forever or Forgotten: The Legacy of Today's VIPs - Part 2
Sure, Steve Jobs' star will remain bright in the annals of history. But who else?
NEW YORK (TheStreet) -- Which business leaders of our time will become the business legends of all time?
Thomas Edison, Henry Ford and Cornelius Vanderbilt have all secured their place in business history.
that Michael Bloomberg and Bill Gates will one day join their ranks -- and that Warren Buffet, Donald Trump and Oprah Winfrey would not.
It was fun, so let's do it again . . . Destiny or dustbin? Flash in the pan, or member of the pantheon? The following slide show presents some predictions from the fields of fashion, travel, technology and, wait for it, hot air ballooning. Agree, disagree -- post your comments below.
Jack Welch: FORGOTTEN
Will
Fortune Magazine's
"Manager of the Century" be remembered in the next century? Sorry Jack, no. And now
.
If anything, Jack Welch should be remembered as the most God-blessed lucky manager of the century. He was born in 1935, the birth-year that according to Malcolm Gladwell best-positioned a man to make a mint; he joined
General Electric
(GE) - Get Free Report
as a plastics engineer at the height of the "
;" and he became CEO in 1981 at the dawn of Reagan prosperity, and left in 2001 when 9/11 caused the easy-money gravy train to shudder to a stop.
Since then, Welch's Irish luck has run out. "Neutron Jack's" strategy of downsizing to the bone, shipping jobs overseas, focusing on shareholders vs. stakeholders and betting on the bubble-prone financial services sector seems to embody every bad decision that spawned the "Great Recession."
Are you an unemployed middle manager? Are you laboring under the load of three laid-off colleagues? Are you a long-term contractor sans benefits and pension? Well, you can thank Jack Welch for launching the trends that sealed your fate. But don't take my word for it.
The Street
columnist Nat Worden has a similar take
on the waning of Welch
. 
Steve Jobs: FOREVER
Talk about a slow pitch over the mound . . .
everyone
knows that the "Father of the Digital Revolution" will go down in history; and Steve Jobs' untimely death at the zenith of his powers primed his legend with a high-octane start. Not happy with the plunge in
Apple's
(AAPL) - Get Free Report
share price? Lay the blame at the passing of Jobs. And surely Steve would have killed the clunky, Dick Tracy-inspired iWatch. (Jobs's message from the mausoleum: "
Guys, you're craaazy, watches are becoming obsolete 'cause everyone checks the time on their iPhones. Go after Google Glass!
")
Alas, the pristine perception of Jobs' job at Apple is due for a comedown. Bullying boss, petty perfectionist, tedious tweaker -- not to mention unengaged father and son: all these faults will come to the fore once our iPads and iPhones are chucked away with our Polaroids and Walkmans. Oh, and when was the last time you read about the good works initiated by the Steven P. Jobs Foundation? You haven't, because
according to the New York Times
he shuttered the effort just a year after it started in 1986.
Ironically, Bill Gates, long the brunt of Jobs' jabs and jokes, will enjoy a last laugh in the pages of history. Gates's world-changing philanthropic efforts will place him in far better stead than the demanding dude who promoted some long-forgotten gadgets.
Anna Wintour: FORGOTTEN
Like "Neutron Jack," "Nuclear Wintour" will soon be out of fashion. The Rag Trade, at its essence, is ephemeral... and dramatic . . . and, most importantly,
visual
.
So if you seek visual proof that Wintour is toast, watch Meryl Streep vamp her role as Miranda Priestly, Anna's glamorous and evil alter ego
in the preview of The Devil Wears Prada on YouTube.
Then watch the real-life Wintour look cranky and curt while uttering profound prophecies like "fashion's always about looking forward"
in the trailer to September Issue
. Were genuine fashion legends like Jacqueline Onassis and Diana Vreeland ever upstaged by the actresses portraying them: never!
Punch line: If you want to leave a legacy, you need to be at least as interesting as your fictional persona.
Richard Branson: FOREVER
History simply
can't
forget Richard Branson, we all take too much pleasure from the unending stream of Virgin jokes and puns. To wit, Branson's Virgin Group nurtures more Virgins than the average convent. Har har.
Corny, but true; from Virgin Active (health clubs) and Virgin American (airline) and down through the alphabet to Virgin Vacations (travel agency) and Virgin Ware (apparel), the
lists over 400 Virgin companies on six continents . . . and beyond, Virgin Galactic is developing sub-orbital, $200,000 space holidays. It's motto, brace yourself: "Space is Virgin Territory."
Of course, we all know that Branson's privately held empire is something of a shell game; a phalanx of accountants couldn't untangle his actual ownership from the spaghetti bowl mix of Virgin subsidiaries. Estimates of Sir Richard's relatively modest fortune, less than $5 billion, suggests that he's better at licensing the Virgin name than building
bona fide
companies.
But do trivialities such as ownership stakes really matter when you're Richard Branson? Of course not, Beardy Branson is a national hero; the history-conscious UK's answer to, who else, Steve Jobs. His huckster-like business antics, his swashbuckling exploits in sea sloops and hot air balloons, his genuine humanitarian initiatives and, natch, his hair, will titillate Branson's admirers and detractors for generations to come.
Larry Ellison: FORGOTTEN
Remember the guy in high school who was effortlessly, totally cool? And then there was the kid who tried desperately hard to be hip, but could never quite pull it off? Well, Richard Branson personifies the former, and Larry Ellison, the latter.
It's uncanny, Ellison is taller and richer than Branson, and his private island is bigger. He's also a licensed pilot who owns a fighter jet, and a champion yachtsman who's won the venerable America's Cup. Ellison is a self-made success whose name was, no joke, inspired by his adopted father's experience on Ellis Island. Oh, and he founded
Oracle
(ORCL) - Get Free Report
, one of Silicon Valley's most respected and resilient companies.
But for all that, Ellison is still just an unlikable geek with the Oracle sobriquet of "LPOD" -- "Larry Prince of Death."
Of course, what do you expect from a guy who's a fan of the Genghis Khan quote "It's not enough that we win; all others must lose." Plus Ellison's too-much-is-never-enough materialism is, well, just too much. The $110 million Woodside, Calif. estate, the Newport "cottage," the Malibu mansion, the four trophy wives, the 454-foot yacht, the private golf course, the million-dollar sound system that uses a drained pool as a subwoofer: taken together, it's all just . . . uncool -- a sadly bad parody of Jay Gatsby.
In short, while literature memorializes the tragic figure who spends their life trying too hard to be something they're not . . . history doesn't.
This article is commentary by an independent contributor, separate from TheStreet's regular news coverage.