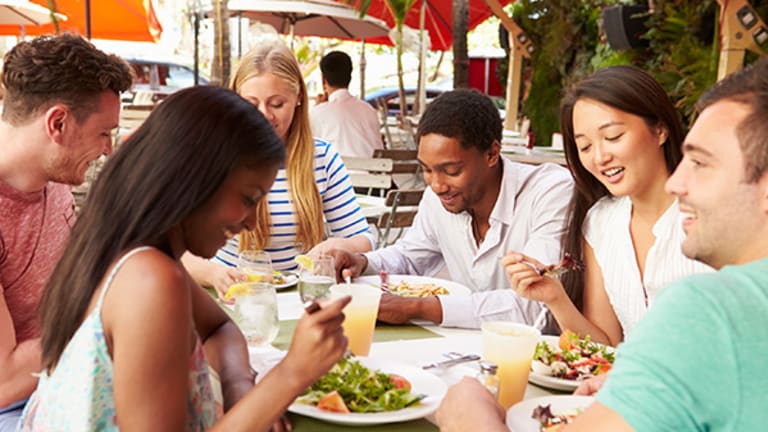 5 Food and Restaurant Stocks for Long-Term Investors
Check out the stocks of B&G Foods Holdings, ConAgra Foods, Darden Restaurants, Domino's Pizza and Hormel Foods.
Five stocks in the food and restaurant sector are worth investors' attention right now.
But first, just an explanation of how these stocks were selected. The investment process starts with my top 200 most relevant brands universe, a proprietary list of the brands that matter to the average American consumer.
These are brands that are well-known but that are also a vital part of the consumption food chain. They also contain brands that aren't well-known but have highly recognizable brands under their corporate umbrella.
My screening removes all top brands that don't meet my "bull market test," under which every stock has to be proven to be in a technical pattern that qualifies as a big-picture bullish trend.
There is more risk owning a stock that is in a clear downtrend, no matter what fundamental analysis says because the market is telling an investor that his or her analysis is wrong, at least temporarily.
The next step is to rank each of the remaining top brands from best to worst performance over a multi-month time period. I am looking for persistent strength.
I believe strongly in the power of the momentum factor. Bodies in motion tend to stay in motion until they collide with an outside force.
Next, I rank each of the remaining top brands from highest to lowest dividend yield. Statistics show that the vast majority of total return in stocks comes from dividends, specifically reinvested dividends.
Through a proprietary formula, I rank the technically superior group of top brands and buy the 50 with the best overall brand score. My Dynamic Alpha Brands Index buys the top 50 every month on an equal-weighted basis.
Why rebalance monthly? I want to constantly laser in on what the market is rewarding, and I don't want to get stuck owning a top brand for multiple months if it becomes a brand in a downtrend. 

THE DYNAMIC ALPHA BRANDS INDEX: INVESTMENT PROCESS:  RIDE YOUR WINNERS, CUT YOUR LOSERS QUICKLY
The best way I know to beat the market is to try to protect capital during periods of high market stress. I am not a believer in being 100% exposed to equities when the market is telling you it is sick.
If the train is coming, perhaps it is smart to take a few steps away from the tracks?
Because this is an equity index, I won't attempt to time the market and go 100% to cash. All I need to do is shift from 100% equity brands to 70% brands and add a 30% position to Treasuries.
U.S. government bonds tend to perform well when equities are under pressure. That is why the bull market test is so important.
If I can't find 50 high-quality brands that are in a "bull trend," that tells me market breadth is dreadful enough to warrant not being 100% exposed to stocks. During the monthly rebalance, the portfolio shifts to 70-30 mode and stays there until 50 or more brands meet the bull market test again.
Each brand competes monthly for inclusion in the top 50, and right now, food and restaurant stocks look promising.
Here are a few of the most attractive stocks in the sector:
B&G Foods Holdings  (BGS) - Get Report
Very few people likely know the name B&G Foods Holdings. But the company has been quietly acquiring well-known food products for years, and its brands include Cream of Wheat, Emeril's Spices, Jolly-Green Giant, Mrs. Dash, Ortega, Pirate Booty, Skinny Girl Dressings and Static Guard.
The company recently missed earnings estimates and the stock fell but had strong enough price momentum and a terrific yield of about 4.5%, so the brand score still qualifies it as a top 50 brand.
ConAgra Foods  (CAG) - Get Report
This is another example of a boring, steady food company that pays an attractive dividend and that has outperformed the market with no fanfare. It might be boring, but I don't mind being bored if I'm beating the market.
ConAgra's brands include Banquet, Blue Bonnet, Egg Beaters, Fleischmann's Butter, Healthy Choice, Hebrew National, Hunt's, Jiffy Pop, Kid Cuisine, La Choy, Manwich, Orville Redenbacher, PAM, Peter Pan, P.F. Chang's Home Menu, Reddi Wip, Snack Pack and Swiss Miss.
Darden Restaurants  (DRI) - Get Report
Generally, the restaurant business is a low-margin, high fixed-cost business. But there are a few brands that seem to win on a consistent basis, and this stock has been a stellar performer.
Darden Restaurants has some of those brands including Bahama Breeze, Eddie V's, LongHorn Steak House, Olive Garden, Seasons 52, The Capital Grille and Yard House.
Domino's Pizza (DPZ) - Get Report

It is the most recognized pizza delivery brand, and if the stock wants to be a winner, investors should own it.
Hormel Foods (HRL) - Get Report
There is more to this story than being a boring pork story. Most top brands have many sub-brands that are very popular.
My research was exhaustive, and I look for brands with staying power, brand vision and management teams who have customers at the center of their vision.
It doesn't hurt that commodity prices have been falling, allowing Hormel to keep margins high. When that changes, I suspect, Hormel will fall out of the top rankings.
Hormel's brands include Applegate, Jennie-O Turkey, Muscle Milk, Skippy Brand, SPAM and Wholly Guacamole.
All five of these stocks are in the current index portfolio, all have brands that appeal to the masses with distribution in the United States and abroad, and all pay a dividend.
This article is commentary by an independent contributor. At the time of publication, the author held no positions in the stocks mentioned.