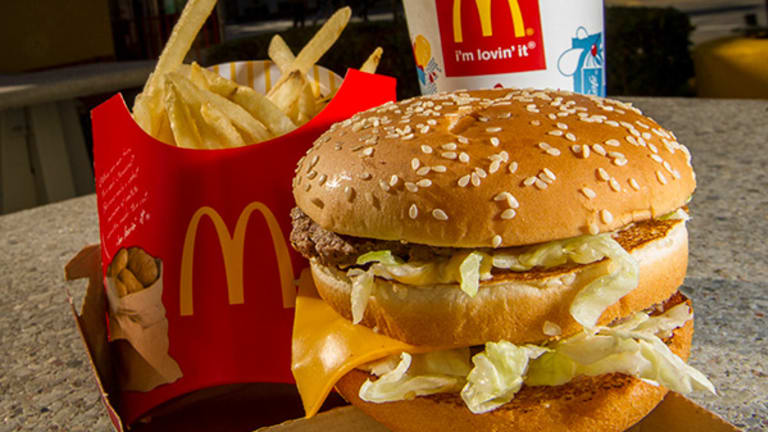 5 Fast Food Stocks Hedge Funds Are Gobbling Up
The fast food industry has staying power, and investment pros know it.
NEW YORK (TheStreet) -- The fast food industry has staying power, and investment pros know it.
Annual fast food revenue in the U.S. is approaching $200 billion, according to online statistics portal Statista. And last year, Americans spent an additional $21 billion on "fast casual" restaurants -- entities that have a higher price point than traditional fast food restaurants but earn less than half of their business from full-service, sit down meals.
It hasn't been all smooth sailing for fast dining establishments as of late.
Increasingly health-conscious consumers have put pressure on many to take a hard look at their menus. McDonald's (MCD) - Get McDonald's Corporation (MCD) Reportannounced in March plans to phase out its use of chickens raised without antibiotics important to human medicine and offer milk from cows that aren't treated with an artificial growth hormone called rbST. Dunkin Brands (DNKN) - Get Dunkin' Brands Group, Inc. Report agreed the same month to stop utilizing a whitening agent in its powdered sugar.
Employee payment practices have been in the spotlight as well, and union organizers have orchestrated multi-city worker strikes. The pressure has mounted even further thanks to Walmart's (WMT) - Get Walmart Inc. Report announcement of plans to boost wages and a recommendation from a New York government panel that minimum wage for fast-food chain restaurants be raised to $15 an hour.
Despite obstacles in the road, the fast food industry remains a lucrative one and an area that investment pros such as Leon Cooperman and Bill Ackman are betting on.
Here are five fast food -- and fast casual -- stocks hedge funds have invested in, pulled from the most recent round of 13Fs corresponding to June 30 holdings.
McDonald's
Larry Robbins of Glenview Capital revealed in February that his hedge fund had taken a position in fast food powerhouse McDonald's. He told an audience at the Boys & Girls Harbor Investment Conference that he believes the company can unlock value for shareholders.
Robbins also commented on the stake in his fourth quarter letter to Glenview investors. "Fundamentally, McDonald's has a number of characteristics that we look for in good businesses," he wrote.
Glenview purchased 2.9 million McDonald's shares early this year and as of June 30 maintains that stake, valued at $275.8 million. Leon Cooperman's Omega Advisors joined Glenview on the stock in the second quarter of the year and bought 75,000 shares worth $7.1 million.
McDonald's reported second-quarter results on July 23. Although it beat analysts' expectations, CEO Steve Easterbrook called its numbers "disappointing." Both revenue and earnings per share fell 10% year-over-year.
Panera Bread 
Cooperman's Omega Advisors invested in Panera Bread (PNRA) in early 2015 and as of June 30 owns 158,000 shares valued at $27.6 million.
Panera reported second-quarter earnings on July 28. Revenue increased 7% to $677 million; however, diluted earnings per share excluding certain items fell 7% to $1.61 from $1.74 the year prior. The company also provided a rather optimistic outlook for the third quarter, reporting that sales in the first 27 days of the third quarter were up 4.7%.
The fast casual company's most recent challenge: the pumpkin spice latte. Both it and Starbucks (SBUX) - Get Starbucks Corporation Report have announced healthier versions of the popular fall drink.
Restaurant Brands International
Restaurant Brands International (QSR) - Get Restaurant Brands International Inc Report, the parent company for Burger King and Tim Hortons, is an investment both Bill Ackman and Warren Buffett appear to like. Both wound up with positions in the company in the wake of its formation out of the $11 billion Burger King-Tim Hortons merger in late 2014.
As of June 30, Ackman's Pershing Square owns 38 million Restaurant Brands shares valued at $1.5 billion, and Buffett's Berkshire Hathaway has 8.4 million shares with $322.4 million.
On July 27, the company reported second-quarter financial results, including comparable sales increases of 5.5% for Tim Hortons and 6.7% for Burger King. Analysts at Credit Suisse increased their price target on the stock to $45 from $42 the following day.
Wendy's
Nelson Peltz's Trian Fund Management has cut its stake in Wendy's (WEN) - Get Wendy's Company Report in recent months. As of June 30, it owns 54 million shares worth $609.4 million.
Peltz and Wendy's have a long-standing relationship. The billionaire activist investor has been a director of the company since 1993 and has served as its non-executive chairman since 2007.
In June, Wendy's announced that it would buy back $1.4 billion of shares, including $211 from Trian, in order to reduce its stake and "avoid adverse federal income tax consequences."
Wendy's reported second-quarter results on August 5, including a 2.4% increase same-restaurant sales and a 3.3% decrease in revenues.
Yum! Brands
Yum! Brands (YUM) - Get Yum! Brands, Inc. (YUM) Report, the company behind names like KFC, Pizza Hut and Taco Bell, has piqued the interest of Dan Loeb. His Third Point invested in the company earlier this year and as of June 30 owns 3.6 million shares worth $322 million. He also has a $10.8 million call option on the stock.
In his first-quarter letter to Third Point investors, Loeb discussed the decision to invest in Yum! Brands. "We initiated our position in the first quarter based on our view that the company was in the early stages of turning the page on recent troubles in its China business," he wrote. "We believe this development should neutralize the largest overhang on the stock, set the stage for a dramatic profit recovery over the next 12-24 months, and change the public market narrative around long-term shareholder value-creation for the company."
He talked the stock up again at the SkyBridge Alternatives Conference in Las Vegas in May and said his fund thinks "there's an enormous upside" in the company.
Yum! Brands released second-quarter numbers on July 14. Earnings per share dropped 28% to 53 cents from 73 cents a year prior. 
This article is commentary by an independent contributor. At the time of publication, the author held no positions in the stocks mentioned.