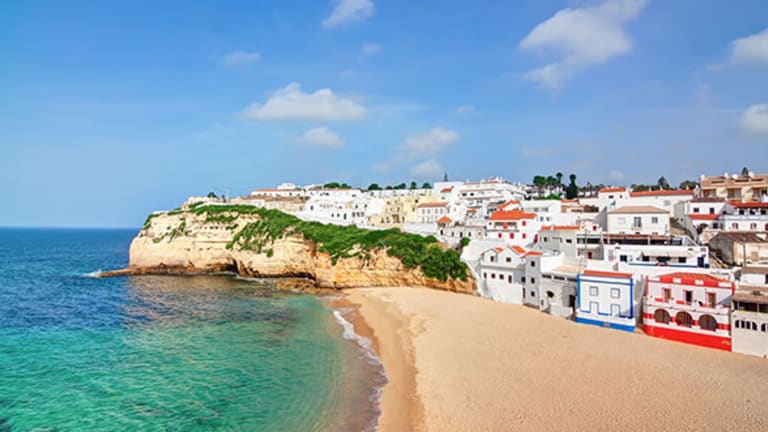 5 Expat Destinations Where You Can Speak Only English
There are areas in Portugal, Mexico and Panama where English is common, and in Belize, the main language is English.
On the site Best Places In The World To Retire, one of the most common questions is whether someone can get by just speaking English.
Along with concerns about safety and healthcare, not being able to understand others or be understood is among the main reasons for not moving abroad. People fear that they may not be able to attain basic services if they can't communicate what they need, or that they will be unable to build relationships. 
Knowing the local language will give you a richer experience, but there are several places where it's not necessary.
There are so many British expats in Algarve in the southern part of Portugal, that English is widely understood there. Algarve has a population of just 300,000 but receives over 5 million visits a year, many of them from Brits. 
Luis Teixeira da Silva, who has lived in six countries and now splits his time between the UK and Algarve, said, "I have English friends who have been in the Algarve for 22 years who speak hardly a word in Portuguese."  
But foreigners can get by with English in other parts of the country, as well. 
Duncan MacGregor, who lives in Cascais about 18 miles from the capital city of Lisbon, said, "The reason is because the Portuguese like to please foreigners and make the effort to speak the same language. In addition, English is taught in the schools in Portugal."
Mexico has many areas in which a large proportion of the population is American. As such, there are many areas where you can easily get by without much Spanish.
"In Mexico City, educated people will speak at least some English, and many will be fluent," said Carmella Peters Romero, originally from Toronto and now living in Mexico City.
According to Ivan Castillo, a native Mexican who lived in California as a child, service providers in areas with large numbers of tourists or expats are likely to speak English. "In these areas where there's an important community of foreigners, it's easier to get around just speaking English."
Dr. Santiago Hernandez, who lived in Chicago for 30 years, said it was easy to get by with just English in the large American expat community around Lake Chapa and in Ajijic. "It is rather ironic because I probably spoke more Spanish when I was practicing in Chicago than I do now here in Mexico," he said. 
Boquete is a mountain town in the highlands of the province of Chiriquí, Panama. Until about 2000, it was almost completely unknown to anyone but the locals. Since then, Boquete has become one of the most sought after locations for North American retirees and other expats, who now comprise about 5,000 of the population of about 25,000. The foreigners have been drawn by the area's scenic beauty and mild climate. 
Georgina Chanapi a native-born Panamanian who lived in Switzerland and speaks fluent French, Spanish and English, said English is spoken widely. "In Boquete, it is not like when you go to Swiss Park in Switzerland where people only speak German or Swiss-German, because we have many English speakers here in Boquete," he said. "If you only speak English in Boquete, you are not going to have any problems."
Roger Pentecost, originally from England and now a resident of Boquete, said service providers hire many individuals who speak fluent English, "Restaurants and hospitals in the area prefer to hire staff who know how to speak English. Most of the doctors in Chiriquí speak some English because they received their education in North America or in other places that speak English." 
Linda Jensen moved to Boquete fro Texas in 2012, knowing close to no Spanish. But Jensen said she was able to cope without major problems. "I can do my transactions at the dry cleaners or other places with no problems, at all," she said. "The locals in Boquete understand enough English and there are enough gringos here to help that you can go to any place and get what you need. If I speak English slowly, many of the people here understand me. Maybe it's my Southern accent that keeps them from understanding when I just talk normally!"
Situated just south of Mexico, facing the Caribbean, Belize (formerly British Honduras) is officially an English-speaking country. In addition to using British Common Law, all legal agreements and all government transactions occur in English.
Irma Quiroz-Yuque used to live in Southern California and now lives in Corozal in northern Belize. She said that she moved to Belize partly because she knew that she could get by speaking English. "Having pretty much everyone speak English is one of the things that caused us to decide to retire to Belize," Quiroz-Yuque said.
By contrast, Quiroz-Yuque said that if she had retired to Ecuador, she would have needed to understand Spanish to speak with the locals. She was especially concerned that in an emergency, she wouldn't be understood in Ecuador. "All medical personnel in Belize speak English," Quiroz-Yuque said. "All police and firemen speak English, and English is the main language here. "
Boris Mannsfeld, a former resident of Colorado, said that foreigners could even understand the Belize dialect. "The locals, especially in Placencia, can switch in the middle of a sentence from Creole to English and the average American would probably understand around 80% of the Creole," he said. "In Creole, they would say 'dat' instead of 'that.' They cut some vowels and consonants in the end, but you can understand the basic conversation."
The most popular areas in Belize for expats are the island of Ambergris Caye, Placencia, inland in the Cayo District and Corozal.
Located approximately 60 miles from Panama City on the Pacific Ocean, Coronado has become a popular expat destination among Americans and Canadians. English is common at happy hours and social gatherings in the area.
Corrin Skubin, who used to live in Pennsylvania, said that few people speak Spanish. "They get by just fine," she said. "I have a lot of clients who do not speak a word in Spanish and they can get by, too. They just do charades!"
Kevin Painter, originally from Yorkshire, England, now lives in San Jose. The town is about a half-hour from Coronado in an area with less of an expat concentration. Painter said Coronado is mainly English speaking but "if you go outside Coronado, it's not."
Painter added that "My wife has been here for eight years and she speaks only English. She doesn't have a problem at all, even in those places where they don't speak English, like at the local butcher shop. She just points to items and the butchers have a great time helping her. My wife is very comfortable and everyone has a good time."
This article is commentary by an independent contributor. At the time of publication, the author held no positions in the stocks mentioned.