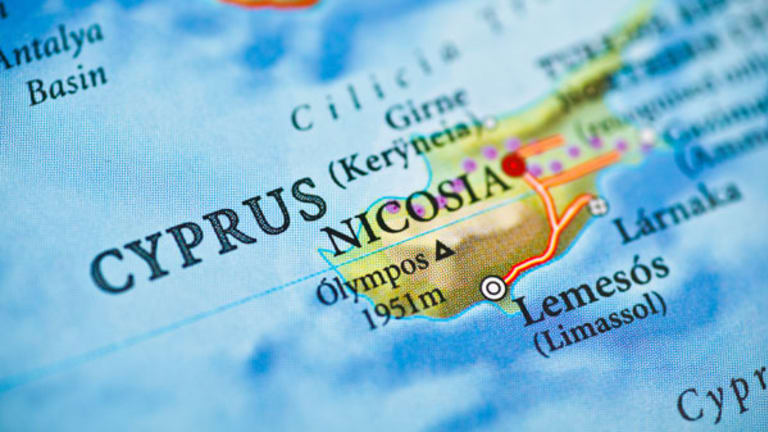 5 Dumbest Things on Wall Street This Week: March 22
Gregg Greenberg examines Cyprus, Ina Drew, Lululemon and others that have made this a spectacularly dumb week.
5. Not-So Great Lakes
We didn't have to dig too deep to find the dumbness in
Great Lakes Dredge & Dock
(GLDD) - Get Free Report
, now did we?
Shares of the dredging company devolved into dreck last Friday, sinking 18% to $7.40 after the company announced it will restate its second- and third-quarter results due to accounting issues. Great Lakes apparently recorded some revenue for its demolition business in a way that did not comply with its own policies. The company revealed it overstated second-quarter revenue by $3.9 million and third-quarter revenue by $4.3 million. It also said it will review $5.6 million in questionable fourth-quarter sales.
"We are focusing on improving our internal controls. We will undergo a thorough retraining of our demolition segment personnel, we will add key personnel where needed and we will strengthen our procedures to ensure our divisions comply with all of our operational and accounting policies. We will be installing new estimating and project management software at the demolition segment," said Great Lakes CFO William Steckel.
Basically, to drop the accounting jargon, the company that makes its money destroying things lit the dynamite, yet forgot to run.
Well, that's not entirely true. Great Lakes said its President, COO and former CFO Bruce Biemeck is taking off in the wake of the accounting blow up.
The bad news for Bruce is that he's not going to get very far away from the rubble he so desperately wants to leave behind. Class action suits by so-called "investor-rights law firms" are already piling up with lawyers placing Biemeck squarely at the center of their conspiracy theories.
Yeah, it's going to be anything but a blast for Biemeck. Once the depositions get rolling, all those memories he wants to keep dead and buried are sure to be dredged up.
Or, to lose the legal lingo, hold your ears because Biemeck could go Boom!
4. Ina's Lack of Knowledge
Farewell, Ina Drew. You may be a know-nothing, but we hardly knew you.
Drew, the former head of the "London Whale" trading unit at
JPMorgan Chase
(JPM) - Get Free Report
, blamed a "flawed" risk model and "deceptive" traders for the massive $6 billion loss at the bank in her
last Friday before the Senate Permanent Subcommitee on Investigations. Drew resigned from her position of chief investment officer in May 2012 as a result of the scandal.
"Since my departure I have learned of the deceptive conduct by members of the London team, and I was, and remain, deeply disappointed and saddened to learn of such conduct and the extent to which the London team let me, and the Company, down," said Drew. She also said she stepped down "to make it easier for the company to move beyond these issues," going so far as to give up $21 million in compensation in recognition of her unit's losses.
Look on the bright side, Ina, at least you finally learned something about the goings-on in the department you were supposedly overseeing. Had the losses never come to light, you would still be in the dark about your underlings lying and cheating ways.
Be honest, Ina. Doesn't that enlightenment make you feel somewhat better? Or would you have preferred to go your entire career playing the fool?
Then again, your alleged ignorance at the bank was certainly blissful for you -- not to mention profitable. Despite your blather about forfeiting millions in future pay, you still pocketed $29 million in 2010 and 2011. That's not a bad take-home for a warden without the slightest clue that her inmates were running the asylum.
"She has acted with integrity and tried to do what was right for the company at all times, even though she was part of this mistake," Chief Executive Officer Jamie Dimon said last July when announcing Drew's departure. "In that spirit, Ina came forward and offered to give up a very significant amount of her past compensation."
What a joke, Jamie. That's even more of a laugher than your "tempest in a teapot" comment last April before this Whale issue swallowed you up like Jonah.
If there's one thing we learned from these hearings, it's not only that nobody is going to be punished for misleading regulators and shareholders, it's that Ina's no martyr.
Possibly a puppet. Feasibly a figurehead. Ostensibly an overpaid ignoramus.
But definitely not a martyr.
3. Lulu Gets Pantsed
Give us some credit
Dumbest
fans. Did you really think we would forget about the sheer madness this week at
Lululemon
(LULU) - Get Free Report
?
The athletic-apparel purveyor announced Monday it was recalling shipments of women's yoga pants with an unacceptably high "level of sheerness" from its stores. And while Lulu says it plans to see the problem through, the company admitted the issue will indeed impact its bottom line. Shares of the company got pantsed on the news, dropping 3% to $64 on Tuesday.
"The ingredients, weight and longevity qualities of the pants remain the same but the coverage does not," said Lulu in a statement.
Speaking of coverage, Wall Street consensus estimate for Lulu's Q1 is $353 million. Unfortunately, Lulu said it now expects lower earnings visibility and fiscal first-quarter sales of $333 million to $343 million, down from an earlier forecast of $350 million to $355 million. Lulu also lowered its first-quarter outlook for comparable store revenues, from 11%, to 5% to 8%.
Visibility. Coverage. Bottom line. See the problem through...Yes! Every single ridiculous pun is intended. You should know that by now.
For the record, Lulu's supplier, Eclat Textile of Taiwan, defended itself against the charges, saying the pants in question went through a certification process approved by the retailer. Eclat Textile CFO Roger Lo told the
WSJ
that "all the pants were manufactured according to the requirements set out in the contract with Lululemon."
Yes, Roger's knickers are certainly in a twist over this pants controversy, which means that Lulu now has a supplier problem on its hands as well. As for its customers, well, Lulu is offering full refunds or exchanges to anybody who purchased its less than opaque legwear.
One thing that remains clear for Lululemon -- other than its pants of course -- is that the once high-flying yoga stock may be a downward-facing dog until they zip this supply problem up.
2. Maxwell Not-So-Smart
Bang! Bang!
Maxwell Technologies
(MXWL) - Get Free Report
is once again dropping the hammer on shareholders.
The energy storage device maker announced the resignation of its public accounting firm McGladrey LLP in an
filing Tuesday. In its farewell letter to Maxwell's audit committee, McGladrey confirmed "it could no longer rely on management's representations," nor the "information obtained directly from certain third parties." Maxwell added it will be forced to delay the reporting of its 2012 financials while it looks for an accountant to replace McGladrey. Shares of the company sank 14% to $6.40 on the news.
No, all is not well at Maxwell, so much so that its accountant is throwing in the towel. Not that McGladrey had a clue as to what was going on at the company anyway. To tell the truth (which nobody did at the company), McGladrey was probably plenty glad to get out of there. Furthermore, we doubt they will be the last to go since they are following a host of other Maxwell employees, including the company's senior vice president of sales and marketing, out the door.
Of course, McGladrey or no McGladrey, nobody expected the company to release its 2012 numbers for a long, long time anyway. In case you forgot, the company said earlier this month that it needs to restate its 2010 and 2011 financial results due to revenue recognition errors, so even the thought of closing last year's books was ridiculous. Maxwell said at the time that it expects the restatement will decrease its fiscal 2011 top-line by $6.5 million and revenue during the first three quarters of 2012 by $5.5 million by comparison to its previously stated results.
Then again, nobody knows how the numbers will add up once the next auditor digs into Maxwell's accounting mess. The only thing we can count on is that Wall Street's pencil-pushers will probably be as clueless as ever about the stock.
Back in early February, analysts at both Piper Jaffray and Stephens upgraded Maxwell to "overweight" from "neutral" based on the company's improving China outlook and supposedly improved fundamentals. The shares popped to nearly $11 on the upgrades, a year-to-date high for the stock and nearly double its recent price.
Clang! Clang!
1. Cyprus Silliness
By the time you finish this sentence the nation of Cyprus may be solvent or insolvent, in or out of the European Union or possibly even reborn as Vladimir Putin's private island getaway. The situation is still too fluid for us to predict.
All we do know is that the country's banks won't be open until next week as bureaucrats from the Mediterranean to Munich to Moscow try to conjure up a new plan that won't confiscate the hard-earned savings of Cypriot sheepherders and Russian oligarchs alike.
With all that in mind dear readers -- and in all seriousness, it is a lot -- the best we can offer you at this juncture are a few highlights from the past week that tickled our Dumbest bone:
Her Majesty's Not-So Secret Airlift: The British government sent a plane carrying one million euros to Cyprus as a "contingency measure" to help troops and their families. In a statement, the Ministry of Defense said it is asking personnel "if they want their March, and future months' salaries paid into UK bank accounts, rather than Cypriot accounts." To which we hear the British troops are replying: "What do you think Sherlock?" Archbishop's Unorthodox Solution: As worried Cypriots pray for the banking crisis to be resolved, the country's influential Orthodox church offered to help this week. Cyprus powerful Archbishop Chrysostomos II said "the wealth of the church is at the disposal of the country." To which we hear Vladimir Stalin . . . we mean Putin, shot back: "The Pope? How many dividends does he have?" Putin's Hyprocrisy/Apoplexy: Russian leaders hit the roof over the EU's original plan to tax bank deposits as part of its bailout package. President Vladimir Putin went so far as to call the move "unfair, unprofessional and dangerous." To which we overheard a Russian gangster say: "We can settle this problem over cocktails. Make mine a Molotov."
That's just a quick taste for now. We promise to report back if anymore inane events occur over there in what is turning out to be a real Cyp-riot.
-- Written by Gregg Greenberg in New York City.
Disclosure: TheStreet's editorial policy prohibits staff editors and reporters from holding positions in any individual stocks.