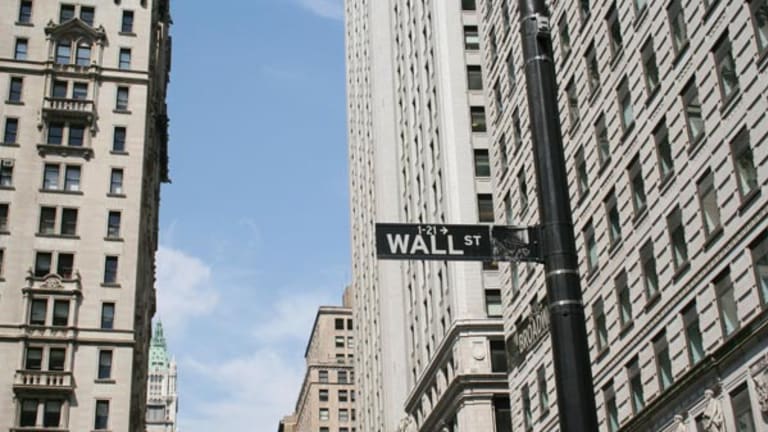 5 Dumbest Things on Wall Street: Oct. 28
McRib's Return; Murdoch Family Mess; More Netflix Nonsense; First Solar's Dark Days; Corzine Gets Kicked.
5. McRib's Return
There are no ribs in a McRib. Not even one. But false advertising is not the bone we have to pick with
McDonald's
(MCD) - Get Report
over its boneless barbecue pork sandwich.
No, our beef with McDonald's revolves around the shenanigans the company plays with McRib supply. And Monday's announcement that the McRib will be available at all U.S. locations through Nov. 14, instead of scattered select stores does nothing to alleviate our anger that the company continues to stockpile that succulent sandwich in the worst possible way.
If the Germans can order McRibs all year long -- and with a beer too -- then why can't we?
"Bringing it back every so often adds to the excitement," said Marta Fearon, McDonald's U.S. marketing director, who would not comment on future McRib offerings.
Oh that's just wrong Marta! All you are doing is withholding supply to create an unnatural froth among buyers like in the cases of those tightly controlled tech IPOs. Or, even worse, acting like OPEC when it tries to put a stranglehold on the world's oil supply. But in this case you are cornering a commodity far more important to America's security than energy resources. Tragically, unlike petroleum, there is no Strategic McRib Reserve that the President can tap into during times of trouble.
Seriously Marta, that's not adding "excitement." That's just un-American.
Look, we know the demand is there for the sandwich, and we are not just talking about the McRib locator Web site, Twitter postings and fringe Facebook groups like "Bring Back the McRib."
We are well aware of the sales spike Mickey D's received when they rolled out the McRib nationally last November, doing so for the first time since 1994. The company may not have offered specific sales figures after last year's launch, preferring to hide behind a veil of onions, pickle slices and that oh-so sweet sauce, but we know they made big bucks.
So if the demand is there, we submit that McDonald's has an obligation to release the supply to match it. If Mickey D's wants to play games, then let them stick to
Monopoly
.
But don't mess around with our blessed McRib.
4. Murdoch Family Mess
Are the sins of the father sticking to
News Corp.
(NWSA) - Get Report
CEO Rupert Murdoch's kids? From the looks of it, they sure look pretty stuck to us.
The results of the company's shareholder vote were released Tuesday and the tallies were especially unkind to the octogenarian's offspring. James Murdoch, Rupert's no. 2 son and the presumed heir to his father's media empire, saw nearly 35% of the company's investors vote against his re-election to the board.
Okay. On the flip side, that means 65% voted for James, who is currently serving as the company's deputy chief operating officer. That's not so bad when President Obama's approval rating -- as Murdoch's
Fox
television network is always keen to remind us -- hovers in the 40% range. On a relative basis that's a pretty good result. Right?
Wrong. Of that 65% that backed James, a whopping 40% of the total came from shares held by his family, and an additional 7% came from News Corp.'s largest individual shareholder, Saudi Prince Al-Waleed bin Talal. In other words, if his last name wasn't Murdoch then his re-election -- and succession -- chances would be mud.
And things could get muddier still for James next month when he returns to Parliament to testify over his role in the hacking scandal that continues to plague the company.
The result was not much better for James' big brother Lachlan, who saw 34% percent of shareholders vote against his re-election to the board.
Upon even closer inspection, that result is even more harsh because, unlike his brother, Lachlan currently has no operating role in the family business. He resigned from the company years ago after being passed over for the top spot by his dear old dad. In other words, the voters simply don't like Lachlan.
Now one could say the shareholders voted against Lachlan because of his last name, yet that wouldn't be entirely true. You see, only 14% voted against his pappy. And while Rupert's re-election was never in doubt because of the class structure of the company's shares, the vote was a clear indication that News Corp. investors still believe that father knows best.
It also means that Rupert's girls -- Prudence, Elisabeth, Grace and Chloe -- better start warming up in the bullpen, because clearly the Murdoch boys aren't cutting it.
3. More Netflix Nonsense
Like our favorite movies, we here at the
Dumbest Lab
have seen this
Netflix
(NFLX) - Get Report
downgrade story many times before.
And like
Stripes
,
Animal House
and
Caddy Shack
, we never get tired of watching it over and over, because we know it's always good for a laugh.
Shares of the movie rental service took yet another drubbing Tuesday after the company reported better than expected third-quarter earnings, but a loss of 800,000 subscribers as a result of its poorly received price hike. Netflix stock sank almost 35% on the news to $78, a far cry from its 52-week high of $304, which it touched a mere three months ago. That peak for the past year was also a level that many of Wall Street's best and brightest thought the stock would blow right past, never to look back.
Boy, were they wrong. Now somebody get the popcorn. This is the good part.
Five sell-side analysts cut their ratings on Netflix on Tuesday. Among them were
Goldman Sachs
(GS) - Get Report
analyst Ingrid Chung, who pinned a buy rating on Netflix in March and didn't waver until this week, when she cut her rating to hold with a $75 price target.
JPMorgan
(JPM) - Get Report
analyst Doug Anmuth also said Netflix was a buy in July, a rating he maintained until Tuesday's ugliness, when he downgraded Netflix to hold with a $67 target.
Yo! Will somebody back there grab us something to drink please? Maybe a
Sprite
or
Fresca
? We're getting kind of thirsty.
As it turns out, many analysts following Netflix thought the high-flying growth stock was a buy at $300 a share, including those at
Oppenheimer
,
Citigroup
,
Credit Suisse
,
Piper Jaffray
and
Barclays Capital
. And some of these optimists even reaffirmed their outperform ratings this week, despite the stock crumbling more than 70% in three months.
Well, that makes sense. If they loved it at $300 a share, then they should really love it below $80.
Yeah, we sure do love this story. It's an oldie, but a Dumb-ie.
Now excuse us while we watch the end of
David Einhorn Meets the Green Mountain Coffee Roasters
. We're not done viewing it yet, but so far it really has the makings of a Dumbest classic.
2. First Solar's Dark Days
Will the last shareholder leaving
First Solar
(FSLR) - Get Report
please turn out the lights?
Alas, it was only six months ago when all was sunny at First Solar. The company's stock was a luminous $160 a share and its CEO Rob Gillette, still glowing after two years on the job, predicted a bright future for the largest solar company in the United States.
Well, somebody must have flicked a switch because it's now pitch black over there. Gillette departed on Tuesday for unknown reasons -- the company says "a change in leadership was necessary" -- satisfying no one in terms of providing an explanation -- the stock has lost two-thirds of its value in 12 short weeks and the outlook for solar companies in America has turned overcast.
Of course, anybody closely watching the company over the past year probably had an inkling that the sun was setting. Top executives such as First Solar President Bruce Sohn and financial chief Jens Meyerhoff were taking off, creating questions about the company's management foundation.
On Tuesday, First Solar announced that chairman and company founder, Mike Ahearn will serve as interim CEO now that Gillette has been ousted. Nevertheless, as evidenced by the 25% shellacking of the stock Tuesday, Wall Street remains wary of Ahearn, who has a long history of unloading his own shares of First Solar stock, but the bigger issue is the company's future after the game of management musical chairs.
Truth be told, even if all the dim bulbs in the company's C-suites weren't taking off, First Solar would still be in a heap of trouble. The sharp drop in module raw material polysilicon prices has taken away the company's ace-in-the-hole price advantage, thereby enabling Chinese competitors to eat their lunch faster than you can say "Solyndra." Moreover, the business suffers from overcapacity issues, which won't diminish anytime soon.
And while we've long heard that it's always darkest before the dawn, it's hard to advise anybody to go out and blindly try and catch this falling knife of a stock, even in the clear light of day.
Corzine Gets Kicked
Back in March 2010, Jon Corzine, a former New Jersey Governor and Goldman Sachs chairman, said he could have joined a firm with "bigger capital positions and a lot more so-called panache," but instead chose to take the CEO job at broker-dealer
MF Global
(MF)
because of its "global footprint."
Well Governor, sorry to say it, but right now that global footprint is kicking you squarely in the backside, and boy is it leaving a mark!
Shares of the broker-dealer plummeted by almost 50% Tuesday following its report of a widening second-quarter loss. The poor results came on top of worries that its debt might get downgraded to junk status. On Wednesday, news that MF might put itself up for sale did nothing to deter the selling as shares touched a 52-week low of $1.07 during the trading day.
That "so-called panache" sure sounds pretty good now, doesn't it Governor? At least at your former firm you could go running hat-in-hand to
Berkshire Hathaway
if your proprietary traders got you into trouble. Too bad those
batphone
privileges to
don't transfer from Goldman Sachs to MF Global.
And quite clearly your plan to battle your way into the bulge bracket by turning MF into a mini-Goldman through increased risk taking is what brought the company to this precipice. MF saw a 73% drop in revenue from principal trading activities in the quarter as market volatility forced the firm to reduce its risk. The net loss attributable to common shareholders was $191.6 million, or $1.16 a share, compared with last year's loss of $94.3 million or 59 cents a share.
Yeah, we know that MF's quarterly loss was still lower than your monthly expense account at Goldman, but it still brings up the very important question as to whether it's your strategy or your traders that suck.
And as for the international business Corzine coveted back when he joined the firm, we can safely say that he probably wished he stayed home in New Jersey as opposed to venturing out into the world. At last check, MF had a $6.3 billion exposure to European peripherals -- Portugal, Greece, Italy, Ireland and Spain -- and regulator FINRA recently told the firm to inject additional capital because of concerns about its outstanding PIIGS risk.
Ironically, investors were once so worried that Corzine would leave MF that when the company raised $300 million in debt earlier this year, an extra provision was included in the deal saying that investors will earn an additional one percentage point in interest if Corzine left the firm. Now it looks like the entire operation could be headed for the exits -- for good.
Talk about a "global footprint." That's a kicker right there.
--
Written by Gregg Greenberg in New York
.
Disclosure: TheStreet's editorial policy prohibits staff editors and reporters from holding positions in any individual stocks.