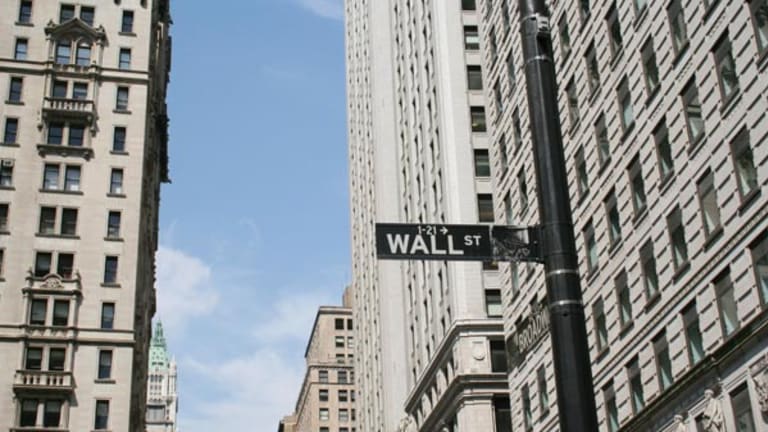 5 Dumbest Things on Wall Street: April 9
Dick Parsons Delinquency; Rupert's Renegade Reviewer; GM's Un-Natural Selection; Meet Bernie's Buddy Ezra;Raiding the Raters
Dick Parsons Delinquency
The Unsinkable Molly Brown, made famous for surviving the
Titanic
, has nothing on
Citigroup
(C)
Chairman Dick Parsons. Brown lived to tell the tale of just one colossal shipwreck. Parsons, to his everlasting credit, helped steer two huge corporations into financial icebergs and still cheerfully carries on.
Parsons, who ran media giant
Time Warner
(TWX)
before stepping up at Citi, met with reporters in Honolulu on Monday before a scheduled speech at his alma mater, the University of Hawaii. During the brief session, Citigroup's newest chairman said financial institutions are not the only parties to blame for the nation's financial crisis, charging that "everybody participated in pumping up this balloon". Besides banks, Parsons pointed his finger at unqualified borrowers and a lack of regulation as prime causes for the meltdown.
"We had a big party in this country," said Parsons, a long-time Citigroup board member who succeeded Win Bischoff as chairman in January.
Yes, we did Dick. And you were a fantastic host until you skipped out and stuck an entire nation with the mess -- and a huge bill.
Citigroup has received $45 billion so far in bailout aid, and the government is also covering a portion of losses on hundreds of billions of Citi's troubled assets and loans. Citi's shareholders have also been hammered by the company's disastrous decision-making. At the end of 2006, Citi was the fourth-largest company in the
Standard & Poor's 500 Index
, with a market value of $274 billion. It now weighs in at barely $15 billion.
And it's not the first time Parsons has helped reduce a corporate giant to rubble. He was president of Time Warner when the fateful merger with AOL was announced in January 2000. The combined market capitalization was $280 billion when Parsons signed off on that deal. The media giant's market value now? A mere $25 billion.
At least other Citi board members who either looked away or encouraged Citi's risky behavior -- yes, you Robert Rubin -- have been smart enough to slink away (with their pockets full of course) now that their
fiesta
is
finito
. Yet Parsons vowed to stick around, even while he half-heartedly accepted responsibility for running Citi - and the nation's economy - into the ground.
No need to stay, Dick. You've done enough already.
Dumb-o-meter score: 95 -- Just stay in Hawaii, Dick. This honeymoon has long been over.
Rupert's Renegade Reviewer
Roger Friedman must be one crazy hen to think he could survive in Rupert Murdoch's Fox-house after a stunt like this.
Fox News, a division of
News Corp.
(NWS)
, the media conglomerate controlled by Murdoch, "parted ways" with freelance writer Roger Friedman this Monday after he posted a review of an illegally downloaded version of the unreleased movie "X-Men Origins: Wolverine" on a Fox News Web site last week.
Fox News faced significant pressure to fire Friedman due to News Corp.'s "zero tolerance" policy when it comes to piracy. 20th Century Fox, the studio behind the big-budget film and also a division of News Corp., called Friedman's actions "reprehensible" despite his positive review of the film.
Still, an insubordinate Fox News did its best to save its popular columnist from the chopping block, embarrassing its parent company in the process.
On the Saturday prior to Monday's announcement, News Corp. publicly announced that Friedman was being "terminated" for his controversial review. A Fox News spokesperson, however, refused to confirm his dismissal the following day, calling it "an internal matter." Friedman himself told Hollywood trade magazine
Variety
on Sunday afternoon that he had not been let go.
Fox News undoubtedly tried to stay Friedman's execution because his Fox 411 blog is a top traffic draw for the highly profitable cable network. And Fox News chief Roger Ailes is well known for running his portion of Rupert's fiefdom without much regard for fellow News Corp. executives.
As to why a media company would want to fire a reporter for breaking news, well, that's just beyond us entirely.
For his part, Friedman was surely acting like Ailes had given him the greenlight to thumb his nose at his corporate siblings. Even while praising
Wolverine
in his review, he chided his "cousins at 20th Century Fox", saying they are "probably having apoplexy" over the ease at which he was able to sneak an illicit peak at its summer fare.
Ultimately, News Corp. put an end to the internecine idiocy and forced its disobedient subsidiary to axe the renegade reviewer. Fox News representatives said in Monday's statement that it "mutually agreed to part ways" with Friedman.
'Mutual' for Fox News maybe, but assuredly not for the folks upstairs in corporate. For a network famous for its 'No Spin Zone,' Fox's lame explanation sure made us dizzy.
Dumb-o-meter score: 85 -- Wolverine's claws are no match for Rupert's fangs.
GM's Un-Natural Selection
The neanderthals running
General Motors
(GM)
have proven themselves unfit to survive without government aid. But that's not stopping their evolution from four wheels to two.
Executives for GM and electric scooter specialist Segway announced Tuesday a joint venture to develop a two-wheeled, two-seat electric vehicle designed to be an inexpensive and clean alternative to traditional automobiles. The project, dubbed the Personal Urban Mobility and Accessibility, or PUMA, would also involve a vast communications network that would allow vehicles to interact with each other and prevent crashes, according to the companies.
The 300-pound PUMA will employ Segway's two-wheel balancing technology plus dual electric motors and is designed to reach speeds of up to 35 miles per hour. Moreover, its creators say it will run those 35 miles on a single charge from its lithium-ion battery.
Wonderful! Just what GM needs -- another vehicle that no one will buy.
The companies did not offer a sticker price for the vehicle, but estimated its total operating cost, including purchase price, insurance, maintenance and fuel, would be nearly a third of the average car or truck. They also did not offer a timeline for production or price tag for the project.
"We're excited about doing more with less," said Segway CEO Jim Norrod. "Less emissions, less dependability on foreign oil and less space."
Well Jim, if doing more with less is your goal, then you could not have chosen a better partner for your ridiculous experiment.
Once-proud GM is teetering on the verge of bankruptcy, even after sopping up billions in government loans that will likely never be repaid. And the road ahead for the crumbling auto giant is only getting rockier as the ongoing recession has slashed vehicle sales to their lowest levels in more than a quarter century.
Then again, Segway may be the perfect match for GM. The privately held company reportedly bleeds money and delivers more showroom hype than vehicles to consumers. As a result, it has nothing to lose from its association with GM.
Except, of course, more and more taxpayer dollars.
Dumb-o-meter score: 80 -- GM's gone from Hummers to Ho Hum.
Meet Bernie's Buddy Ezra
J. Ezra Merkin made millions shilling for Bernie Madoff's crooked enterprise and little else. Time for the ponzi-schemer's pal to give it back.
New York attorney general Andrew Cuomo filed civil fraud charges Monday against Merkin, the former chairman of
GMAC Financial Services
, alleging the hedge fund manager funneled $2.4 billion to Madoff without informing his clients where their money was being directed. Cuomo is demanding that Merkin repay nearly half a billion dollars in fees he collected from clients over the years, plus damages. Cuomo does not contend, however, that Merkin was aware of Madoff's criminal activities.
The complaint accuses Merkin of telling a "panoply of lies" to deceive clients into believing he had a sophisticated investment strategy, when in reality his Ascot Partners fund was merely shoveling nearly all of its cash to Madoff. In fact, most of Merkin's investors had no clue their money was in Madoff's filthy hands until after his arrest in December, according to the suit. That's when Merkin shocked them with a brief note informing them that their money was most likely gone forever.
Merkin's attorney, Andrew Levander, slammed Cuomo's charges, calling the lawsuit "hasty," ''ill-conceived" and "without merit." Levander also said in a statement that Merkin's investors were well aware that their money was parked with Madoff, and that his client had taken all necessary steps to confirm that Madoff was running a legitimate operation.
"Unfortunately, Mr. Merkin's due diligence, just like the detailed investigations performed by countless others, including regulators, was thwarted by the intricate, fraudulent scheme perpetrated by Madoff," wrote Levander.
Come on counselor, you've got to be kidding us. We don't see how you can even put Merkin's name and "due diligence" in the same sentence.
Let's review the facts, shall we? Madoff self-cleared, employed a no-name, rinky dink auditor, sent out outdated trade confirmations and demanded feeder funds like Merkin's adhere to a Mafia-like code of silence. If Merkin did any investigating whatsoever into Bernie's operation, he may have spotted something was fishy was going on.
At the very best, Merkin was negligent and should return the millions of dollars of fees he pocketed for doing nothing. At the very worst, he should join his buddy Bernie in a prison cell.
For Merkin's kind of due diligence, he deserves due process -- in court.
Dumb-o-meter score: 75 -- Merkin's name is mud after his murky dealings with Madoff.
Raiding the Raters
The ratings agencies, or as we like to call them "The Three Blind Mice," feasted on Wall Street fees during the credit boom. Now they are running to Washington to cash in on the bust.
Connecticut Attorney General Richard Blumenthal announced on Monday his plans to investigate why $400 million in government bailout dollars are being directed to
Moody's Investors Service
(MCO)
,
Fitch Ratings
and
McGraw Hill
(MHP)
unit
Standard & Poor's
following their "failure" during the subprime bubble. Blumenthal's office said the program offers an unfair advantage to the three largest bond-raters and demanded they submit documents related to his ongoing antitrust inquiry.
Blumenthal is also requesting
Federal Reserve
Chairman Ben Bernanke revise the program so that smaller ratings agencies can also compete for the business. The Fed's $1 trillion TALF program, intended to jump-start consumer lending, mandates that new securities be rated by two or more "major" nationally recognized statistical rating organizations.
"The Federal Reserve should not be favoring large market participants, whose mistakes helped precipitate the current crisis, over smaller ones seeking to break into the market," said Blumenthal in a statement.
Good for you Blumey! Way to show some spine. The ratings agencies have profited from their oligopoly for far too long. And considering they blessed every last toxic bond with a bogus triple A rating, their
most favored rater
status is unquestionably unearned.
And while we here at the Five Dumbest Lab don't expect the Connecticut A.G.'s assault to alter the
status quo
(we should live so long), we do applaud his moxie and love to see the three blind mice scurry.
In a statement, Fitch Ratings said Blumenthal's investigation was "an unfortunate development stemming from incomplete or inaccurate information." S&P said his charges were "without merit" and fail to recognize its "strong track record."
Moody's declined to comment. Although their silence could signify they are just playing dumb.
Wouldn't be much of a stretch, now would it?
Dumb-o-meter score: 70 -- Which cartel is more crooked: OPEC or the ratings agencies? Tough choice.
Before joining TheStreet.com, Gregg Greenberg was a writer and segment producer for CNBC's Closing Bell. He previously worked at FleetBoston and Lehman Brothers in their Private Client Services divisions, covering high net-worth individuals and midsize hedge funds. Greenberg attended New York University's School of Business and Economic Reporting. He also has an M.B.A. from Cornell University's Johnson School of Business, and a B.A. in history from Amherst College.