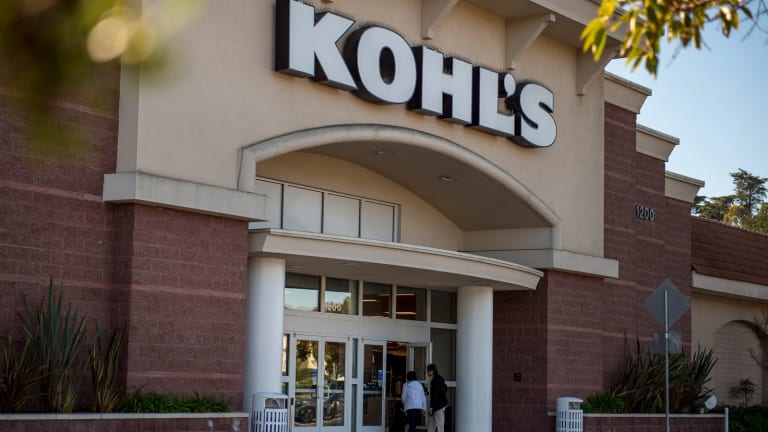 5 Dividend Stock Gems With Buyable Charts
These five dividend stocks give the inner technical chartist something to consider.
In addition to filtering stocks by quantifiable metrics such as yield and growth prospects, by using technical analysis, we increase our chances of uncovering otherwise overlooked or misunderstood opportunities.
Recently, TheStreet's Ben Reynolds identified nine attractively priced dividend stocks. 
"Many of these nine hidden dividend gems have been flying under the radar of investors for too long. In fact, two of them have dividend yields of more than 10%," Reynolds wrote.
Looking at these stocks' technical charts, we have culled out five that give the inner chartist something to consider.
Kohl's
Kohl's (KSS) has corrected 50% from its zenith of the past year. A 50% correction will peak the interest of many chartists.
Since November, Kohl's has traded sideways around the $45 level and dips below that level have been bought so far. A shorter-term measure of trend, the 50-day simple moving average line has been flat for months, with prices closing above and below it several times. The longer 200-day average line is still pointed downward but is not far above the market.
A good indicator of whether buyers of KSS have become more aggressive in their purchases of the stock is the on-balance-volume line invented by the late Joe Granville. This simple but subtle look at volume (if we close higher on the day, we add the volume to a running total, or we subtract it if we close lower) has been improving since November. Price momentum, a study of the rate of change of prices, is not generating any worrisome divergences at this time.
Kohl's might experience some further near-term price weakness before a more-sustained upside attempt.

Helmerich & Payne

Helmerich & Payne (HP) has a positive-looking chart. H&P has been developing a saucer-like bottom formation since August. The OBV line has moved sideways since October but has turned upward since mid-January, telling us that buyers have become more aggressive in their purchases.
HP has rallied above both the 50-day and the 200-day simple moving averages, and the slope of the 50-day line is positive. A positive slope to a moving average tells us we are mathematically in an uptrend. H&P is likely to see further sideways price action as its base formation lengthens. 
Sonic
The chart of Sonic (SONC) has been swinging around a lot in the past year, but dips below $28 look like they have been bought -- the OBV line turned up from late September. Prices are above the 50-day and 200-day averages, which is a positive.
Sonic has improved from a technical perspective, but it will probably continue to fail to break out above the $33 level or until we see the OBV line break out first.
Aqua America
Aqua America (WTR) has been in gear on the upside since September.
Price is above the rising 50-day and 200-day moving averages. The OBV line has moved up smartly, confirming the advance. Aqua America has traded sideways the past two months, but the uptrend is likely to resume before too long.

American States Water
The last stock that grabbed our attention was American States Water (AWR) . Why AWR? Good question.
AWR has broken below support around $40 and is below the 50-day and 200-day moving averages, and the OBV line has turned down sharply this month. Not really encouraging.
Maybe the answer is in this longer-term chart. Here we can see that AWR has slipped below the 40-week moving average line, but it won't take much to close back above it. The OBV line is pointed down on this timeframe too. But this chart also shows that there is plenty of support for AWR in the $40-to-$35 area, and hopefully buyers of AWR will respond the same way again.