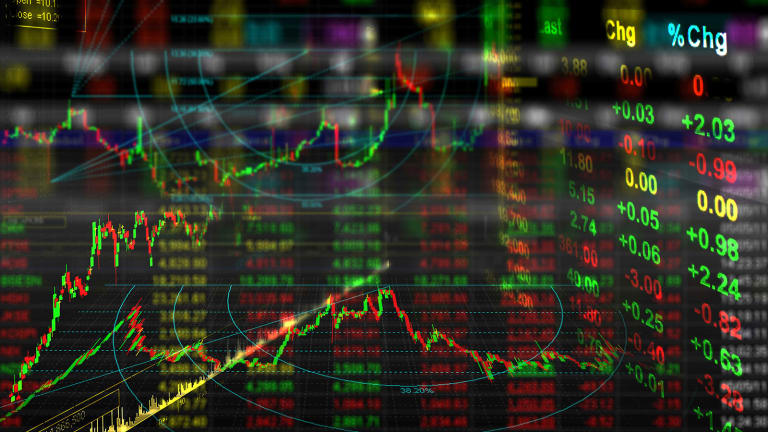 5 Breakout Stock Charts to Check Out Right Now
Take a look at Atwood Oceanics, Clayton Williams Energy, New Oriental Education & Technology, U.S. Silica Holdings and Ubiquiti Networks.
Take a look at Atwood Oceanics, Clayton Williams Energy, New Oriental Education & Technology, U.S. Silica Holdings and Ubiquiti Networks.
There are an awful lot of stocks still acting well, and some are breaking out.
Here are five to watch.
1.Atwood Oceanics (ATW)
Shares of this offshore drilling contractor declined dramatically to about $5 in February from $60 in August 2013. Then the stock rallied for a month, and since then has formed a coiling base pattern.
It broke out of that coil 10 days ago on strong earnings, pulled back and flagged and then on Monday popped $1.05, or 9.7%, to $11.88, on 5.7 million shares. The stock closed at the upper end of the range on the day, breaking out of the flag.
Look for a move to $14 to 14.50 for the short term and then $18 for the intermediate term.
2. Clayton Williams Energy (CWEI)
This stock has a very bullish pattern, forming an inverse head-and-shoulders bottom, rallying off the low below $7 in March. Moving averages crossed over as the stock popped in April and then consolidated for a month.
Shares of this company started to move up again four days ago, and on Monday they edged above the neckline of the pattern, closing up $3.05, or 15.4%, to $22.85, on 683,654 shares traded as oil prices surged. Watch for shares of the oil and gas company to test the $26-to-$26.50 area in the short term, followed by a big move up to about $33.
3. New Oriental Education & Technology (EDU) - Get Report
Shares of the Chinese educational services company broke out of a two-week flag on Monday, popping $1.60, or 4%, to $41.27 on 2.4 million shares on no news. The stock is near the bottom of a nine-month up-channel, stair-stepping in an orderly fashion, and the next target is $46.
4. U.S. Silica Holdings (SLCA) - Get Report
The stock is in a strong up-channel, nearly doubling off its January low, before recently pulling back and bouncing off the rising trend line of the channel. It is now approaching recent highs above $27.
Our initial target, originally set in March when shares of this company were in the low 20s, remains at 29.50. Once it gets through that level the stock could reach $33 to $34.
5. Ubiquiti Networks (UBNT)
Shares of this wireless-data-communications company have had a series of wedges and breakouts and are in another picture-book wedge formation.
If that wedge gets broken and the stock rises above recent highs at $38.80, it could see $40 and maybe even go as high as $43.50.
See Harry's video chart analysis on these and other stocks to watch.
This article is commentary by an independent contributor. At the time of publication, the author held no positions in the stocks mentioned.