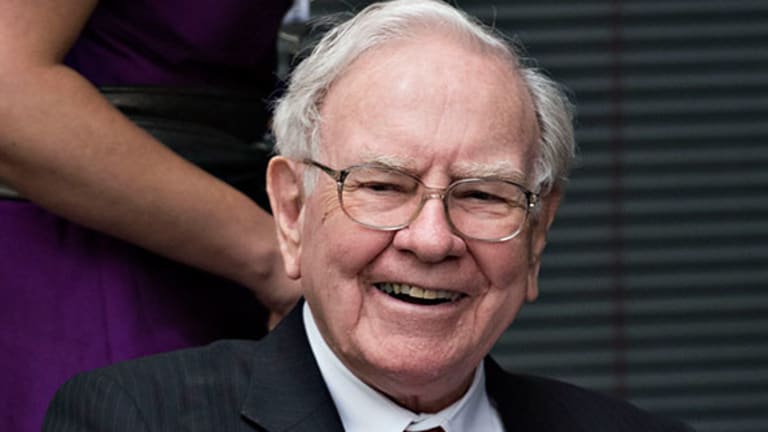 5 Blue-Chip High-Dividend Stocks for 2016 That Meet Warren Buffett's Standards
By using the same criteria that Warren Buffett used to become a billionaire, we've pinpointed stocks that could make you rich over time.
Billionaire Warren Buffett of Berkshire Hathaway seeks specific qualities in potential stock investments: an undervalued share price, an astute management, significant growth opportunities and a strong "moat" where the company can maintain a competitive advantage over its peers.
Let's take a look at five blue-chip giants that Buffett would have bought 40 years ago, but that still provide plenty of value, growth and income for nonbillionaires like us.
1. Boeing (BA) - Get Free Report
The end of the Vietnam War, the recession of 1969-70, and the slow space program growth of the 1970s were key factors that contributed to the decline of Boeing, leading to an eventual downsizing.
However, the company's superior experience and manufacturing facilities would eventually turn around its prospects. Dividend payouts picked up after 1977. Even during the aftermath of the 2008 financial meltdown, Boeing managed to keep its dividend payouts constant.
Currently, Boeing has a higher aircraft delivery rate than rival Airbus and also maintains an edge when it comes to wide-bodied aircraft. Boeing is now riding the phenomenal growth in the commercial aircraft segment, which makes up about 70% of its revenue, as newer airlines crop up and old jets are set for replacement. Dividend yield: 2.5%.
2. General Electric (GE) - Get Free Report
GE has experienced its share of ups and downs. The downs include the infamous bailout the conglomerate received during the financial crisis.
In 1973-1974, as the global stocks markets crashed, GE took a massive beating. But a long-term value investor such as Buffett would have believed in the company's diversified line of business, financial strength, and competitive superiority in R&D and manufacturing.
From its lows of 62 cents in September 1974, the stock touched a lifetime peak of $60.06 in September 2000. Two decades of leadership by management legend Jack Welch would clearly make the company an investor favorite for years.
After recovering to $41.40 in 2007, GE was once again dragged down with the rest of the world to trade at $10 in 2009. However, GE has displayed resilience time and again, and is already up 200% from its 2009 lows.
GE is back on its feet, and management recently decided to take GE back to its roots as an industrial goods manufacturer by exiting the financial services business. Dividend yield: 3.0%
3. Ford Motor (F) - Get Free Report
In the 1970s, Ford was a classic value stock. An industry leader with standout advantages such as world-class assembly lines and brand loyalty, the stock was trading cheap around 1973-74 because of the bear market of that time. As the U.S. economy recovered in the 1980s, Ford used its low-cost manufacturing to cater to a variety of customers and capture a bigger piece of the market pie.
Ford, like General Motors, has seen its stock price get driven to the ground; shares of Ford trade at less than $2.00 during the financial crisis, the lowest they'd been in about 30 years. Although it is still away from the all-time high of $32.42 hit in 1998, its recovery since 2009 has been steady.
As for dividends, the stock has consistently delivered income. Ford kept its dividend steady at 5 cents from 2006 through 2012, a period that included the financial crisis and the Great Recession. While investors might miss the 30-cent payouts of the early 2000s, Ford is on a quick upward trajectory for dividends once again, and the dividend currently stands at 15 cents. Dividend yield: 4.2%.
4. 3M (MMM) - Get Free Report
3M began as a mining giant at the start of 20th century, and would later expand to become a huge conglomerate.
The company's strength lies in creating innovative products catering to unnoticed market needs. The company also has experienced few slumps, notably during the financial crisis of 2007-08 and the bear market of 1974-75, negative periods when most stocks were in decline. The company saw its stock hit lifetime highs of about $169 this year. Investors who bought this stock in 1975 for $7 and held it have enjoyed a whopping capital appreciation of 2,314%.
Dividend growth has followed a similar trajectory. From quarterly dividends of 4 cents in 1975, payouts have steadfastly climbed to $1 currently, not far from the one-time exception in 1996, when the company paid out $1.2 in July.
The dividend yield has also largely been constant through the years at around 2.5%-3%, helping the company throw off steady and sustainable income. Dividend yield: 2.6%.
5. EI du Pont de Nemours (DD) - Get Free Report
The chemical giant which started as a gunpowder manufacturer more than two centuries ago has adapted to changing times. During the 1970s and 1980s, the company grew as a producer of new materials and made acquisitions in electronics and medical research.
Even though the company's stock crashed with the domestic stock market in 1974-75, Du Pont's strategic focus and advancements in the field of materials made it an industry leader and a quality buy for value investors. While it has been a long wait for investors who entered at about $6 during the years from 1975-1985, they are now reaping the benefits of the 1,000% rise of the stock since then.
The story with dividends has largely been a one with slow but constant upward movement. One may not find the rise as dramatic as the other stocks covered here, but it's important to note that DuPont has consistently grown dividends since 1982 from 10 cents to 50 cents now, an increase of 400%. Dividend yield: 2.3%.
Did you know there are certain swift-moving, opportunistic stocks that master investors Warren Buffett, Peter Lynch and others bought to kick-start their wealth early in their careers? But now these Wall Street stars can't invest in these stocks anymore; they're too wealthy. But you can! If you're a non-billionaire, these stocks can change your whole life. Take a look.
This article is commentary by an independent contributor. At the time of publication, the author held no positions in the stocks mentioned.