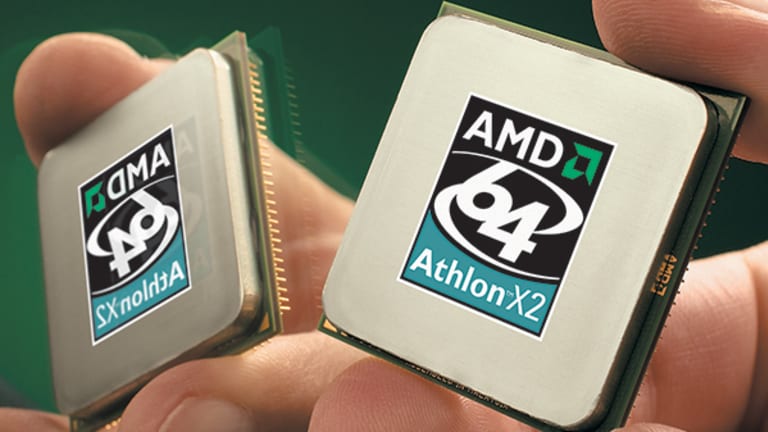 5 Big-Volume Stocks to Add to Your Buy List -- Plus 2 to Avoid
Here's a technical look at how to trade some of the most active stocks on the market right now.
Put down the 10-K filings and the stock screeners. It's time to take a break from the traditional methods of generating investment ideas. Instead, let the crowd do it for you.
From hedge funds to individual investors, scores of market participants are turning to social media to figure out which stocks are worth watching. It's a concept that's known as "crowdsourcing," and it uses the masses to identify emerging trends in the market.
Crowdsourcing has long been a popular tool for the advertising industry, but it also makes a lot of sense as an investment tool. After all, the market is completely driven by the supply and demand, so it can be valuable to see what names are trending among the crowd.
While some fund managers are already trying to leverage social media resources like Twitter to find algorithmic trading opportunities, for most investors, crowdsourcing works best as a starting point for investors who want a starting point in their analysis.
Today, we'll leverage the power of the crowd to take a look at some of the most active stocks on the market.
Advanced Micro Devices
Nearest Resistance: N/A
Nearest Support: $5.50
Catalyst: Q2 Earnings
Up first on our list of active trades from last week is $4.5 billion chipmaker Advanced Micro Devices (AMD) - Get Advanced Micro Devices, Inc. Report . AMD ended last week on a high note, rallying double-digits Friday following the firm's second-quarter earnings call. AMD lost 5 cents per share, showing less red ink than the 8 cents that analysts had been expecting to see. Likewise, AMD's outlook for next quarter was materially above Wall Street's estimates. The prospect of a return to growth for AMD is driving the buying in this chip stock.
Technically speaking, Friday was an important day for AMD. While shares have been in a pretty colossal uptrend in 2016, doubling year-to-date, Friday's breakout above prior resistance at $15.50 signals that shares are likely to undertake a second leg higher from here. If you decide to pull the trigger on AMD here, consider parking a protective stop on the other side of the 50-day moving average.
General Electric 
Nearest Resistance: $35
Nearest Support: $30
Catalyst: Q2 Earnings
General Electric (GE) - Get General Electric Company (GE) Report  is another big stock that saw a spike in volume Friday thanks to second-quarter earnings results. Excluding one-time charges, GE earned a profit of 51 cents per share, beating the 45-cent profit estimates that investors were hoping for. But a slowdown in GE's equipment backlog was enough of a black cloud that shares dipped slightly on Friday.
GE may be lower than it started a week ago, but in the long-term shares still look pointed in the right direction. GE has been in a well-defined uptrend since the end of last fall, and shares are still smack dab in the center of that trend channel. The next buying opportunity comes on the next test of the bottom of that price range.
General Electric is a holding in Jim Cramer's Action Alerts PLUS charitable portfolio. "Despite the strong results, shares of GE -- which rallied to seven-year highs this week -- traded lower Friday in the face of high expectations, likely tempered by a mixed near-term outlook and the 20% run in the stock over the past five months," Cramer and Research Director Jack Mohr wrote on Friday. "We temper our long-term conviction with discipline and do not intend to add into weakness."
VelocityShares Daily 2x VIX Short-Term ETN
Nearest Resistance: N/A
Nearest Support: N/A
Catalyst: S&P Highs
Volatility is back in the spotlight this week. The VelocityShares Daily 2x VIX Short-Term ETN (TVIX) - Get VelocityShares Daily 2x VIX Short-Term ETN Report  ended Friday as one of the highest-volume issues on the Nasdaq. Long-term, the trend in volatility is pretty unmistakable: All of the VIX-based exchange-traded instruments have been moving down and to the right in 2016, shedding points as higher prices in the S&P 500 translate into lower implied volatility. That trend isn't showing any signs of changing here.
An important note about this exchange-traded note is the fact that TVIX doesn't have conventional support and resistance levels like a normal stock. Since the price action in TVIX is determined by a statistical formula, not directly supply and demand from market participants, it's important not to try to use conventional technical tools on this unique ETN. Either way, as long as the uptrend in the S&P remains intact, you don't want to own TVIX.
PayPal Holdings
Nearest Resistance: $45
Nearest Support: $35
Catalyst: Q2 Earnings
PayPal Holdings (PYPL) - Get PayPal Holdings Inc Report  was a big-volume decliner last week, losing almost 7% of its market value on Friday following the firm's second-quarter earnings release. Excluding one-time charges, PayPal earned a profit of 36 cents per share for the quarter, slightly edging out the 35 cents in earnings that Wall Street was hoping for. But an agreement with Visa (V) - Get Visa Inc. Class A Report  drove concerns that PayPal's margins could get squeezed, and Wells Fargo downgraded shares to "Market Perform" as a result.
While PayPal is down, it's not out yet. Shares have been trending higher in a wide-ranging price channel since last fall, and Friday's gap lower only brings this stock about halfway to trend line support. That means we could still see more corrective price action near-term before shares resume their long-term uptrend. Keep that in mind if you're seeking out a buying opportunity in PayPal.
PayPal is another holding in Jim Cramer's Action Alerts PLUS charitable portfolio. "All in, we recognize PYPL as the clear leader in the digital payments space, but we cannot forget the potential regulatory hurdles it faces as well as the ongoing bull/bear argument that often weighs on the stock," Cramer and Research Director Jack Mohr wrote on Friday.
Sketchers USA
Nearest Resistance: $28
Nearest Support: N/A
Catalyst: Q2 Earnings
Mid-cap shoe maker Sketchers USA (SKX) - Get Skechers U.S.A., Inc. Class A Report  got shellacked on Friday, selling off more than 22% on the heels of second-quarter earnings numbers. Sketchers earned 48 cents per share, missing the 53-cent profit that analysts were expecting, on average. The miss wasn't huge, but it was big enough to send shareholders running for the exits en masse.
Sketchers actually started the year in rebound mode, bouncing its way higher in a well-defined uptrending channel that actually started last fall. But that uptrend got totally violated with Friday's selloff, and now shares are trading at 52-week lows. Sketchers is best avoided until it can find some semblance of support once again.
Southwestern Energy 
Nearest Resistance: $15
Nearest Support: $12
Catalyst: Rigs
Even though Southwestern Energy (SWN) - Get Southwestern Energy Company Report  was another stock that reported earnings at the end of last week, the real story was the firm's rigs. Southwestern Energy plans on bringing rigs back online in the coming months, capitalizing on higher energy prices in 2016. The update was enough to spur a series of analyst upgrades, and push shares 9.5% higher during Friday's session.
Southwestern's upside potential could be even higher than that, however. That's because this $7 billion energy company has been forming a textbook ascending triangle pattern for the last couple of months, signaling the potential for extended upside if shares can break out above $15 resistance.
Southwestern is within grabbing distance of that $15 price ceiling right now. If it can push through $15 in the week ahead, traders have a clear-cut buy signal.
Pandora Media
Nearest Resistance: $14.50
Nearest Support: $10.25
Catalyst: Q2 Earnings
Rounding out last week's list of big-volume stocks is mid-cap streaming music service Pandora Media (P) . Pandora reported its second-quarter earnings results after the bell on Thursday, driving a 2.3% high-volume pop during Friday's session. The firm reported an adjusted loss of 12 cents per share for the quarter, beating the 15-cent loss that investors were expecting, on average.
Technically speaking, Pandora has been in a well-defined uptrend since shares bottomed back in February, and while this stock is right in the middle of that trend channel this summer, it still presents a buying opportunity on every test of trendline support from here. Patience may be needed if you're trying to time a Pandora buy, but the next touch of the bottom of the price channel should provide a low-risk/high-reward opportunity to get into this stock.
Disclosure: This article is commentary by an independent contributor. At the time of publication, the author held no positions in the stocks mentioned.