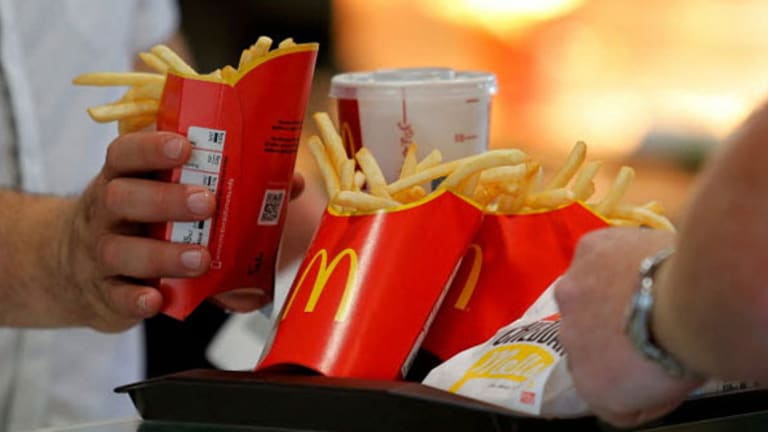 5 Big Stocks to Trade for Big Gains
Here's a technical look at how to trade some of the biggest stocks on Wall Street.
It's a situation that was unthinkable just a few weeks ago: as of yesterday's close, 3.3% is all that stands in between the S&P 500 and new all-time highs. U.S. markets are within grabbing distance of higher prices than ever before in history.
And along with that broad market upside, the individual names are making important moves too this spring. This week, we're seeing significant price moves in some of Wall Street's biggest stocks. As of this writing, nearly two-thirds of the S&P's components are up year-to-date. And of those, nearly half are up 10% or more in 2016. Put simply, an important corner of the market is "working" in this environment -- and it's a bigger chunk of the broad market than most investors realize.
Today, we're turning to the charts for a technical look at which big stocks are breaking out this week -- and when to buy them.
First, a quick note on the technical toolbox we're using here: Technical analysis is a study of the market itself. Since the market is ultimately the only mechanism that determines a stock's price, technical analysis is a valuable tool even in the roughest of trading conditions. Technical charts are used every day by proprietary trading floors, Wall Street's biggest financial firms, and individual investors to get an edge on the market. And research shows that skilled technical traders can bank gains as much as 90% of the time.
Every week, I take an in-depth look at big names that are telling important technical stories. Here's this week's look at five big stocks to trade.
Wal-Mart
Up first on the list this week is retail giant Walmart (WMT) - Get Walmart Inc. Report . Positive performance is nothing new in Walmart this year. Shares have actually looked attractive for most of 2016, even when the rest of the market didn't. That bullish trajectory has helped to propel Walmart 12.2% higher since the calendar flipped to January.
Don't worry if you've missed the double-digit upside in shares this year, though; Walmart looks primed for a second leg higher as we head into April.
Wal-Mart is currently forming an ascending triangle pattern, a bullish continuation setup that's formed by horizontal resistance up above shares (at $68 in this case), and uptrending support to the downside. Basically, as Wal-Mart pinballs in between those two technically significant price levels, this stock has been getting squeezed closer and closer to a breakout through resistance up at $68. Shares finally posted a material close above that $68 price ceiling in yesterday's trading session. If shares confirm that breakout with higher ground in today's session, we've got our buy signal.
The 50-day moving average has been acting like a decent proxy for support for the last month and a half now. That makes it a logical place to park a protective stop if you decide to be a buyer.
McDonald's
We're seeing a similar price setup in shares of McDonald's (MCD) - Get McDonald's Corporation Report  right now. After initially looking "toppy" earlier in the year, McDonald's price pattern has evolved into an ascending triangle of its own. And like Walmart, traders are getting a breakout signal this week. Resistance up at $125 has been the breakout level to watch in McDonald's.
Why all of that significance at the $125 level? It all comes down to buyers and sellers. Price patterns, like this ascending triangle pattern in McDonald's, are a good quick way to identify what's going on in the price action, but they're not the actual reason a stock is tradable. Instead, the "why" comes down to basic supply and demand for McDonald's shares themselves.
The $125 resistance level is a price where there has been an excess of supply of shares; in other words, it's a spot where sellers have previously been more eager to step in and take gains than buyers have been to buy. That's what makes a breakout above $125 so significant -- the move means that buyers are finally strong enough to absorb all of the excess supply above that price level. If you decide to be a buyer here, prior support at $115 makes a good place to park a stop loss.
Nokia
Meanwhile, things haven't looked very attractive in shares of Finnish tech stock Nokia (NOK) - Get Nokia Corporation Sponsored American Depositary Shares Report . Nokia has been pointed lower for much of the year, gapping down particularly hard at the start of February after the firm's much awaited patent settlement from Samsung came in below expectations. Year-to-date, shares have shed about 18% of their market value. That's the bad news. The good news is that Nokia is finally starting to look "bottomy" here.
Nokia is currently forming a double bottom pattern, a bullish reversal setup that looks just like it sounds. The double bottom pattern is formed by a pair of swing lows that bottom out around the same level – the buy signal comes on a breakout through the peak that separates those two troughs. For Nokia, that breakout level to watch is resistance up at $6.20.
Momentum, measured by 14-day RSI up at the top of the chart, adds some extra confidence to Nokia's price setup right now. Momentum has been making higher lows at the same time Nokia's price action made its second bottom in the pattern -- that's a bullish divergence that signals buying pressure is building in Nokia. If $6.20 gets taken out, we've got our signal that buyers are back in control of shares.
Colgate-Palmolive
It doesn't take an expert trader to figure out the price action in shares of Colgate-Palmolive (CL) - Get Colgate-Palmolive Company Report lately. That's because Colgate's price action has been about as simple as it could get since the calendar flipped to January. All year long, this big consumer products stock has been bouncing its way higher in a well-defined uptrending channel. From here, it makes sense to buy the dips.
The uptrend in Colgate is formed by a pair of parallel trend lines that have corralled this stock's price action since shares bottomed back in early January. Shares have spent most of the year riding the channel's support line higher. From here, it makes sense to buy Colgate's next bounce off of support.
Actually waiting for a bounce is important for two key reasons: It's the spot where shares have the most room to move up before they hit resistance, and it's the spot where the risk is the least (because shares have the least room to move lower before the channel breaks, and you know you're wrong). Remember, all trend lines do eventually break, but by actually waiting for a bounce to happen first, you're ensuring Colgate can actually still catch a bid along that line before you put your money on shares.
UBS Group
Last up on our list of large-cap breakout candidates is $62 billion banking stock UBS Group (UBS) - Get UBS Group AG Registered Report . Like the rest of the financial sector, UBS has started off the year on a sour note, shedding about 16% of its market value since the first day in January. But long-suffering shareholders could be in for a reprieve in April thanks to a classic reversal pattern that's finally close to triggering a buy.
UBS is currently forming an inverse head and shoulders pattern, a trading setup that signals exhaustion among sellers. You can spot the inverse head and shoulders by looking for two swing lows that bottom out around the same level (the shoulders), separated by a bigger trough called the head; the buy signal comes on the breakout above the pattern's "neckline." That's the $17 level in UBS.
Remember to be reactionary here. Technical analysis is a risk-management tool, not a crystal ball. UBS doesn't become a high-probability trade until buyers are strong enough to keep shares above $17. Once that happens, the 50-day moving average becomes a logical place to put your stop.
Disclosure: This article is commentary by an independent contributor. At the time of publication, the author was long WMT.