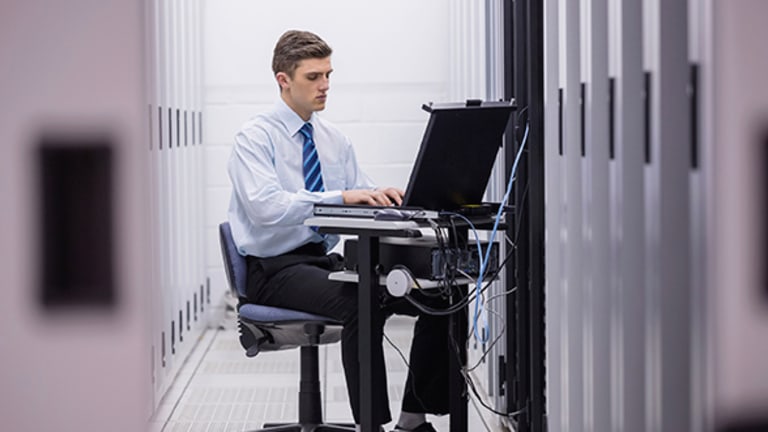 5 'Big Data' Stocks Poised for Higher Returns
As companies purchase and implement Big Data technology, the providers of this technology are well situated to provide above average returns over the next ten years.
In the not-too-distant past, the data businesses collected and utilized was limited to their retail point of sale and data from their internal operations. The world has changed. Today's businesses receive data from the Internet, suppliers, partners, social media, traditional media, and mobile applications to name a few. Consumer's mobile phones, cars, HVACs, watches, and even your kitchen appliances are providing companies more and more data every day. In today's world everything, often now referred to as the Internet of Everything, is collecting and sending data for companies to use.
Why is this important to the investor? To keep competitive advantage, companies must be able to store, analyze and act upon this "big data." As companies purchase and implement big-data technology, the providers of this technology are well situated to provide above average returns over the next ten years. Five big data companies that you should consider adding to your portfolio include:
Terradata (TDC) - Get Teradata Corporation Report
HortonWorks (HDP) - Get Hortonworks, Inc. Report
Tableau Software (DATA) - Get Tableau Software, Inc. Class A Report
Qlik Technologies (QLIK)
MicroStrategy (MSTR) - Get MicroStrategy Incorporated Class A Report
Here is a chart with more information on each stock (data provided by Ycharts.com):
Companies are scrambling to determine ways to harness big data for competitive advantage. Industry-changing business disrupters, such as Amazon, Uber and Airbnb, utilize big data as the foundation of their business models. And older, more-established companies are rapidly building big data capabilities to ensure competitive advantage.
As you review companies that provide big data technology, here is some background you should understand.
What is big data?
A definition of big data from the Oxford English Dictionary: "Extremely large data sets that may be analyzed computationally to reveal patterns, trends, and associations, especially relating to human behavior and interactions." In today's world, everything is connected and the data that is being gathered and stored is big.
The Amount of Data is Exploding
Eric Schmidt, Executive Chairman of Google has pointed out that, "There were five exabytes of information created between the dawn of civilization through 2003, but that much information is now created every two days." big data is literally exploding and companies are spending an increasing amount of money on the technology to store, analyze and act upon this data.
Big data began when Web browsing came into being and company's started tracking consumer actions online -- which Web sites consumers visited, when they visited, how long they spent browsing certain products or services, which messages resonated with them, and so forth. This was referred to as "click-through data." Around 2002, clickstream data blossomed and suddenly brought a huge amount of new data into corporate systems.
That amount of data pales in comparison to what is available for analysis now because of the Internet of Everything (IoE) or Internet of Things (IoT). Our machines, clothes, cars, houses, and phones are all (or will soon be) connected. For example, most 2015 automobiles are Internet-enabled. Thanks to the IoE, you can use GPS to track your car's location, you can calculate your gas mileage, you can use the API on your car's computer to see whether anything is malfunctioning, and you can determine when you need an oil change.
Your home is also connected through your alarm system, which sends data that allows you to monitor your home when you are on vacation or at work. Many homes also have a heating, ventilation, and air conditioning (HVAC) system that can automatically recognize a sudden dip in temperature in part of the house and send you an e-mail alert, telling you about a broken window or some other problem. Even coffee machines are becoming Internet enabled. If you are at work, you will be able to instruct your machine at home to have a cappuccino waiting for you when you arrive. That perfect cup of cappuccino will go nicely with the college football game your phone told your DVR to record.
Your watch can now be a health monitor, tracking your heart rate, blood pressure, and blood sugar. Wireless chips can be attached to the bodies of people with diabetes to alert them that their sugar level is crashing by sending messages to their cell phones. Entire houses are being built that monitor the health of the occupants.
Data Storage and Access
Companies have choices for data storage and access. Some companies may expand their existing enterprise data warehouses using Oracle, Microsoft SQL Server or HP Vertica. These data warehouses have a predetermined physical structure, which require data to be placed into a field and then into a table. Then, every week or even every night, data integration processing called ETL -- extract, transform, and load -- is undertaken using software from companies like Informatica, Talend, Adeptia and Actian.
Other companies may opt for a data appliance using in-memory massively parallel processing (MPP) technology. Companies like Teradata, IBM Netezza, EMC-Greenplum and SAP HANA utilize hardware specifically designed for data warehouses. These appliances bring the data in-memory for fast access by other applications and the data scientists that need to analyze the data for actionable decision making.
Others companies are moving to newer, next generation data architectures and technology such as HP's HAVEn or data lakes utilizing HADOOP. The term "data lake" means any large data pool in which the schema and data requirements are not defined until the data is queried. In addition, in a data lake, data does not have to be stored exclusively on an individual server or in a data center; it is instead stored anywhere and everywhere including the in the cloud. Technology such as Apache Hadoop is then used to access and map the data real-time when needed. The key is that data stored in a data lake does not have to be a one-size-fits-all structure like a traditional database or datawarehouse. Some of the key technology players in this space include Actian, Pivotal, Cloudera, Pentaho and Hortonworks.
Each year, Gartner Research produces its "Magic Quadrant for Data Warehouse and Data Management Solutions for Analytics". For 2015, companies in the leader's quadrant included: Teradata (TD, AsterData, UDA suite), IBM (PureData, Netezza), Oracle (Exadata, Oracle big data Appliance), SAP (IQ and Hana), Microsoft (SQL Server Parallel Data Warehouse and HDInsight) and Hewlett Packard Enterprise (Vertica, Autonomy).
Business Intelligence and Data Analytics
To make actionable business decisions, companies utilize business intelligence (BI) technology to access and make sense of the data. BI technologies provide business users with historical, current and predictive views of business operations. Some common functions of BI technologies are reporting, online analytical processing, data mining, complex event processing, business performance management, and predictive analytics and prescriptive analytics.
Business users utilize BI to support a wide range of business decisions ranging from operational to strategic. While BI technology is used by a company's data analysts or data scientists for deeper, more complex analytics. Companies with advanced BI capabilities provide their businesses with a competitive market advantage and long-term stability. Some of the leading technology providers in the BI marketplace include Tableau, Qlik, MicroStrategy, SAS, Information Builders, Logi Analytics, Tibco Software, Birst, Panorama Software and Alteryx.
To be successful, companies of the future will be data-driven. This data-driven knowledge will help a company obtain competitive advantage. For the investor, the providers of big data technology will experience very healthy growth.
This article is commentary by an independent contributor. At the time of publication, the author held no positions in the stocks mentioned.