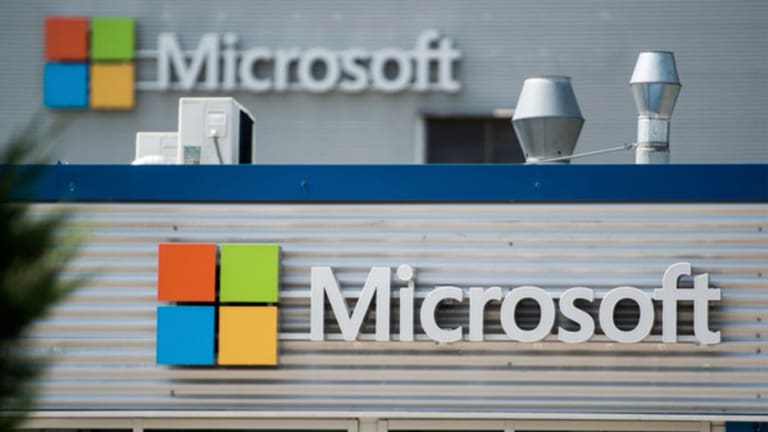 5 Big-Cap Stocks Poised to Deliver Big Gains in June
Here's a technical look at how to trade some of the biggest stocks on the market right now.
New month, new market? That's the question that investors are asking this week as the trading calendar flips to June.
All told, May was a relatively quiet month for stocks. The S&P 500, for instance, gained 1.7% on a total returns basis during the month. But that stat doesn't really tell the whole story that's going on in the stock market right now. Mr. Market doesn't exactly follow the calendar, after all.
And while the overall market performance from May isn't that awe-inspiring, last week's sharp snap higher is. It sets the stage for a potential run at prior all-time highs for June. For now, the S&P is testing 2016 highs this week, teetering on the edge of setting a new high water mark for the year. That big picture stance could make this a great time to think about buying some big stocks.
So to take advantage of that bullish trend in big stocks, we're turning to the charts for a technical look at five large breakout stocks that are showing bullish trades this week -- and when you should buy them.
First, a quick note on the technical toolbox we're using here: Technical analysis is a study of the market itself. Since the market is ultimately the only mechanism that determines a stock's price, technical analysis is a valuable tool even in the roughest of trading conditions. Technical charts are used every day by proprietary trading floors, Wall Street's biggest financial firms, and individual investors to get an edge on the market. And research shows that skilled technical traders can bank gains as much as 90% of the time.
Every week, I take an in-depth look at big names that are telling important technical stories. Here's this week's look at five big stocks to trade.
Microsoft
Starting things off is $420 billion tech firm Microsoft (MSFT) - Get Microsoft Corporation (MSFT) Report . The last year has actually been a pretty solid time to be a Microsoft investor. In the last 12 months, this stock has climbed more than 14% higher, while the rest of the broad market has been dragged sideways. And long-term, this stock is pointing to a potential second leg higher in 2016.
Microsoft is currently forming an ascending triangle pattern, a bullish continuation setup that's formed by horizontal resistance up above shares at $56, and uptrending support to the downside. Basically, as Microsoft bounces in between those technically important price levels, this stock has been getting squeezed closer to a breakout through our $56 price ceiling. When that happens, we've got our buy signal.
Relative strength, which measures Microsoft's price performance versus the rest of the stock market, is an extra indicator to keep an eye on here. That's because Microsoft's relative strength line is holding onto an uptrend for more than a year now, an indication that this big stock is still continuing to outperform the market. This is a long-term trading setup, and it comes with equally long-term upside implications if and when $56 gets taken out.
UnitedHealth Group
We're seeing the exact same setup in shares of $127 billion health care company UnitedHealth Group (UNH) - Get UnitedHealth Group Incorporated Report  -- just in the shorter-term. Like Microsoft, UnitedHealth has been forming an ascending triangle lately, in this case setting up the price pattern since the beginning of April. For UnitedHealth, the big breakout level to watch is resistance up at $134.
What's so special about the $134 level? It all comes down to buyers and sellers. Price patterns, such as this ascending triangle setup in UnitedHealth, are a good quick way to identify what's going on in the price action, but they're not the actual reason that makes the stock tradable. Instead, the "why" comes down to basic supply and demand for UNH's shares themselves.
The $134 resistance level is a price where there has been an excess of supply of shares; in other words, it's a spot where sellers have been more eager to step in and take gains than buyers have been to buy. That's what makes a breakout above $134 so significant -- the move means that buyers are finally strong enough to absorb all of the excess supply above that price level. Shares are testing breakout territory this afternoon, but so far the push above $134 hasn't been very substantial. Wait for a more material push through $134 before assuming buyers are back in control of this big health stock.
Costco Wholesale
As far as corrections go, the recent one in shares of wholesale club store Costco Wholesale (COST) - Get Costco Wholesale Corporation Report  has been pretty tame. Year-to-date, shares of Costco are down a bit over 5%, trailing the broad market, but not by much. That's the bad news. The good news is that this stock looks pointed for a run higher this summer -- the big price level to watch here is resistance up at $160.
Costco has spent most of 2016 forming a double bottom pattern, a bullish reversal pattern that looks just like it sounds. The double bottom is formed by a pair of swing lows that bottom out at approximately the same price level - the buy signal comes on a push through the peak that separates that pair of troughs. In Costco's case, that happens at the previously mentioned $160 price level.
A move above $160 would bring Costco pretty close to another important price level: its 52-week high at $169 and change. If Costco breaks out above $160 in June, then buyers should expect to see a test of that prior price ceiling in short order. For that reason, this could be the beginning of a prolonged move higher; but it's key to be reactionary and wait for the $160 breakout to happen first before trying to pile into this trade.
Costco is a holding in Jim Cramer's Action Alerts PLUS charitable portfolio. "While the overall market remains fixated on the various risks that could interrupt the recent upswing, Costco sits in an enviable position with tangible catalysts and a proven business model that will power the long-term story and help mitigate potential extraneous market impacts from global, macro news," he and Research Director Jack Mohr wrote recently.
Procter & Gamble
You don't need to be an expert technical trader to figure out what's happening long-term in shares of blue chip Procter & Gamble (PG) - Get Procter & Gamble Company Report . Instead, the price action on this $216 billion stock's chart is about as simple as it gets. Procter has been a "buy-the-dips stock" since last summer -- and P&G's long-term trend is still intact as we head into June.
The price pattern playing out in shares of P&G is an uptrending channel. The setup is formed by a pair of parallel trend lines that have corralled 99% of this stock's price action since shares bottomed back in August of last year. So far, every test of the bottom of Procter's price channel has provided investors with a low-risk, high-reward opportunity to build a position in this stock. And as shares test support for a sixth time now, it makes sense to jump on the next bounce higher.
Actually waiting for that bounce is important for two key reasons: It's the spot where shares have the most room to move up before they hit resistance, and it's the spot where the risk is the least (because shares have the least room to move lower before the channel breaks, invalidating the upside trade). Remember, all trend lines do eventually break, but by actually waiting for a bounce to happen first, you're ensuring that P&G can actually still catch a bid along that line before you put your money on shares.
P&G is another holding in Jim Cramer's Action Alerts PLUS charitable portfolio. "We aren't in PG for meaningful share appreciation but consider it a safe income investment (3.3% yield) amid a low-rate and increasingly uncertain environment," Cramer and Research Director Jack Mohr wrote recently. "We like to view PG as an 'equity bond' -- a stock that can be viewed akin to a bond due to the stable and predictable nature of its underlying operations."
China Telecom
Rounding out our list of buyable large-cap trades is $38 billion Chinese telco China Telecom (CHA) - Get China Telecom Corp. Ltd. Sponsored ADR Class H Report . China Telecom has been all over the place this year, trading up to approximately 20% gains on the year back in mid-April, only to give most of those gains back with a recent correction. The good news for investors riding China Telecom's chart roller coaster is that shares finally look "bottomy" in the near-term again.
China Telecom has spent the last month forming a rounding bottom pattern, another classic technical price pattern that looks just like it sounds. The rounding bottom signals a shift in control of shares from sellers to buyers, and in China Telecom's case, it triggers with a breakout through near-term resistance at $49. If that $49 line in the sand gets taken out, then it clears the way for a re-test of this stock's prior 2016 highs up at $56.
Price momentum, measured by 14-day RSI up at the top of the chart, is the side-indicator to watch right now in shares of China Telecom. Our momentum gauge reversed out of just-barely oversold territory back in early May, and it's been tracking higher ever since. That's some positive confirmation that buying pressure has been building in this stock behind the scenes. If CHA can catch a bid above $49, it's time to buy this stock.
Disclosure: This article is commentary by an independent contributor. At the time of publication, the author held no positions in the stocks mentioned.